Pope Francis focuses on human trafficking, migration and religious harmony on a busy day in Thailand
Pope Francis spent his first full day in Thailand meeting with the country's prime minister and supreme patriarch of Buddhists and focusing on issues of migration, human trafficking and world peace in his public speeches.
In his first speech in Bangkok, he emphasized the need to respond "to the cry of our many brothers and sisters who yearn to be freed from the yoke of poverty, violence and injustice."
He did so after receiving an official welcome at the residence of the Prime Minister Prayuth Chan-ocha, where the two leaders shared a private conversation. Francis' second cousin, Sister Ana Rosa Sivori, a missionary from Argentina who has been in the country for almost 50 years, acted as his interpreter for their private conversation, as she is doing for all his talks here, which he is delivering in Spanish.
In his welcome speech to the pope, the prime minister expressed "high admiration" for Pope Francis's "noble undertakings, which have placed importance on promoting harmony on the part of humanity, human resource development, especially among the youth, poverty eradication, social equality, environmental preservation, and the creation of an environment conducive to peace in every corner of the world."
He told the pope that "your leading role on these issues provides inspiration to all people, regardless of their faith or social background." A former general who came to power in a military junta in 2014, Mr. Prayuth was recently chosen by parliament to be prime minister in a contentious election.
Pope Francis: 'The crisis of migration cannot be ignored.' 
In his address, Pope Francis told Thai authorities "the crisis of migration cannot be ignored." He recalled that the country "is known for the welcome it has given to migrants and refugees as a result of the tragic flight from nearby countries"—a reference both to the past century when Thailand first received refugees and migrants from Indochina and its contemporary role in receiving people from neighboring countries.
He recalled that Thailand is a "multi-ethnic and diverse nation" that has long known "the importance of building harmony and peaceful coexistence between its numerous ethnic groups, while showing respect and appreciation for different cultures, religious groups, thoughts and ideas." Francis noted that the present time "is marked by a globalization that is all too often viewed in narrowly economic terms," which tends "to erase the distinguishing features that shape the beauty and soul of our peoples." He said Thailand's "experience of a unity that respects and makes room for diversity" can serve today "as an inspiration and incentive for all those concerned about the kind of world we wish to leave to our children."
According to the 2019 report of the U.N. working group on migration in Thailand, of its 64 million residents, 4.9 million are non-Thais, an increase of 1.2 million people in five years. The largest groups come from Cambodia, Laos, Myanmar and Vietnam.
Aware that these figures represent a strain on the country that can leave migrants themselves in very difficult situations, Pope Francis expressed the hope "that the international community...will work to resolve the issues that have led to this tragic exodus and will promote safe, orderly and regulated migration." He reminded the group, "It is not just about migrants; it is also about the face we want to give to our societies."
Pope Francis also drew attention to "all those women and children of our time, especially those who are wounded, violated and exposed to every form of exploitation, enslavement, violence and abuse." He was referring to the plague of human trafficking and sexual-exploitation —often as a result of sex-tourism—that so many young people, especially women, suffer in Thailand.
He expressed his "appreciation for the Thai government's efforts to extirpate this scourge and for all those private individuals and organizations working to uproot this evil and to provide ways to restore their dignity."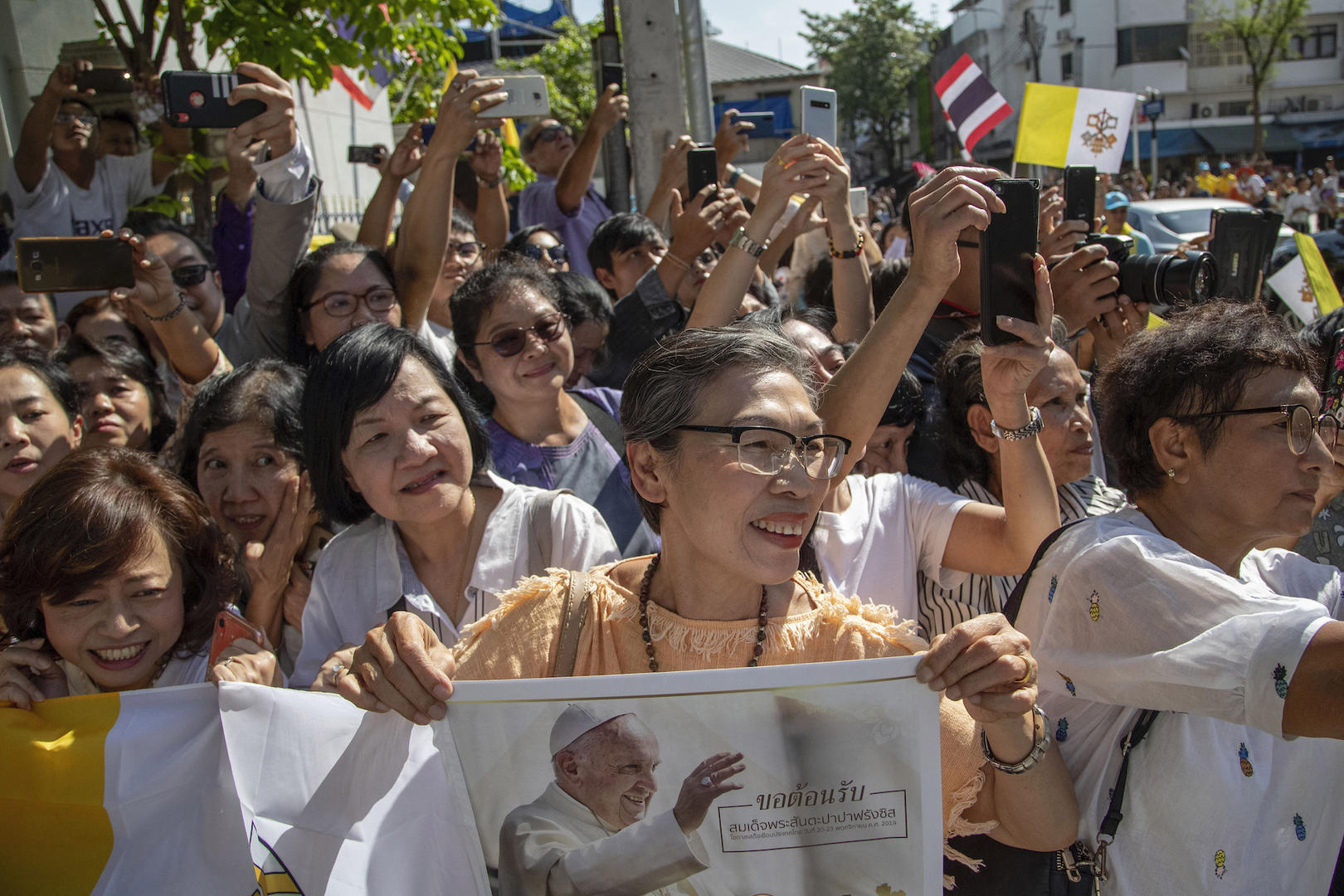 Pope Francis concluded his address by telling Thai authorities as well as the religious and civic leaders, "more than ever, our societies need 'artisans of hospitality,' men and women committed to the integral development of all peoples within a human family committed to dwelling in justice, solidarity and fraternal harmony."
Meeting with Supreme Patriarch
After his speech, Pope Francis drove to the Buddhist temple for his meeting with the Supreme Patriarch of Thailand's Buddhists. After arriving at Wat Ratchabophit Sahit Maha Simaram, the pope and the cardinals accompanying him took off their shoes and walked barefoot into the ornate temple built by Thailand's King Rama V in 1869. They were welcomed by the patriarch, Somdej Phra Maha Muneewong.
The Supreme Patriarch, wearing a saffron robe, warmly welcomed Pope Francis in what he described as "yet another moment of historical importance that will be inscribed for posterity and commemorated as an auspicious event in the long-standing and cordial friendship between the Thai Buddhist Realm and the Holy See since the Ayutthaya period."
In his talk, Francis recalled the history of relations between the popes and the supreme patriarchs starting at the time of St. Paul VI who received the 17th Supreme Patriarch and a Thai Buddhist delegation in the Vatican some 50 years ago. He said that encounter "represented a very significant turning point in the development of the dialogue between our religious traditions." It led to the subsequent visit of St. John Paul II to this temple to meet the then supreme patriarch in 1984. Francis recalled that he too recently welcomed a delegation of monks from the Wat Pho temple that presented him with a translation of an ancient Buddhist manuscript in the Pali language that is now kept in the Vatican Library.
Pope Francis told the Buddhist Patriarch that "such small steps help testify that the culture of encounter is possible, not only within our communities but also in our world, so prone to creating and spreading conflict and exclusion." He said these occasions "remind us how important it is for religions to become more and more beacons of hope, as promoters and guarantors of fraternity"
Francis also thanked the Thai people because "since the arrival of Christianity in Thailand some four and a half centuries ago, Catholics have enjoyed freedom in religious practice, despite their being in a minority, and for many years have lived in harmony with their Buddhist brothers and sisters."
He envisaged that together Catholics and Buddhists "will be able to promote among the followers of our religions the development of new charitable projects, capable of generating and multiplying practical initiatives on the path of fraternity, especially with regard to the poor and our much-abused common home."
Before departing, they each imparted a blessing on the other, and Francis signed the visitors book with these words printed in Thai, but that he also wrote with his own hand in English: "I renew my prayerful good wishes that the precious tradition of mutual understanding between Buddhists and Catholics will continue to grow and bear abundant fruits of peace for the beloved Thai people."
From there, Francis visited the St. Louis Catholic Hospital, which was founded by Archbishop Louis Vey, the apostolic administrator of the Siam Mission, in 1898 and today includes a highly esteemed children's section. There he was welcomed by the patients and more than 700 medical staff. After greeting them, he made a private visit—away from the photographers and television—to many sick people who are being treated there.