I was diagnosed with A.L.S. With God's help, I lived to send my son to Notre Dame
On the last Sunday of August, I sat in the Purcell Pavilion at the University of Notre Dame. It was "Welcome Weekend" for first-year students, and my son, John, stood near me with the rest of my family. As Mass came to an end, everyone joined in singing that iconic alma mater, familiar to many college football fans: "Notre Dame, Our Mother." I thought of how blessed I was, how blessed we were, to be there sharing this joyful occasion. I had always hoped that John would attend Notre Dame—my wife, Kathy, and I are both graduates. But five years ago, I did not know if I would live long enough to see my son off to any college.
John is a family name, and its meaning, "gift from God," was especially fitting because we had two prior pregnancies that ended in miscarriage. Although I had a demanding job, I was still able to participate in John's life— coaching his sports teams, encouraging his love of music and doing outdoor recreational activities. Kathy was always there as my partner; the past 18 years with her and John have been the best of my life.
A few months before John started seventh grade at Marist School in Atlanta, I noticed that I was having some trouble with my speech. It felt like my tongue was getting hung up on my teeth, and it was very twitchy. When I asked my doctor about it, he suggested I see my dentist. My dentist suggested a visit to an orthodontist. I ended up with expensive braces, even though I had worn them as a kid. These hindered my speech significantly as talking got more and more difficult.
I have never had the thought "Why me?"
About halfway through the school year I got sick with pneumonia, and after a week in bed I went to see my doctor. On the way into the appointment I had some trouble walking on my right leg, but because it was not the focus of the appointment, the doctor dismissed it, suggesting I do deep knee bends. A couple of months later, I fell walking out of church.
Over the summer, my symptoms intensified. I had trouble with my right shoulder, more falls and choking episodes while sleeping. My doctor finally acknowledged that there was something wrong with me, and after a series of tests eliminated every other option, a neurologist gave me a diagnosis of ALS, also known as Lou Gehrig's disease. A month later, the Emory ALS Center confirmed it.
Before my illness I frequently thought of life from the perspective of what I had accomplished.
A few months into his eighth grade year, we had to tell John that I had a progressive, incurable disease. He and his friends had recently done the Ice Bucket Challenge, a viral video campaign to raise money for ALS research. He knew that I was going to die. Most ALS patients become severely disabled and die within two to five years of the diagnosis.
It was hard for me to witness the emotional anguish of John, Kathy, our family members and friends, but I believe God gave us a bit more grace during that time. Kathy and John really stepped up to help me. Over the past five years I have gone from being a fiercely independent person to entirely dependent on other people, especially Kathy, John and my caregiver, Samantha. We have had incredible support from family, friends and the Marist School and Notre Dame communities.
Before my illness I frequently thought of life from the perspective of what I had accomplished. Throughout my illness, God has reminded me that what is most important is what we do for other people and that he is really in charge.
Dealing with my disease brought out my son's kindness toward other people and his strength of character.
I have seen my son embrace this same lesson; dealing with my disease brought out his kindness toward other people and his strength of character. In high school, he excelled as a leader in academics, band, robotics and soccer. He pushed himself in Spanish and enjoyed helping in the Marist-sponsored GED program so much that he participated nearly every week, no matter what else he had going on.
After five years with this disease, I can barely move, I cannot speak or swallow and I get nutrition through a feeding tube. I rely on caregivers and technology for absolutely everything. Sometimes I need something that does not even exist. In that case, John and I create it. Our most useful invention is a hardware and software system that allows me to drive my power wheelchair with my eyes. This is just another example of my son's selfless spirit and the way that God continues to care for me through others.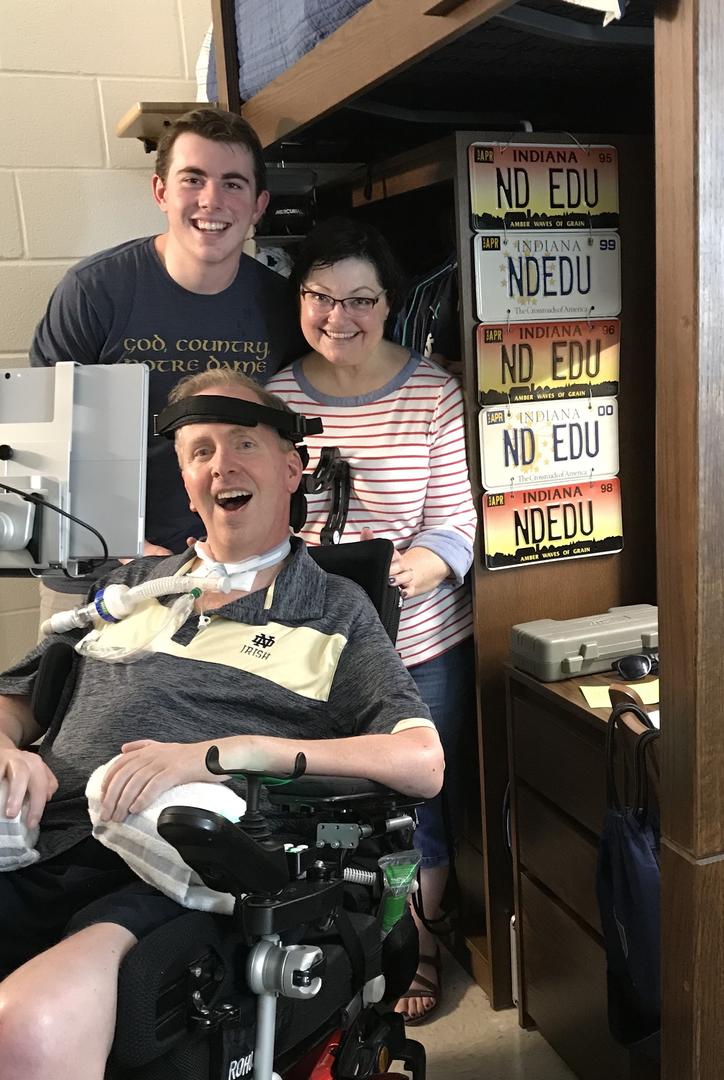 When John was accepted to Notre Dame, we were thrilled. We knew it was a great fit. Notre Dame made it financially possible for him to attend—another great blessing.
A year ago, I decided to get a tracheostomy and use a ventilator full-time to extend my life. It was not an easy decision. I require full-time care, and it is difficult for Kathy as my primary caregiver and also very expensive.
But this decision allowed me to do something last May that seemed very unlikely five years ago when I was diagnosed: I attended John's graduation from Marist. And in August I did what everyone thought would be too difficult: I traveled to Notre Dame to help John move in and attend "Welcome Weekend" events. Seeing John succeed at Marist and seeing his happiness when starting his new experience at Notre Dame brought me, and all of us, great joy and peace. God made it happen by working through us and many other people.
I have never had the thought "Why me?" I have focused on sorting our affairs, trying to establish a support system for John and Kathy and living every day. God is good. God provides. I am so thankful for all the blessings we have received and for the many kind, prayerful and generous people God has put in our lives.