Two U.S. churches: One is closing down parishes, the other is standing-room only
There are 1,437 fewer parishes in the United States now than there were in 1971 (down to a total of 16,346), according to the Center for Applied Research in the Apostolate's "1964" blog, yet there are several states where dozens of Catholic churches have opened in the past few decades. Mark Gray, a researcher for CARA, recently wrote about the "two churches" phenomenon, in which "pastors in different parts of the country tend to be worried about different things (keeping the lights on vs. finding space for more pews and parking spaces)."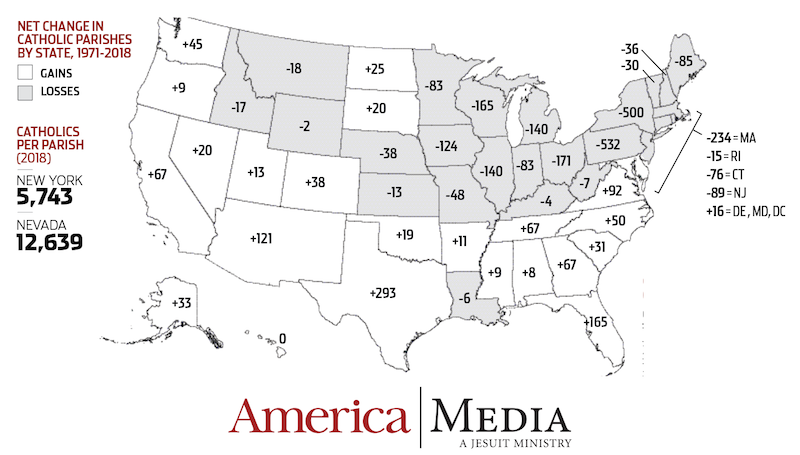 Twenty-five states have fewer parishes, as shown in the map below, but closings over the past half-century have been most frequent in the Northeast, with more than 1,000 in New York and Pennsylvania alone. Many of their churches were built in the 19th and early 20th centuries, often very near each other, to serve particular immigrant groups from European nations like Italy, Poland, Germany and Ireland. The demand for Italian-language Masses, for example, has almost vanished as the descendents of these immigrants have moved out of large cities like New York and Philadelphia.
Proportionately, the biggest drop in parishes between 1971 and 2018 was in Maine; the total fell by 61 percent, from 140 to 55 churches, according to additional data provided by CARA. Pennsylvania suffered the second-biggest loss: down 36 percent, from 1,490 to 958 parishes. The Diocese of Scranton lost half its parishes, going from 240 to 120.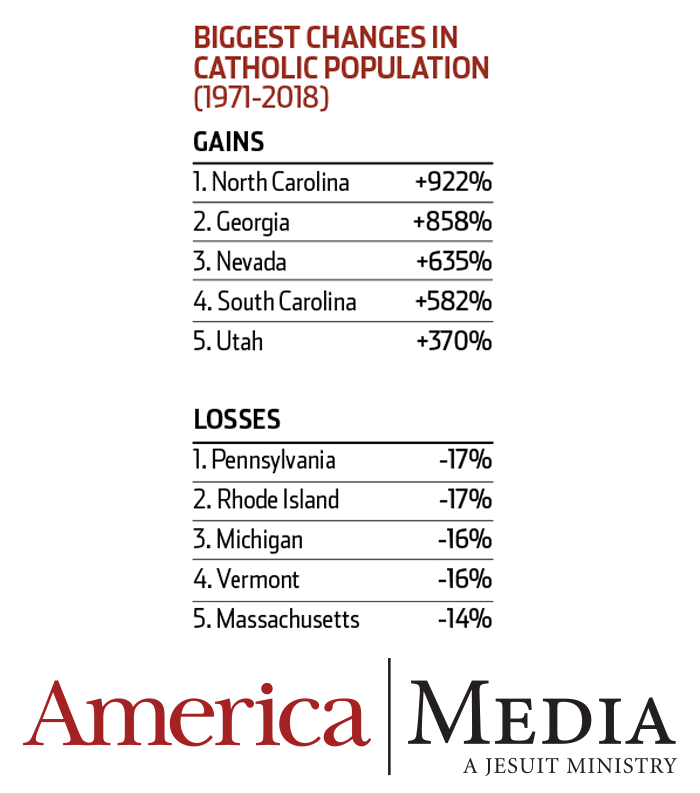 At the same time, the church cannot open parishes fast enough for the growing Catholic population in the South and West (see chart), which includes new generations of immigrants. By necessity, most of the new churches in these regions have more than 1,000 seats (most U.S. churches built before 1950 had fewer than 500 seats) and must offer several Masses each weekend to accommodate worshipers. The biggest increases in the number of parishes have been in Texas (293), Florida (165), and Arizona and New Mexico (121), which are counted together because the Diocese of Gallup crosses state lines.
But Georgia has been adding parishes the fastest, jumping by 85 percent from 1971 to 2018—from 79 to 146, with the number of churches more than doubling in the Archdiocese of Atlanta. Tennessee was close behind with an 82 percent increase in parishes, from 82 to 149.
Source: "Where the Parish Doors Have Closed…and Opened," Feb. 22, 2019, on the blog "1968," published by the Center for Applied Research in the Apostolate, Washington, D.C. Additional data provided to America magazine by CARA.