Infographic: 'Humanae Vitae' anniversary sees an emphasis on Natural Family Planning in the church
Fifty years after the publication of "Humanae Vitae," the use of artificial contraception has become broadly accepted even among Catholics.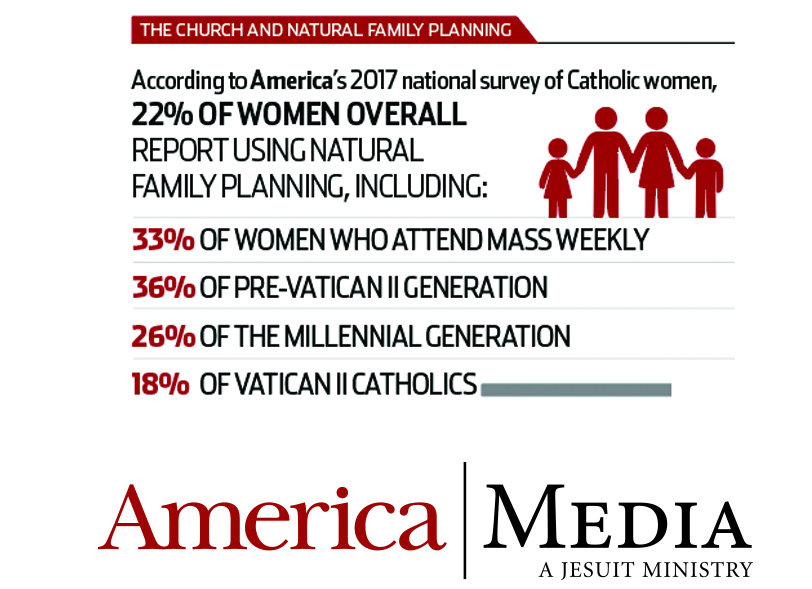 A 2014 Univision poll found that large majorities of self-identified Catholics support the use of contraceptives, including: 94 percent in France, 93 percent in Brazil, 91 percent in Argentina and Colombia, 90 percent in Spain, 88 percent in Mexico, 84 percent in Italy, 75 percent in Poland, 68 percent in the Philippines and 79 percent in the United States (but only 44 percent each in the African nations of the Democratic Republic of Congo and Uganda).
But efforts to provide a reliable, natural alternative to artificial contraception have continued. The United States Conference of Catholic Bishops founded its ministry for Natural Family Planning through its Secretariat of Laity, Marriage, Family Life and Youth in 1981. According to America Media's 2017 national survey of Catholic women, 22 percent report having ever used Natural Family Planning as a method of postponing pregnancy without the use of artificial contraception, including: 33 percent of women who attend Mass weekly, 36 percent of the pre-Vatican II generation, 26 percent of the millennial generation, and 18 percent of "Vatican II Catholics" (those born between 1943 and 1960).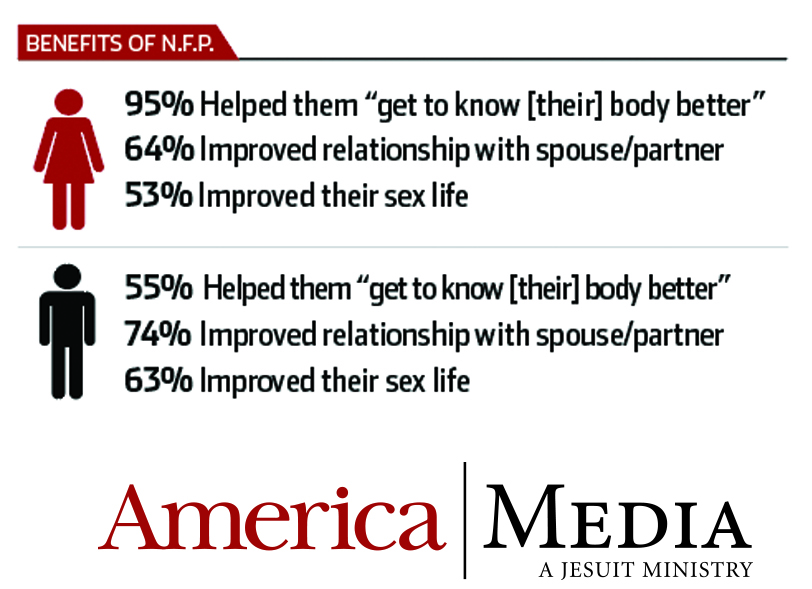 "The whole goal from 1981 until now [has been] to make N.F.P. ministry an integral part of marriage and family ministry in the diocese," said Theresa Notare, assistant director of the U.S.C.C.B.'s Natural Family Planning Program.
"Nearly 40 years later, we have mostly achieved that," Ms. Notare said. "People are more open-minded...today's bishops are knowledgeable, supportive and educated about the science and methodology of N.F.P. They see the responsibility to facilitate a Catholic couple's access to these methods."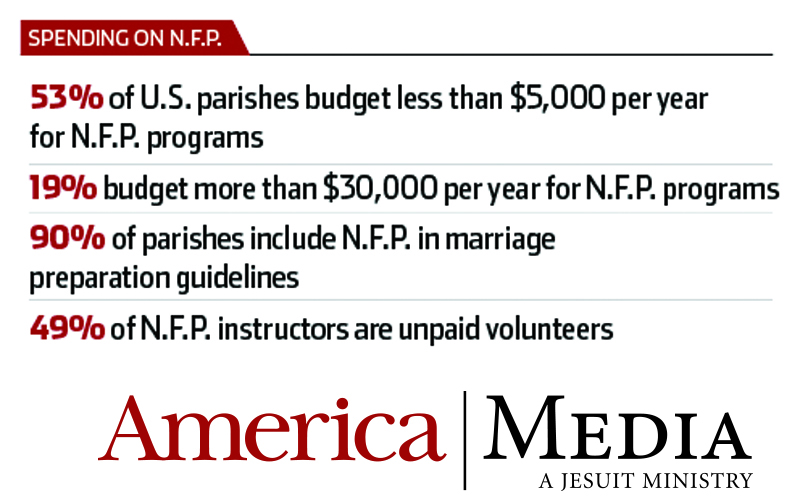 Ms. Notare says that more than half of the nation's 197 dioceses have very strong N.F.P. ministries that are part of diocesan marriage preparation programs. And, she says, contemporary couples are more receptive to information about natural family planning and fertility methods because they are more sensitive to living a natural lifestyle. (For information about N.F.P. ministry programming and specific resources for diocesan N.F.P. coordinators and teachers, see the website of the U.S. Conference of Catholic Bishops.)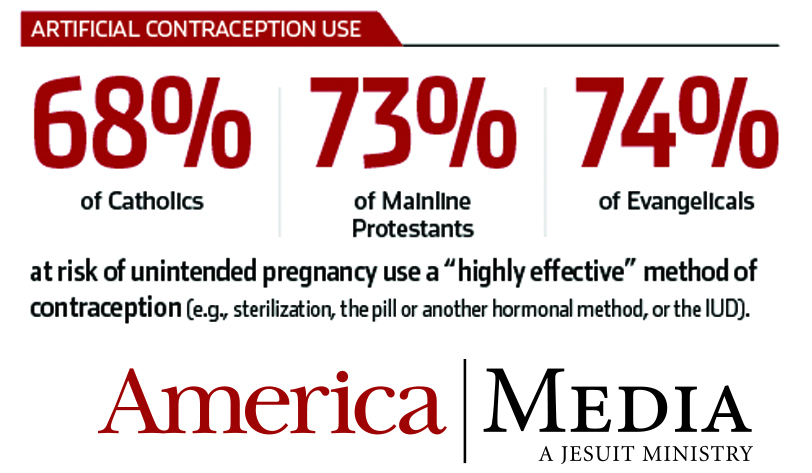 "Seeing the consistent inclusion of N.F.P. in marriage prep over the last 20 years is a huge, steady accomplishment and an important advancement for this ministry," said Ms. Notare. "But there is always more work to be done."
A 2016 study by the U.S. Catholic bishops found that 53 percent of dioceses spent less than $5,000 per year on N.F.P. programs; 19 percent budgeted more than $30,000 a year for such programs. The study also found that 49 percent of N.F.P. instructors in parish programs were unpaid volunteers.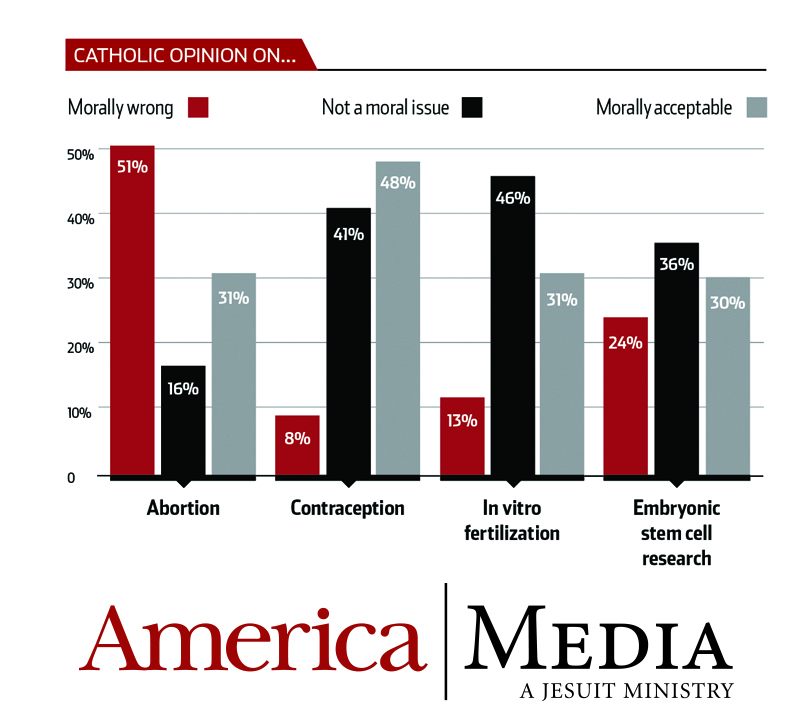 Infographic sources: The America Survey, commissioned by America Media and conducted in August 2017 by the Center for Applied Research in the Apostolate at Georgetown University; surveys on abortion, contraception and religious liberty from 2013 and 2016 from the Pew Research Center; "Contraceptive Use in the United States" fact sheet, the Guttmacher Institute (September 2016); attitudes on Natural Family Planning from study by Matthias Unseld, Elisabeth Rötzer, Roman Weigl, Eva K. Masel and Michael D. Manhart, Frontiers in Public Health (March 13, 2017); 2016 National Diocesan Family Planning Survey, U.S. Conference of Catholic Bishops.