Cardinal Pell abused my son, father testifies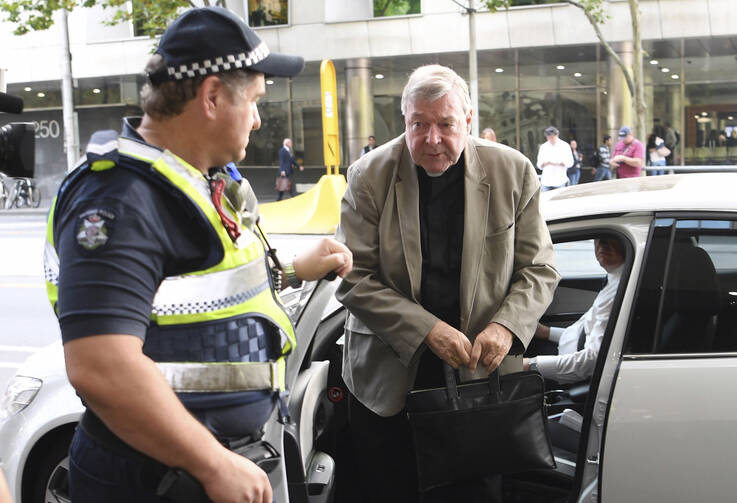 Vatican Cardinal George Pell arrives at the Melbourne Magistrates Court in Melbourne, Australia, Thursday, March 15, 2018. A father has testified in an Australian court that his son said he was sexually abused by Vatican Cardinal George Pell during a waterskiing outing years ago. When a defense lawyer accused him of lying, the father responded that it was an insult. (Joe Castro/AAP via AP)
MELBOURNE, Australia (AP) — A father testified in an Australian court Thursday that his son said he was sexually abused by Vatican Cardinal George Pell during a waterskiing outing years ago. When a defense lawyer accused him of lying, the father told the court it was an insult.
The testimony in the Melbourne Magistrate Court came at a hearing to determine whether prosecutors have sufficient evidence to put Pell on trial.
Pope Francis' former finance minister was charged in June with sexually abusing multiple people in his Australian home state of Victoria. The details of the allegations have yet to be released to the public, though police have described the charges as "historical," meaning they allegedly occurred decades ago.
Pell, 76, has said he will plead not guilty if the magistrate rules a jury trial is warranted.
The father of one of the alleged victims, who cannot be identified for legal reasons, testified via a video link that he first learned of the alleged abuse in 2015 and that his son struggled to talk about it.
Defense lawyer Robert Richter said the father did not name Pell in a statement he made to police then. "Do you have any explanation as to how it is there is no mention of Pell there, as having done anything wrong at the lake?" Richter asked.
The lawyer said the father had only recently named Pell as the alleged offender. "That's an invention of yours since July 2015 when you made your statement," Richter told the father.
When the lawyer said, "You have just made that up," the father responded, "That is an insult."
The father said his son struggled to talk about the alleged abuse and he was told of it by his other son, and not the complainant himself.
"He could not talk to his father about it, and he still can't talk about it," the father said.
The hearing for the most senior Vatican official charged in the Catholic Church sex abuse crisis began last week and is expected to take up to a month.
Pope Francis has withheld judgment of Pell, saying he will wait for Australian justice to run its course. Pell said he intends to continue his work as a prefect of the church's economy ministry once the case is resolved.