On the eve of Epiphany, when most Italian children wake up to find gifts and candy, Pope Francis visited a pediatric hospital outside Rome.
The pope arrived at the Palidoro Bambino Gesu Hospital at about 3 p.m. on Jan. 5 and visited the various wards where about 120 children are receiving treatment, according to the Vatican press office.
Advertisement
The pope greeted the children and "exchanged some words of comfort with the parents who are caring for their children in their tiring and painful trials," the statement said.
Visiting the hospital, Pope Francis was "continuing the experience of the Mercy Fridays," visits he made to hospitals, orphanages and other care facilities during the 2015-16 Year of Mercy.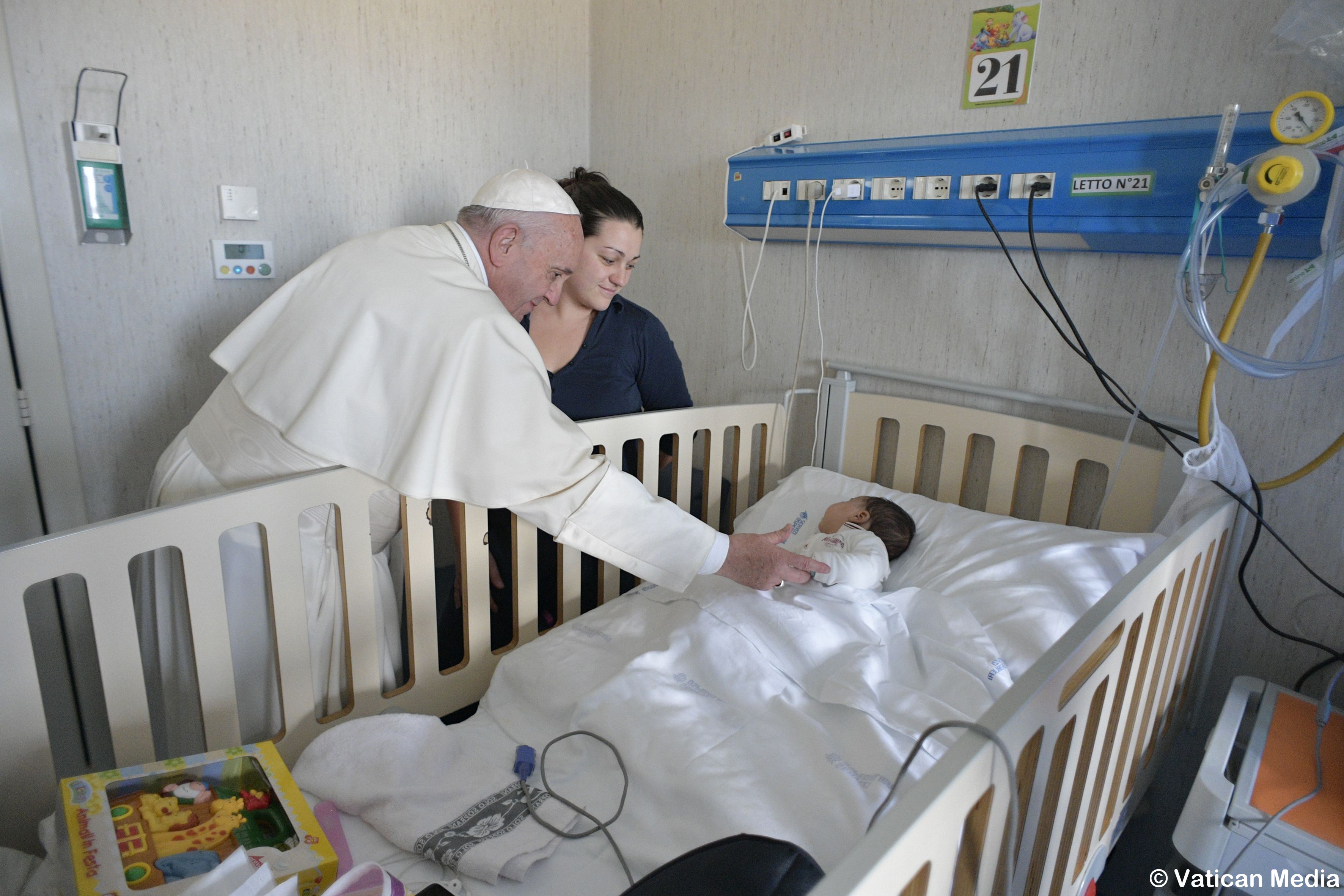 The Palidoro Bambino Gesù Children's Hospital, a 120-bed facility, is one of the three branches of the main hospital in Rome, close to the Vatican.  The other hospitals are in St. Paul Outside the walls in Rome and at Santa Marinella, on the seaside, further up north beyond Palidoro.
The Bambino Gesù Children's Hospital was begun in 1869 by Duke Scipione Salviati and his wife, who were moved by the condition of children who were treated in general hospitals. Their gesture invited others to contribute and helped the growth of the hospital. In January 1924 the hospital was donated to the Holy See. Since then it has been popularly known as the Pope's hospital.
Today the hospital is part of the network of the National Healthcare System in the city of Rome. It has become a significant point of reference for pediatrics at the national level and treats children not only from Rome and Italy, but also from neighboring European countries.
Several Popes have visited Bambino Gesù Hospital, with Pope St. John XXIII visiting the main center in 1958. He visited again at Christmas in 1962.
Blessed Pope Paul VI followed next with a visit in 1968, and ten years later started the Palidoro centre.
Pope St. John Paul II and Pope Benedict have also visited the hospital. Pope Francis first visited Bambino Gesù Hospital in December 2013.