Pope Francis on 81st birthday: "Do not take Jesus out of Christmas!"
Twenty-five thousand children and pilgrims from many lands came to St. Peter's Square today, Dec. 17, to sing "Happy Birthday" to Pope Francis on his 81th birthday. Following a Roman tradition, the children brought statues of the infant Jesus for him to bless, and, as he did so, Francis made an appeal to the city of Rome and the world: "Do not take Jesus out of Christmas!"
The children came from the Roman oratories and carried not only the statues and balloons but also a large banner that read, "There is always a place for you!" Taking his cue from this, Francis sent a message to the world when he told the children: "When you pray at home in front of the crib, with your family, allow yourself to be touched by the tenderness of the child Jesus, who was born poor and fragile among us, to give us his love. This is the true Christmas! If we remove Jesus, what remains of Christmas? An empty feast. Do not take Jesus out of Christmas! Jesus is the center of Christmas. Jesus is the true Christmas."
His words were a challenge not only the ever-increasing global commercialization of Christmas but the removal of Jesus from the public sphere. Local authorities in a small but growing number of towns in Italy and other European countries are adopting what they consider to be a "politically correct" position and have decreed that the crib or Christmas scenes should not be displayed in public places, such as schools and public squares, so as to avoid offending the followers of other religions.
"If we remove Jesus, what remains of Christmas? An empty feast. Do not take Jesus out of Christmas!"
Earlier this morning, Pope Francis chose to celebrate his birthday in the Paul VI audience hall with a group of children who are being helped by the Santa Marta dispensary in the Vatican and interacted with them in a joyful mood. In the past, Francis celebrated his 77th and 80th birthday as pope by having breakfast with homeless people. He celebrated his 78th with 100 circus performers and his 79th with young people from Catholic Action in Italy.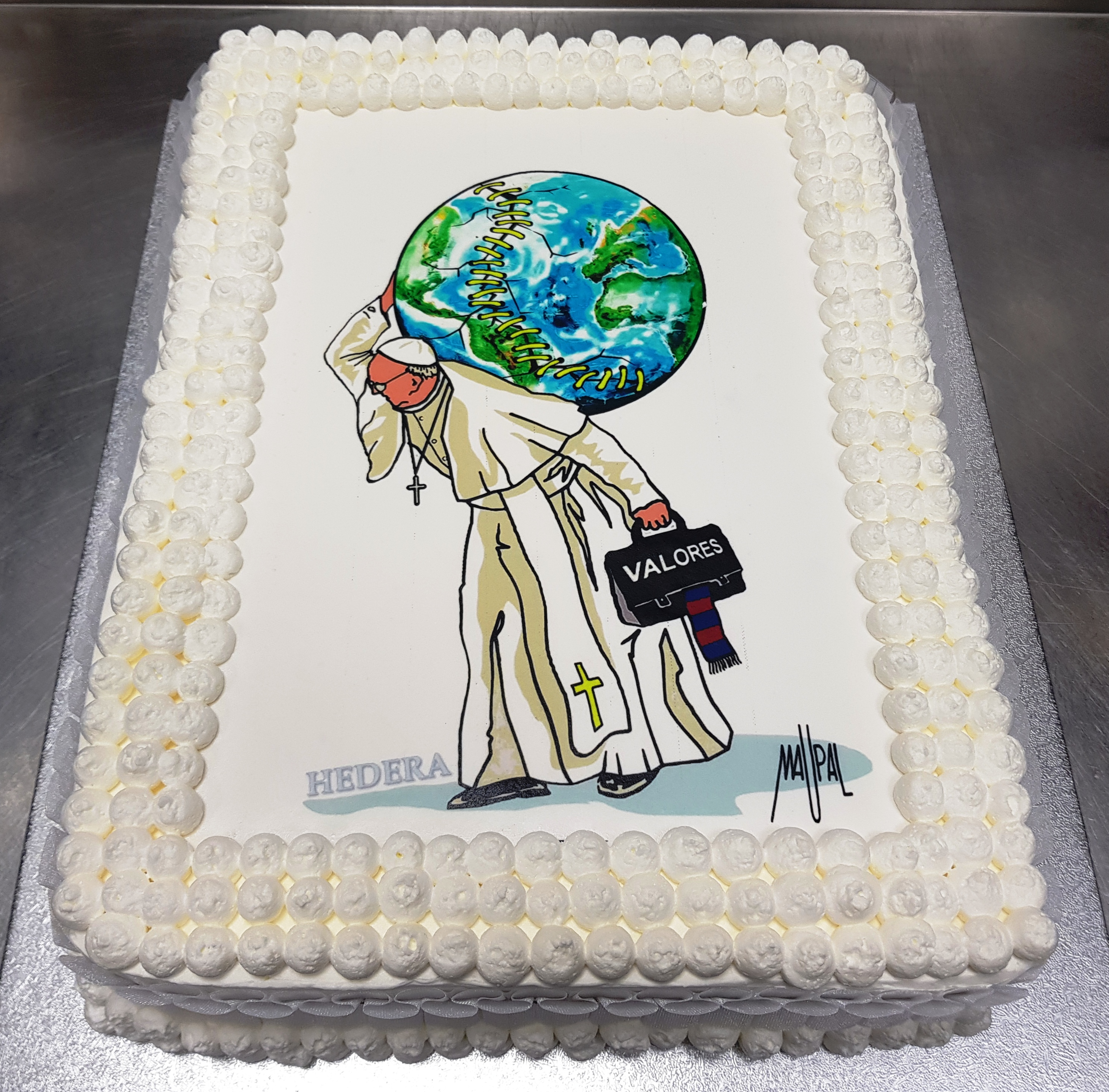 Francis began his celebration today with a joy-filled encounter with the children assisted by staff at the Santa Marta dispensary, their parents and the volunteers who help them. The children delighted him when they sang "Tanti Auguri" ("Happy Birthday" in Italian) and, after thanking them with a big smile, Francis commented on their joy and enthusiasm and told their parents that "the joy of children is a treasure" and "brings good fruits." He counseled: "Protect the joy of the children. Do not make children sad. When children see their parents arguing, they suffer. Do not make the children sad! They must grow always with joy."
As greetings from world leaders, cardinals, bishops and ordinary people flowed into the Vatican from all over the world, one particularly caught the eye: a large birthday cake made by Hedera, a baker near the Vatican. Everyone knows Francis has a sweet tooth, so he baked this special fruit cake for him and invited the famous Roman street artist, Maupal (real name, Mauro Pallotta) who had done many graffiti of Francis on Roman streets, to design one for the cake. He depicted Francis carrying a divided world on his shoulders, which the pope is sewing and holding together, seeking to overcome the divisions. He also showed Francis carrying his black briefcase on which the word "values" stands out clearly, as does a scarf of San Lorenzo, his favorite football team. The baker hopes for a feedback from the pope.
Throughout the year Francis receives many gifts from heads of state and people across the world, and he puts them to good use. He has the Vatican auction them at the end of each year and gives the proceeds to people in need.