Prophetic theological work can be dangerous business
There is no shortage of stories of theological thinkers gone much too early. In recent history, several come to mind immediately: Óscar Romero, Dietrich Bonhoeffer, Thomas Merton, Simone Weil, Ignacio Ellacuría, S.J., and Martin Luther King Jr. Tragically, we lost four of these lives to political executions. Anyone who claims theological thought has little to do with real life needs only remember these names to realize that prophetic theological work—the work of interlacing the Christian tradition with the world's pain—is dangerous business. Going back further in history, we recall the early deaths and unfinished work of Francis of Assisi and the young Catherine of Siena, their young lives lost to sickness.
The early death of those whose luminosity is snuffed out by the fragility of being human hits us particularly hard when we get to know their work and imagine what might have come next. Seeing the sturdy foundations and outlines they have drawn, we catch a glimpse of the thoughtful creativity that was their gift to the generations to come. Sometimes, this spark inspires us to continue their work: They have begun something we are called to resume building.
A Life of Promise
Alejandro García-Rivera, simply Alex to most, was only 59 years old when cancer took him. He died on Dec. 13, 2010, the day after the feast of Our Lady of Guadalupe. He was devoted to La Morenita ("the small brown one"). It was a source of comfort to all those who loved him to know she had come to take him back with her. Unlike Merton or King, you are not likely to have heard his name. I hope that after encountering him here, you will not forget it.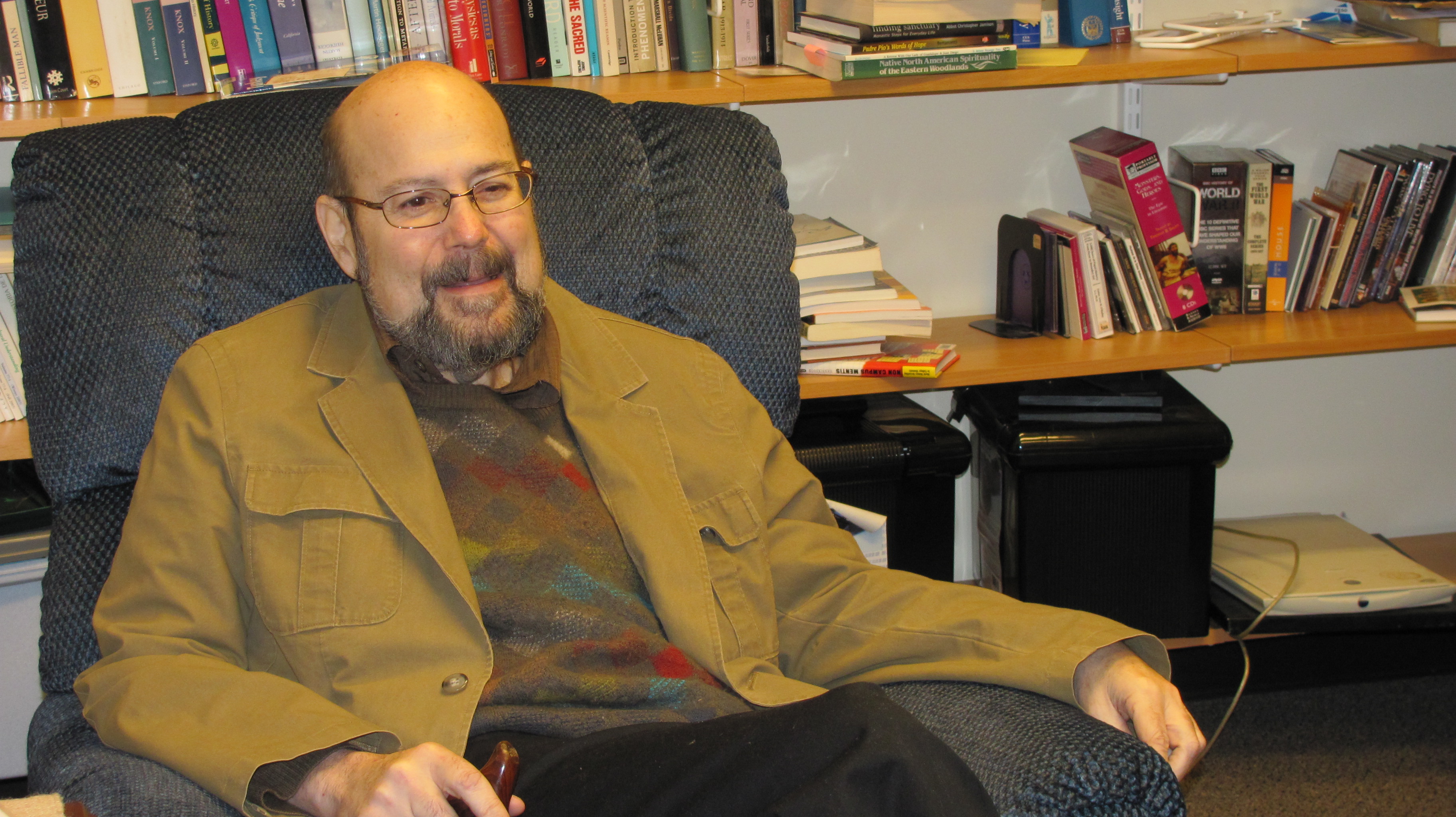 In battling his illness, García-Rivera put up a spirited fight. At one point during his difficult chemotherapy treatments, he even purchased a new digital camera in preparation for the research he was planning to do. He showed it to me proudly, vowing with his impish smile to learn its intricate new technology and to bring back pictorial treasures from faith communities yet to be discovered. The year before, in 2009, Fortress Press had published his fifth book, The Garden of God. In hindsight this was the first book of his most mature work. In it all of his intellectual powers and multiple insights coalesced. In Garden, García-Rivera the ecumenically trained theologian, who held a licentiate in sacred theology from the Jesuit School of Theology at Berkeley and a Ph.D. from the Lutheran School of Theology at Chicago, wove his thoughts with García-Rivera the physicist who studied at Ohio State. These two sides of him had been searching for a way to express what was impossible for either side to do alone.
García-Rivera was restless; he wanted to know how to speak about and work for the merging of the two realities of human history: God's and ours. In this final book, he was searching for the kingdom. The physicist made complicated calculations and asked difficult questions; the theologian probed what he called "the big story," what in theological terms we might call, the metaphysical. Our small stories were all part of a big story of a cosmos, a mysterious unity. It was his discovery of a bridging language and method that allowed him to bring it all together.
A Brilliant Friend
The discovery of this synthesis of ideas began in 2003 with A Wounded Innocence: Sketches for a Theology of Art, published by Liturgical Press. Before going more deeply into García-Rivera's thought, however, I must make a disclaimer about my role as interpreter: I am only a secondary source. What I propose here is my own work as a theologian reflecting on his work. Others may read García-Rivera and come up with very different and equally valid interpretations. Yet, because I was his student, my familiarity with his living and breathing being-in-the-world adds an elusive layer to my interpretation, difficult to quantify. I also share a number of García-Rivera's core identity markers: both Cuban refugees who arrived in the United States as small children, although a decade apart.
Through my time as his student, we discovered more affinities and some dissimilarities. Chief among these, García-Rivera's mirthful embodiment of the absent-minded professor. I recall his benevolent smile as I frantically looked for his missing office keys, which we eventually found fallen through a hole in his coat pocket. On one occasion, as he wore a particularly tattered sweater (which I had offered to mend), he told me about his college days. My favorite: the day he spent so absorbed in deep thought that, when he eventually emerged from his mental wanderings, he suddenly realized that he was soaked through from sitting on a wet lawn for hours and had missed all of his classes.
García-Rivera had questions that did not only apply to the beauty of numbers or of nature but to humanity's place in a cosmos filled with the beauty of God.
García-Rivera's brilliance caused him conflicts with his faith, and as a young man, science became his religion for a while. But one day as he found himself working on Boeing's air-launched cruise missile project, he had "a mystical vision of hell." Imagining the destruction wrought by the technology he was helping design, he left science and began his road back to a critically informed and embodied faith because, as he has written, "salvation for the human has high stakes." García-Rivera had questions that did not only apply to the beauty of numbers or of nature but to humanity's place in a cosmos filled with the beauty of God. There was an extraordinary difference between working on rockets for space exploration and on rockets that would deliver death. The difference was the beauty inherent in one and the horror inherent in the other. Aesthetics was the connecting strand, and García-Rivera discovered it while working on A Wounded Innocence.
Into the darkness
Many people today feel a sense of dread and urgency similar to what García-Rivera felt while working on the cruise missile project. Many feel as if we have entered a uniquely dark time in human history. Yet this is a statement that has been made over and over throughout history and will be made again. People of good will all over our planet are witnesses to and victims of acts causing pain and suffering that too often gets sanitized behind labels such as consumerism, xenophobia, racism, sexism, ethnic cleansing and the "collateral damage" of endless wars and catastrophic environmental degradation. I like to imagine that each of the theological thinkers I have mentioned would invite us to not look away but rather to engage this engulfing darkness. They would insist that we do some serious thinking followed by well-informed action to address evil in the world.
Bonhoeffer, Romero and Ellacuría would call us to fearlessly encounter the real world and deal publicly and forcefully with political systems that mask corruption and foster violence. Merton would invite us to engage people of other faiths, entering the commonality of our human spiritual depth and wisdom to find each other's dignity. Perhaps St. Catherine and the Rev. Dr. King would eloquently confront the church. They would surely call us to accountability for our easily preached but seldom-enacted principles of Christian love—and challenge us to live its agonizing demands. Finally, Weil and St. Francis would turn our gaze toward the least: to the poor and to the other creatures of the world. They would invite us to put ourselves at risk so we could be not only for them but with them. Losing our comfort and power would reveal that life lived intensely in God's love is never convenient.
Into the thoughtfulness
I admit appreciatively that your choice to read this essay and engage in this bit of theological reflection with me says much about how you view your place in the world. I would say that you value aspects of our humanity that have been under relentless attack during this past year, most especially critical thought, which helps us to see and act on the difference between lies and truth. One of the many harmful fictions gaining currency in our country is that intellectual engagement, challenging education and demonstrable expertise in particular areas of our common life are "elite" and meaningless pursuits. Along with this, there has been a wholesale repudiation of religious and philosophical wisdom, of the lessons of history, of the work of science and of that which we educators most wish to impart as a skill to our students—the search for coherence.
The current insistence that entirely incompatible thoughts and actions can comfortably coexist without challenge is the greatest danger we face as a people generally, and as Christians most particularly. Returning to the love of and from God expressed in Jesus' resurrection, those of us charged with leadership, teaching, community-building and ministering cannot allow the lie to stand that Christianity can coexist with racist, xenophobic, consumerist and sexist attitudes. We are called to risk our comfort and act, not in ways that will "heal our divisions" (whatever that means) but in ways that will keep those divisions from happening in the first place. We must ponder Jesus' "job description" and make it our own. As he read in the synagogue from Isaiah's scroll, he succinctly defined the work he meant to do:
The Spirit of the Lord is upon me,
because he has anointed me
to bring glad tidings to the poor.
He has sent me to proclaim liberty to captives
and recovery of sight to the blind,
to let the oppressed go free,
and to proclaim a year acceptable to the Lord (Lk 4:18-19).
If we are paying attention, we know Pope Francis has made this his job description, too. What about us? As he has often said, he cannot do this work alone. I say all this because the theological thinker whose brilliance I celebrate here will give us some pointers about how to go about this work. I say this because though early death caught him, the promise of the resurrection's unfolding mystery was his passion. He was my teacher, and in his person and his thought he was like Isaiah, imagining the making of a better world. García-Rivera offers three invitations for us in these uncertain times.
1) An invitation to beauty. García-Rivera found the opposite of the cruise missle image of hellish destruction in Caravaggio's The Incredulity of St. Thomas (1601-02). The young resurrected Jesus, his wavy dark hair tucked casually behind his ear, steadies Thomas's hand as the disconcerted disciple digs his index finger into the gaping wound in Jesus' abdomen. The scene should be horrifying, sickening, gruesome. It is instead extraordinarily beautiful. What was it that made it beautiful? Why was this story so carefully preserved by Jesus' friends? Only aesthetics could provide the answer, and the answer was in the truthfulness of the moment, and in the goodness it engendered.
Years later, García-Rivera would explain that "beauty brings a kind of knowledge known only by being enjoyed." If we cultivated our sense for beauty, we would know the truth of our place in the cosmos and devote ourselves to the goodness required to tend the "garden" that he understood as the kingdom of God. Transformed by the beauty of the wounded one, we would dedicate ourselves to beauty-making and beauty-protecting acts and train ourselves to notice and fight against the ugly, false and destructive. He spoke as a prophet, telling us unequivocally, "We must fall in love with the earth if there is to be a heaven."
"We must fall in love with the earth if there is to be a heaven." - Alejandro García-Rivera
2) An invitation to woundedness. The pairing of our wounds and our innocence is a particularly important concept in García-Rivera's work. He urges us to consider jointly these seemingly opposed qualities. In popular usage, innocence connotes lack of experience (as in sexual innocence) or purity (as in the innocence of children). Innocence requires a type of unknowing that is then interpreted as goodness (as in innocence from a crime). Yet, Thomas touched the gaping wound of the friend whose death he had been mourning; this was traumatic and painful. Jesus, even though resurrected, showed his wounds, unable or perhaps unwilling to return to a state where he had not faced his full humanity through torture and death. In his wound offered to Thomas, they shared deep anguish and then joy. The innocence of unknowing was impossible for either of them; the wound was the truth. What would Thomas do with this knowledge? Here was the call to goodness. Jointly their innocence was wounded, there were scars, and in those scars of "wounded innocence" was beauty because they were truthful and yielded goodness.
3) An invitation to growth. In his last book, the unity of goodness and truth, with beauty as their marker, makes it possible for García-Rivera to speak about our place in the cosmos woven from the deep knowing possible when science and theology both seek human flourishing. Inspired by the prescient work of the Jesuit paleontologist and theologian Pierre Teilhard de Chardin and urging for its recovery, García-Rivera speaks from our time and to it. He notes the danger of a technology that provides comfort and power without any effort on our part. He describes tending a garden, which requires humility, hard work and an awareness of the interconnectedness of everything. In the garden, we cannot be innocently unknowing but must attend to the knowledge revealed by climate and place and to the wisdom gathered through time. Yet in our contemporary world we have become myopic consumers of everything.
An American Eden
Alluding to the foundational story of the Hebrew Scriptures in Genesis, García-Rivera notes that "the garden of Eden represents an expansive creativity to a frail humanity...[and] the offer of an abundant life." By contrast, the "American Eden" made up of shops and entertainment, no matter how many fountains and manicured lawns are in it, "fails as a garden. It is an environment of life consumed, not an environment of life abundant." In other words, wounding our innocence enough to "know" the exploitation and misuse of resources inherent in a consumerist society will renew us, will bring the wisdom and faith that Thomas experienced, and the fearlessness that characterized the post-Easter community of Jesus' friends.
"If we cultivated our sense for beauty, we would know the truth of our place in the cosmos."
What's more, García-Rivera calls us to train our gaze carefully to see that the pretty gardens of our manufactured Edens are not beautiful at all because they are not truthful but meant to stimulate our consumption. Our facile Edens of shops and technology are not good because instead of creating community they create competition and make us cling to unknowing by escaping what is real. Seeing this will begin to reveal to us our vigilantly thoughtful place in the cosmos. From here the beauty of Jesus' wounds carried in his body as the opening between God's reality and ours, reveal that "Beauty is more than something to behold in forms but also a power that forms." God's love is the most beautiful truth there is. Here beauty becomes an invitation to stand boldly in its unconditionally universal proclamation tilling tirelessly a garden for all.
Of course, for the Christian community, the preeminent human whose life was cut before his time is Jesus of Nazareth. Before jumping to our faithful belief in him as the living Lord brought fully alive into the center of human history as the Christ, it is good to remember him as a gifted teacher and healer, whose thoughts and practices of extraordinary kinship, inclusion, mercy and forgiveness were deemed so dangerous to the powerful of his time that political execution became their answer. Jesus was killed in his early 30s, in earthly terms his work just barely begun. How to make sense of his early death? In Jesus' case, God's definitive word entered the heart of his friends as the fulfillment of a promise they noticed embedded in their sacred Scriptures. As Jesus repeatedly embraced and enacted God as boundless love, they came to understand that it was Jesus' free choice to die in faithfulness to God. Just as God's loving power had called all of reality into being, because of Jesus' love God's glory was revealed in the defeat of the final enemy. Jesus' resurrection into the arms of the Trinity was God's decisive word, confirming the truth of all the young Nazarene had said and done in his short life. God was indeed love, and the kingdom of God was unfolding—and continues to unfold—in him merging two realities, ours and God's.