To mark the Reformation, Catholics and Lutherans are focusing on what unites them: justice and peace.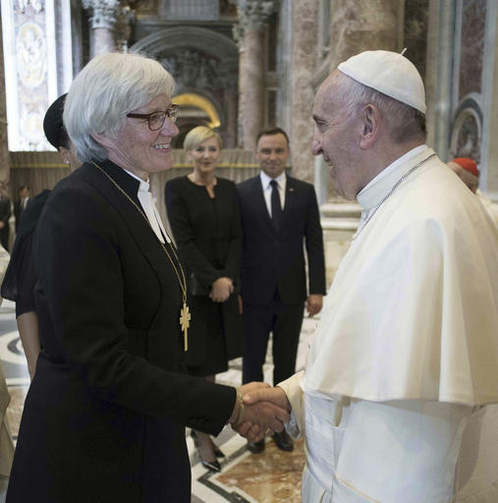 Pope Francis meets Lutheran Archbishop Antje Jackelen, Primate of the Church of Sweden, on the occasion of the canonization ceremony of two new Saints, Stanislaus of Jesus and Maria Elizabeth Hesselblad, at the Vatican. Pope Francis travels to Sweden next week to commemorate the split in Western Christianity 500 years ago. (L'Osservatore Romano/Pool Photo via AP)
Pope Francis is in Sweden today to mark the start of the 500th anniversary of the Protestant Reformation together with Lutherans from across the world. The ecumenical gathering, hosted by the Lutheran World Federation, has been dubbed "From Conflict to Communion," and it marks the first time that Catholics and Lutherans have jointly commemorated the Reformation on a global level. The event will take place in the Lutheran Cathedral of Lund, a sleepy university town in southern Sweden.
"For all of us, it was a big surprise that the pope would come here for this commemoration of the Reformation," said Bishop Anders Arborelius, O.C.D., of Stockholm's Catholic diocese. "When you think about Reformation, you think about Germany, about Wittenberg and not about Lund." But both Lutheran and Catholic traditions have deep roots in Lund. In the Middle Ages, Lund's cathedral was Northern Europe's hub for the Catholic Church, the seat of the archbishop of the Nordic countries. It was in Lund that the ecumenical movement began when, in 1947, the Lutheran World Federation was founded after Lutheran churches came together after the war to ensure greater unity.
RELATED: Cardinal Kasper on Francis' Visit to Sweden for Anniversary of the Reformation
"This is a place where we have been praying during times long before Reformation. This is a church for the whole church," said the Rev. Lena Sjöstrand, the chaplain of Lund's cathedral, when I met her on Sunday outside the cathedral which was already buzzing with security measures, a gaggle of policemen with automatic weapons a few meters away.
If one does not associate Lund with the Reformation, one certainly does not associate it with Catholicism. "We have to remember that Sweden as a nation was born against the Catholic Church, so since the 16th century, up to about 200 years ago, the Catholic Church was banned from Sweden and even had capital punishment for Catholics," said Bishop Arborelius. Catholics could not become physicians, teachers, or nurses until 1951, and Catholic convents were not legal until the early 1970s. Bishop Arborelius, a kind-eyed Carmelite in his late 60s, became Sweden's first Swedish Catholic bishop since the Reformation when he was installed in 1998.
Like most native Swedish Catholics, he is a convert from the Lutheran Church of Sweden. But the bulk of the church he inherited is made up of first and second generation immigrants. St. Eugenia, the Jesuit parish in Stockholm, has almost 100 different nationalities. While the Catholic Church in Sweden now has over 100,000 members, far more than the approximately 5,000 members it had in the 1950s, it is still far less than the Church of Sweden, which counts 6.4 million registered members.
Active membership in the Church of Sweden is a fraction of that number, however, and Sweden consistently ranks among the world's most secular countries. "You have to have a deep faith in order to live in Sweden because it's a very secular surrounding and you have to be very conscious of your faith," Bishop Arborelius told me. But "it's a very thrilling time to be a Catholic in Sweden because the church is growing. People are more interested to listen to us. For instance, today, the biggest Swedish newspaper had several pages about the visit of the pope and about people becoming Catholics."
Indeed, Pope Francis' visit has created a media frenzy and has largely overshadowed the event itself. "Most Christians and most people in Sweden have a very high regard of the pope as a moral authority, as a person who can somehow help people to come closer to God and to live a good life," said Bishop Arborelius. After the service in Lund's cathedral, the pope will travel to the neighboring city of Malmö, where he will take part in a similar event in Malmö Arena; the initial block of 6,000 tickets sold out within an hour.
On Tuesday, he will celebrate a Mass for Scandinavian Catholics, a decision that was not popular among Lutherans, according to reporting in Expressen, a major Swedish newspaper. But in an interview with America, Archbishop Antje Jackelén, the Lutheran archbishop of Uppsala and primate of the Church of Sweden, was quick to emphasize the two sides' cooperation: "Pope Francis is not coming as a guest—he's coming as a host—together with the Lutheran World Federation."
According to Bishop Arborelius, the commemoration and the document which will be signed will stress commonalities: "We want to start with proclaiming our belief in Jesus and what that means for the world today and from that common faith in him. We want to give a witness to the world, especially to those in need."
Caritas Internationalis and Lutheran World Relief have a strong presence at the event in Lund. Bishop Antoine Audo, S.J., the Chaldean bishop of Aleppo, will speak, and Monsignor Hector Fabio Henao, who worked to negotiate the end of the civil war in Colombia, will also be in attendance. "We could say this meeting somehow is concentrating upon this common witness," noted Bishop Arborelius, "what we can do for a world in need, in sorrow, in war."
"I hear many people asking for a solid basis for hope, and maybe this can provide something of an answer," said Archbishop Jackelén.
The focus on conflict resolution and social justice is a natural fit for Sweden, a country that has been at the forefront of the current refugee crisis. The pope "is a symbol for those questions, and apparently, it touches something in people's hearts right now," noted the Rev. Sjöstrand. "What is important in the ecumenical movement is to bring together those social issues with prayer and transcendence. That is important in this meeting—that we meet to pray. In the praying, we bring up these issues of the world, but we do it, praying before God, together."