Jean Vanier's Gift for Living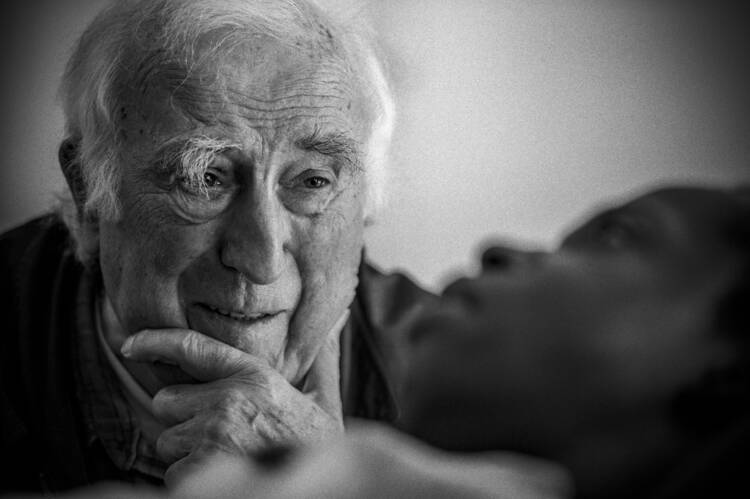 Jean Vanier, founder of the International Federation of L'Arche Communities, appears in the documentary "Summer in the Forest." The Catholic News Service classification is A-II -- adults and adolescents. The documentary is not rated by the Motion Picture Association of America. (CNS photo/Abramorama) 
In August 1964, Jean Vanier was a 36-year-old former naval officer seeking to follow Jesus and the Gospels in a new way. He invited two men who had been living in an institution for people with intellectual disabilities to share a house with him in a French village. Since then, more than 132 similar communities, called L'Arche (the Ark), have developed in over 34 countries, welcoming people of all faiths and traditions. Its related network, called Faith and Light, includes more than 1,500 communities. Jean Vanier has become internationally recognized for his profound reflections on social inclusion, peace, forgiveness and what it means to be human.
A celibate spiritual leader who is not a priest, a philosopher with a doctoral degree who is not a professor, Vanier is not easily categorized. When he turned 80 in the fall, the Canadian Globe and Mail newspaper commended his peacemaking, ecumenism and humanitarianism. The editorial endorsed Vanier as a worthy candidate for the Nobel Peace Prize, created to honor those who have "greatly contributed to fraternity among human beings across the world."
Jean Vanier was born into a distinguished Canadian family. His family was the last of Canada's diplomats to flee Nazi-occupied France when he was 11. At age 13, Vanier decided to join the British Navy and again crossed the dangerous North Atlantic. In his early 20s, after reading Thomas Merton, getting to know Daniel Berrigan, S.J., visiting Friendship House and the Catholic Worker in New York City, and completing a 30-day Ignatian retreat, Vanier resigned from the Navy. For the next 14 years, he studied and prayed, became leader of an innovative community of international students near Paris, wrote a well-received doctoral thesis on Aristotle's understanding of happiness and was invited to teach at the University of Toronto.
In 1964 his long search to follow Jesus came into focus in a new way, when with Philippe Seux and Raphaël Simi, he moved into the small house in Trosly, France. Within a year the community had grown, because Vanier was asked to take on the directorship of a local institution. A trip to India in 1969 deepened Vanier's understanding of the spirituality and vision of Gandhi and expanded his critical understanding of poverty and community. Around that time L'Arche communities began to grow rapidly around the world, including 16 in the United States.
If Vanier had any tendency to romanticize handicaps or spiritualize weakness, that changed when he himself became weak and dependent from a prolonged tropical infection in 1976 and endured a long recovery. He wrote to friends, "After twelve years at L'Arche as an 'assistant,' I am now experiencing what it is like to be on the other side."
"Even if you cannot speak, even if you cannot walk, even if you've been abandoned, you have a gift to give."
His self-understanding deepened in 1980, when he spent a year living with people with more severe handicaps, whose pain touched his own anguish and even hatred. In learning to recognize his own hidden places of pain, Vanier learned to befriend weakness not just in others but in himself. "Let's stop running away from ourselves and from the deepest parts of our beings," he encouraged people on retreat. "Let us simply stop and start listening to our own hearts. There we will touch a lot of pain. We will possibly touch a lot of anger. We will possibly touch a lot of loneliness and anguish. Then we will hear something deeper. We will hear the voice of Jesus; we will hear the voice of God. 'I love you. You are precious to my eyes and I love you.'"
For Vanier, movements inward and outward follow naturally like tides. He learned not to be an enemy of his inner contradictions and pain and began to speak more about "the teaching of Jesus, that, if it had been followed, would have changed the history of the world—Love your enemies." Love is about coming out from behind barriers, he observed. "Do we want to win, or do we want to be in solidarity with others?" he asked a Harvard audience in 1988.
Jean Vanier wrote to friends, "After twelve years at L'Arche as an 'assistant,' I am now experiencing what it is like to be on the other side."
After Sept. 11, 2001, Vanier participated in gatherings where people reaffirmed their vision of mutual acceptance, but he found that those evenings of prayer left him uneasy. "I felt as though people were not praying for a new just order between people and nations, but, motivated by fear, were praying to keep the status quo—no change, no insecurity…." In words that sound especially resonant now as the economy dominates headlines, Vanier wrote that perhaps "certitudes will crumble, and stock exchanges will wobble again before more of us truly begin to search for new ways of living."
Vanier's life offers one example of a new way of living. For him, life's work is not simply internal growth or accepting one's humanness. We each have something to offer. "The fundamental principle of peace is a belief that each person is important," writes Vanier. "Even if you cannot speak, even if you cannot walk, even if you've been abandoned, you have a gift to give."