'I believe that good will prevail': A Ukrainian artist's optimism in the face of Putin's war
In 2016, Ukrainian artist Mykola Zhuravel debuted a new exhibit at the Ukrainian Institute of America, in New York. Entitled "Invasion Redux," the work includes 18 pieces in various media—painting, sculpture, video—responding to the 2014 Russian invasion and annexation of Ukraine's Crimean peninsula.
The central motif of the exhibit's work is men and women in steel bear masks and sometimes claws, wearing strange metal bondage gear. Though they often hold weapons, instead of being pictured at battlefields they are seen at weddings, watching television or lying around. The contrast between the happiness of the events and the violence the subjects are capable of creates a sickening pit-of-the-stomach kind of anxiety; either something truly terrible has already happened, or it is about to.
Ukranian artist Mykola Zhuravel talks about his exhibit "Invasion Redux" and the naked aggression of Vladimir Putin's Russia.
Sadly, that fear has proven to be too true, with Russia now over 100 days into its invasion of Ukraine. "Invasion Redux" is currently on exhibition in Toronto. With the help of Ukrainian-American artist Tatyana Borodina and translator Valentin Yemelin, I was able to submit some questions to Mr. Zhuravel about the project.
I wondered about the image of the bear; it's everywhere. Not a single person represented in the show's 18 works shows their own face. Mr. Zhuravel explained that he did this because the image of the bear is so prevalent in Russia's self-imagination. "Vladimir Putin often mentions this symbol in his public speeches," he said. For instance, in late 2014 Putinsaid in a press conference: "Sometimes I think, maybe it would be better for our bear to sit quiet, rather than chasing around the forest after piglets. To sit eating berries and honey instead. Maybe they will leave it in peace. They will not. Because they will always try to put him on a chain, and as soon as they succeed in doing so they tear out his fangs and his claws."
Mr. Zhuravel quoted something else Putin had said two months earlier: "The bear is considered the master of the taiga"—meaning forest—"and he will not be asked for permission from anyone to do what he sees fit."
"As an artist, I was struck by the imagery of Putin's statements about the bear, the mission of this predator," Mr. Zhuravel explained, "as if the whole world wants to pull out his claws and teeth, and instead of eating meat, put him on a vegetarian diet."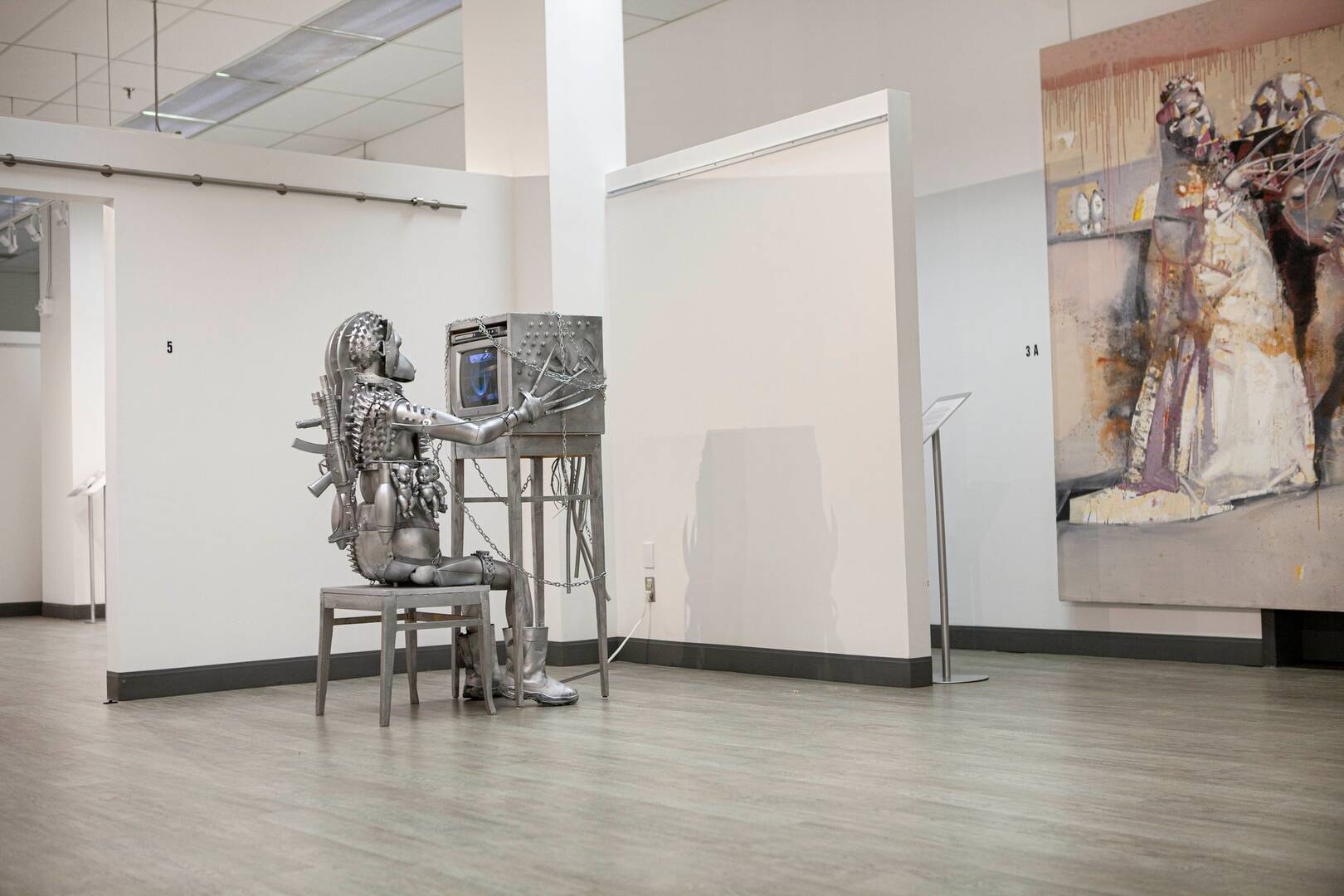 The exhibit he developed from this concept seems on the surface like a strange and sadistic fairy tale. In fact, Mr. Zhuravel saw his project as a collapse of the mythological into the literal. Some of the scenes he staged for his photo and art work come directly from real events. "I came across wedding photos of terrorist fighters posted on social media," Mr. Zhuravel explained, "where they pose with weapons in their hands during wedding photo shoots with their brides in wedding dresses." For him, an allegory lies in the political sense of a wedding: a merger of nations as a result of treaty or invasion. "I recalled such hybrid states that appeared after the military intervention of Russia, such as Transnistria, Ossetia, Donetsk and Luhansk."
Another photo—"Bathing in Toys No. 3," in which a mostly naked bear-man lies on a bed filled with stuffed animals—is even more disturbing in its real-world significance. After Russian militants shot down Malaysian Airlines Flight 17, Mr. Zhuravel explained, some soldiers posed with toys from the wreckage.
"I could not understand their nature and the mental state of a 'human being' who enjoys that," he said. "This toy belonged to some child from this downed plane a few hours ago. Their body is now probably not far away in the field after the plane crash." Once again, the allegory for Mr. Zhuravel lies in the political import: "Countries that tolerate aggression from Russia can be called 'soft toys,'" he explains. "And I thought, 'We are just soft toys for them, and Russia is a killer, bathing in them while enjoying it.'"
By their nature, masks are faces that can be taken off, generally by the individual wearing them. Does the fact that Mr. Zhuravel uses masks, rather than changing his subjects' actual faces, signal he sees hope that they can change?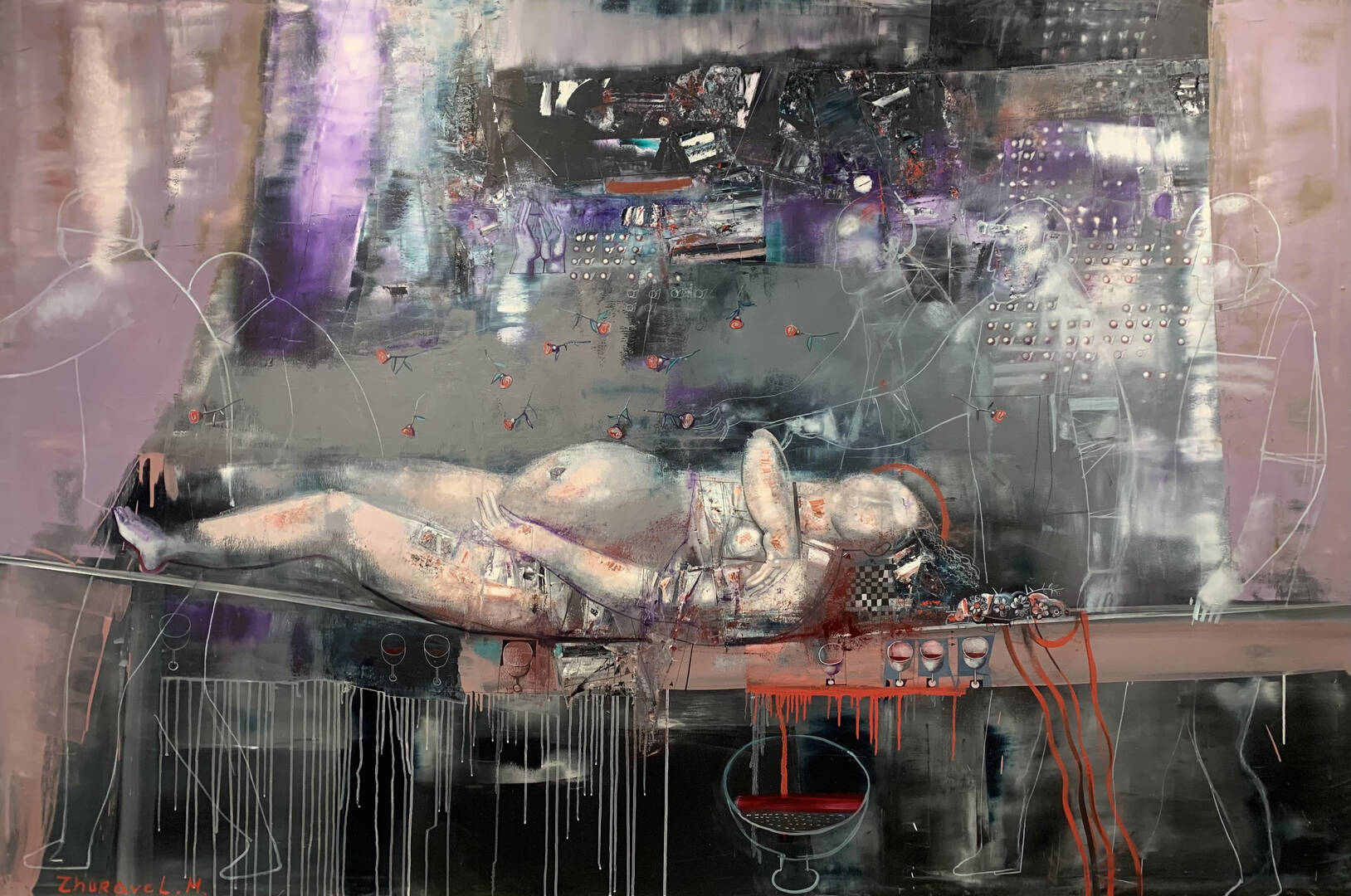 "Can they take off this mask of aggression? Voluntarily, no!" Mr. Zhuravel responded. "Only the victory of Ukraine in this war will ensure civilized relations and dialogue with the whole world." He points to other similar situations that have played out the same. During World War II, he says, Nazi Germany did not change its ways. "The anti-Hitler coalition ripped off this 'mask of aggression.'"
In one of the most potent images of the exhibit, the installation "Broadcast," a female figure wearing a bear mask sits directly before a television playing Russian propaganda. She wears weapons and children's toys, which he sees as the spoils of war. (They are, he says, "a symbol of people and countries that Russia captures and destroys.") And the point is the power of Putin's propaganda machine: "The aggressive bear is not just watching TV but is literally chained to it," Zhuravel points out. "This is exactly about total control of media by Putin's regime."
Another image, a painting and sculpture diptych, called "Slices of Time," is drawn from satellite images. What look like images of buildings or devices are actually Russian military equipment; these are shots of captured cities. "It can be seen as an image of territories from outer space turned into citycities-cemeteries," Mr. Zhuravel suggests. "People become part of this landscape, surrounded by weapons, Soviet symbols and propaganda information."
His overall project, he says, is a "portrait of the Aggressor." And it is not just Ukraine's aggressor: "I consider it my mission to convey to a viewer the truth of danger from this sick creature—Putin's Russia­—being a danger to the whole world. Thus, I call on the entire civilized world to resist this Predator."
At the same time, Mr. Zhuravel remains hopeful. "In spite of all the tragedy and the severity of truth present in this project, I remain an optimist," he wrote. "I believe in our victory, and I believe that good will prevail" over evil.He is currently at work on a "Mariupol Madonna," inspired by a pregnant woman injured during the invasion of Mariupol who appeared on the front pages of many media outlets, who later died. "I saw her as an image of contemporary Ukraine, bleeding, while the whole world is praying for her and her survival."
My final question for Mr. Zhuravel was whether there was anything he wanted to share with people about Ukraine. "I would like everyone in the world to know that proud Ukrainian people will always fight for their freedom and independence to the end," he said. "On behalf of all Ukrainians, I would like to thank you for the great support of the entire caring world during this difficult time for Ukraine."