How grace transcends conflict in 'West Side Story' (and beyond)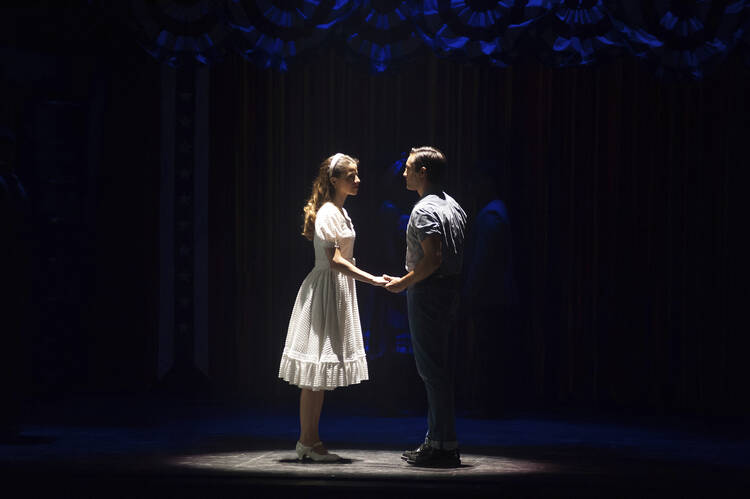 A group of actors perform on stage as they take part in the rehearsal of the musical 'West Side Story' during a press pass at the Cervantes theatre. The famous musical 'West Side Story', about the love relationship of two Younger that belong to opposed bands in New York City, arrive to Malaga city in a musical tour until 4 August. 'West Side Story' are based in the love story of 'Romeo and Julieta' (Romeo and Juliet) writes by English dramatist William Shakespeare. (Photo by Jesus Merida / SOPA Images/Sipa USA)
"Something's comin', something good." That's what the posters in the subway say. "West Side Story," Arthur Laurents's 1957 musical, with music by Leonard Bernstein and lyrics by Stephen Sondheim, is returning to Broadway this winter. Previews begin in December. This incarnation of "West Side Story," a retelling of Shakespeare's story of Romeo and Juliet, "promises to be unusual," says The New York Times, especially "given the strong stylistic hand" of its director, the Belgian Ivo van Hove, as well as "the presence of the avant-garde choreographer Anne Teresa De Keersmaeker," who intends to diverge from Jerome Robbins's iconic choreography. The production also promises greater sensitivity to the original's racial and ethnic stereotypes, an approach more in keeping with contemporary mores.
That will be a tough balancing act. The conflict in "West Side Story" is driven by the love of a young man and woman on Manhattan's West Side: a beautiful and true love, but not one powerful enough to overcome the ethnic prejudice that structures their existence. Those ethnic differences, in other words, are what drives the conflict. Or do they? Interestingly enough, the original treatment for "West Side Story" was based on a different idea, according to the Broadway historian Robert Emmet Long. The original version featured "a Jewish boy and an Irish or Italian Catholic girl, who would be brought to grief by conflicts and hatreds fueled by ethnic or clan differences."
That became the story of Tony and Maria, who are Polish and Puerto Rican, respectively. The differences between these star-crossed lovers still prove unbridgeable, but in orienting the conflict around ethnicity, the authors give the characters the same religion. Tony and Maria are both Catholic. In fact, every member of both the Jets and the Sharks, the rival gangs who substitute for Shakespeare's Capulets and Montagues, are Catholic. It is a safe bet that even Officer Krupke is Catholic.
This got me thinking. While difference is what so often defines conflict, is that what creates it? There are big differences among people, differences of class, race, gender, sexual orientation, nationality; differences between those who are thought to be in some way true or orthodox and those who are false and alien. Racism, sexism—these are real, destructive forces. But more often than not these days, I find myself circling around the idea that conflict is driven more by what we have in common. After all, the original conflict, that of Cain and Abel, was a fight between the sons of Adam and Eve. As brothers, the two could not have had more in common, yet one murdered the other.
While difference is what so often defines conflict, is that what creates it?
Why? To put it in an old-fashioned way, their conflict was a consequence of the Fall, the original sin for which their parents were banished from Eden, the consequences of which we have in some mysterious way inherited. In a moment of confusion and decision, the story goes, human existence was transformed from an ideal experience of how much we are loved into a struggle over who among us is loved. It is a subtle but profound shift. Created in the image of the eternal God, who is love, every one of us possesses an infinite desire to love and to be loved. Yet we seek to quench that infinite desire with things that are finite. God said to Cain: "What have you done? The voice of your brother's blood is crying to me from the ground." The ground. Ground is a finite thing—there is only so much of it, whether it represents the literal earth or other things, like money or power. The relative scarcity of ground is why we fight over it.
Scripture also reveals the flip side of that fundamental human reality. Ultimately, our infinite desire for love can be satisfied only by the one who alone is the infinite source of that desire. All violence flows in some way from a failure to understand that fact. That failure, in turn, causes us to panic, to sin. Christian revelation is a scandal because it definitively reveals the irrational futility of our constant struggle to attain that which is already freely given to us.
Ultimately, our infinite desire for love can be satisfied only by the one who alone is the infinite source of that desire.
Tony and Maria glimpse that truth at the end of "West Side Story." They intuit that there is a place, a somewhere, a someone, who can satisfy this universal, primordial desire. They sing about it in their final scene: "There's a place for us/ Somewhere a place for us/ There's a time for us/ Someday there'll be a time for us."
There is a word for a force that transcends time and space, a force that sets us free from the pain of the here and now and heals our broken hearts through a power that is everywhere and eternal. It's called grace. Tony and Maria, as Catholics, might have used a related, more familiar word to describe something similar: a sacrament.