My passion for spending countless hours in an overheated kitchen began not long after I graduated from college, when I realized I had time to create delicious recipes inspired by Pinterest.
Pinterest remained my primary source for inspiration until The Catholic Cook Book turned up on my desk. (Thanks Amazon!) Nothing seemed more appropriate for a Catholic girl who once spent a month searching for the perfect apron (canvas brown and mustard yellow with a hipster bicycle pattern) and gets excited about cheesecloth and rolling pins. 
Advertisement
The Catholic Cook Book, published in 1965 and with a preface by former America editor Robert I. Gannon, S.J., is exactly that: a cookbook for Catholics and those who want to learn about Catholicism and how it relates to food. It is divided by liturgical season, and explains what each season means and how the season is celebrated in different parts of the world. The book includes recipes for the seasons we would expect—Advent, Christmas, Lent—plus unexpected feast days (St. Stephen, the Holy Innocents, St. Lawrence of Hungary) and a general section for festive occasions and days of fasting and abstinence. 
The book gave me the opportunity to educate myself, and my family and friends, about traditions of the faith around the world. Did you know December 28 is the Feast of the Holy Innocents? It commemorates the children slain for Christ by King Herod and was celebrated in Europe beginning in the 11th century. On this day, it was customary to serve "baby food" to children in the family and also to novices in religious communities. The more you know.
Pinterest remained my primary source for inspiration until The Catholic Cook Book turned up.
My plan was straightforward: peruse the book, choose three recipes and get to it. What I wasn't prepared for was the abundance of recipe choices. I realized that these recipes, coming from Eastern and Central Europe, Latin America and the Caribbean, were tailored for very large families (typical Catholics). As a party of one, I had my work cut out for me. 
In homage to the three years I spent in Canada, I began with a Christmas pie, or tourtière, from French Canada. The pie called for three different kinds of meat, including pork. The use of pork, I learned, stems from the Indo-European pre-Christian symbolism of the pig, meant to be a token of fertility and prosperity. The book said that today, pork is perfect for festive occasions because it symbolizes the "spirit of joy, solemnity and happiness" that accompanies celebrations like Christmas.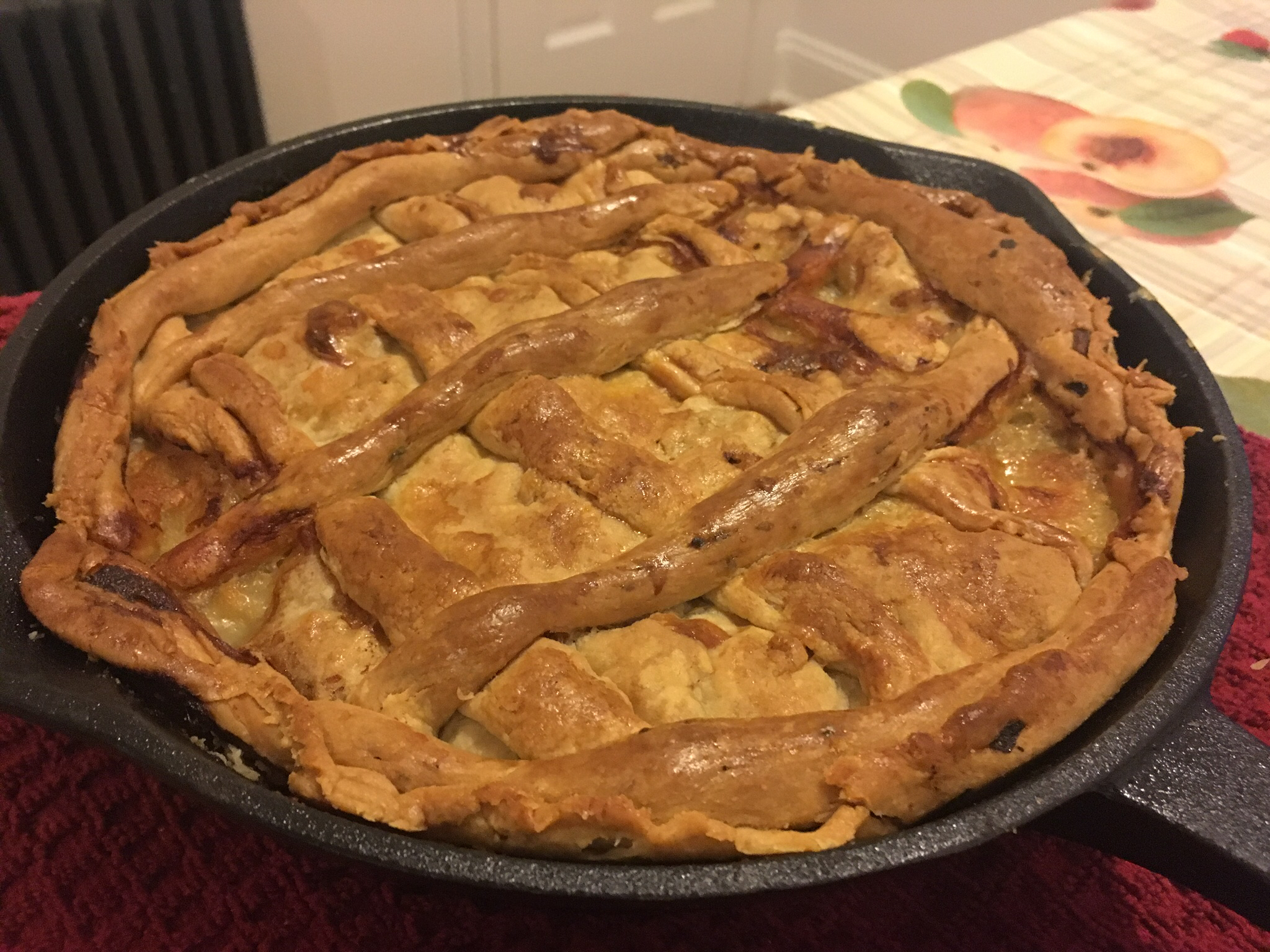 The recipe seemed easy enough: melt the butter, sauté some onions, add the meat (plus herbs and spices) to a cast-iron pan, cover in pie crust and pop it in the oven for an hour and half.
In the process, I learned the hard way not to lay the pastry crust on until the skillet is completely cool, unless you want to waste a pie crust. I salvaged this pie and while it wasn't the prettiest, it was still quite tasty.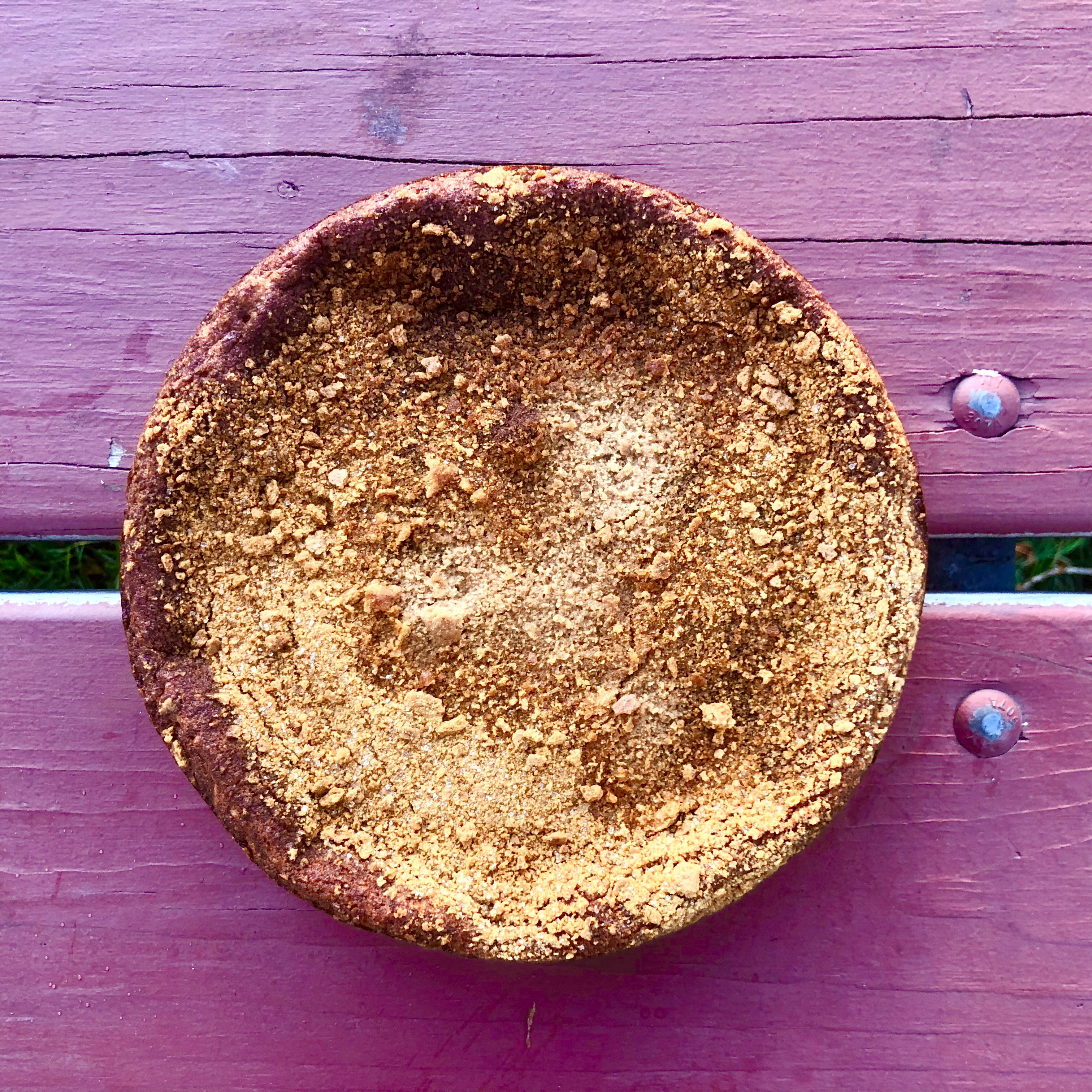 Next, my Advent recipe: pierogies from Poland.
Advent is a time of joyful penance, kind of like a happy Lent. Let me tell you, nothing says "joyful penance" like roaming every store in my neighborhood in search for a rolling pin (I almost had one delivered from Whole Foods. Can you tell I live in New York?) and spending three hours trying to roll the perfect pierogi dough. In the end, I was unable to conquer the recipe and found a dough recipe from Pinterest. Forgive me, Baby Jesus!
Full disclosure: I also made potato pierogies, which was not included in the book. Stuffing and wrapping the potato pierogies was simple. Filling dough with a wet cottage cheese and red currant mixture was disastrous. The dough was either too rough or too soft, and I could not seal the pierogis properly to stop the liquid from spilling out or prevent them from sticking together. It wasn't until the next day that I learned (from a Jesuit, no less) that I had to drain the cheese in a cheesecloth, a note missing from the recipe.
I finally understood why no one but the most experienced Polish grandmothers make pierogies at home. It. Is. Hard. The only good thing that came out of this particular experience was my newfound love for cottage cheese, and the potato pierogies weren't half bad.
 
Easter is the holiest day of the year—and the reason we're Christian—and Easter cakes go all out and vary from country to country.
The final recipe was an Easter Kaesekuchen, or cheesecake from Central Europe. This recipe would finally allow me to use my cheesecloth and springform pan. Easter is the holiest day of the year—and the reason we're Christian—and Easter cakes go all out and vary from country to country. This unique recipe called for cottage cheese instead of the typical cream cheese.
I sieved the cheese, beat the eggs stiff and crumbled the graham crackers. In no time at all, I combined all the ingredients, poured them into the pan, added a layer of crumbled crackers to the top and popped it into the oven hoping for the best.
Verdict: delicious! It was a dessert of equal parts cheese and cake, unlike traditional cheesecakes with their overpowering heaviness of cream cheese.
I didn't follow any of the recipes to the T, mostly because some of instructions weren't very clear. But isn't cooking all about owning your creativity and adding your own flavor? Figuring out how to make a recipe your own, while also leaning on your friends and family for tips?
Everyone has a perfect recipe in them. It just takes a couple of hours, a prayer or two and a few tries to figure it out.
And if you're cooking for and with others, even if the quality of the food isn't perfect, sharing the experience makes it all worth it. After all, food and people belong together, like strawberries and rhubarb belong in a pie.