Grant Wood's hymns to the heartland
In its great sailing ship by the river, decorated by visitors parading its terraced decks, the Whitney Museum of American Art in Renzo Piano's 2015 building has proven to be improbable architecture now indispensable to the New York experience (very much like its High Line neighbor, which begins directly next door). Finally able to show its permanent collection more completely than was ever possible in its former home uptown, it has to its credit the superlative opening exhibition, "America Is Hard to See," the 2017 Biennial (the most highly praised in years) and a series of monographic shows that served to widen public appreciation of the depth and breadth of American art. To that list we can now add "Grant Wood: American Gothic and Other Fables," an authoritative if somewhat random-feeling show curated by Barbara Haskell, on view through May 10.
This is the largest exhibition of the artist ever mounted, with some 120 paintings, prints, lithographs, book illustrations and decorative objects. One of these is a reproduction that charmingly strikes the keynote of a life far more complex and troubled than is usually supposed. While Wood was still searching for a style he could call his own, he taught for several years at McKinley Junior High School in Cedar Rapids, Iowa. In the 1924-25 school year, he guided 45 ninth-grade boys as they painted a frieze called "Imagination Isles" for the school cafeteria. As the class unfurled the piece, painted in a cartoon-like Art Nouveau style, one student read from Wood's script: "No human body can visit these islands. Only the spirit can come." You wonder how much the boy realized he was revealing his teacher's soul: "Almost all of us have some dream-power in our childhood but without encouragement it leaves us and then we become bored and tired and ordinary.... We become so busy getting ourselves all nicely placed that we are apt to forget the dream spirit that is born in all of us."
This is the largest exhibition of the artist ever mounted.
Wood had been born on a farm near Anamosa, Iowa, in 1891, and it was the remembered idyll of his childhood in the fields and farms of Iowa that he dreamed of all his life. His taciturn Quaker father, Maryville—"more a god to me than a father"—died of a heart attack when the boy was 10, and his mother moved the family to Cedar Rapids. After high school, he spent time at the Handicraft Guild in Minneapolis and at the Kalo Arts and Crafts Community in Park Ridge, Ill., and then moved to Chicago. There he co-founded the Volund Crafts Shop, making some lovely pieces in silver and some surprisingly modern earthenware pots with bottle caps, shoehorns, gears and clothespins as flowers. Because sales were not significant and his mother was ill, he moved back to Cedar Rapids in 1916 but never left behind him either his early education in decorative art or the vocabulary of arts and crafts. (He held to the end that art should be democratic and rejected the distinction between fine and applied art.)
Between 1920 and 1928 Wood managed to make four trips to Europe, early on developing a loosely painted version of French Impressionism (for what he later called "Europy-looking subjects"). Some significant commissions came to him: in 1921 a triptych on "The First Three Degrees of Freemasonry" and the next year, for a home-builder, "Adoration of the Home," a neoclassical allegory centered on a secular Madonna.
"American Gothic" is Wood's best-known (if not necessarily best) painting.
But the most consequential commission of his life, in 1928, was the design for a 24-foot-high window for the new Veterans Memorial Building in Cedar Rapids. (It is recreated at half-scale in a projection in the exhibition). Wood traveled to Munich, Germany, where the window was to be produced, and there discovered in the Alte Pinakothek the Northern Renaissance painters Hans Memling and Albrecht Dürer, whose precise realism and inclusion of symbolic details became guiding stars for the rest of his career.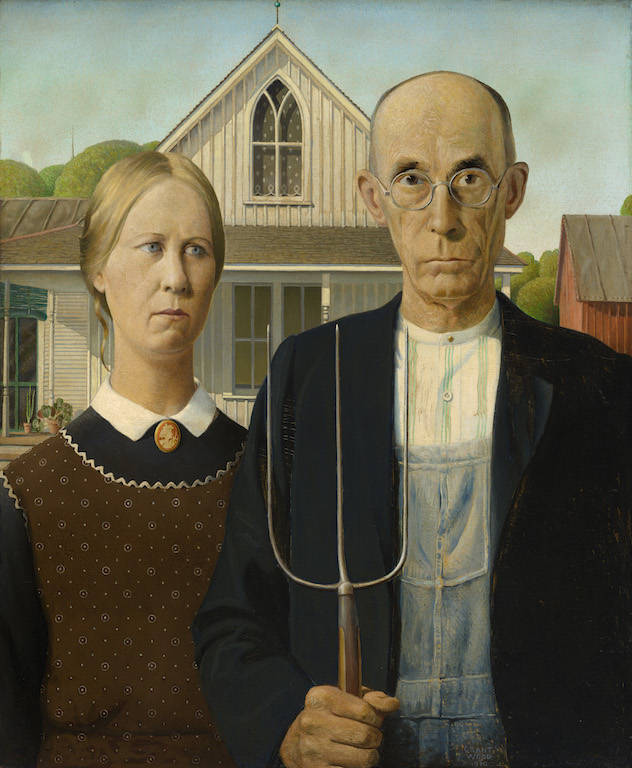 The third gallery in the exhibition presents Wood's best-known (if not necessarily best) painting, "American Gothic," which was shown at the Art Institute of Chicago in 1930 and made him instantly famous. But look first in this gallery, if you can, at "Woman With Plants" from 1929. It is Wood's mother, Hattie, painted still in soft focus, holding a sansevieria plant and with, as her son said, a "bleak, far-away, timeless quality in her eyes." (He read it as emblematic of Midwestern solidity, rootedness, perseverance. We see also, inevitably, something wounded.) And then stand before "Arnold Comes of Age (Portrait of Arnold Pyle)" from 1930, an affectionate but deeply melancholy image of his studio assistant and former student. 
With these paintings in mind, the sharp edges and smooth surfaces of "American Gothic"—the well-known, gaunt farmer with a (fairly savage) pitchfork and his daughter (almost certainly not his wife) beside him—are all the more striking. So is the carefully crafted, syncopated background—a house in the then-popular Carpenter Gothic style (decidedly off center), a red barn and geometric green trees. The girl, modeled on the artist's sister Nan, wears the brooch from her mother's portrait and stands slightly behind her father, modeled on Wood's dentist. And the whole challenges you to decide whether this is a study of repression (as many early critics said) or of solid Midwestern virtues (as the painter himself insisted).
In the early 1930s, Wood established the range of work—figurative, narrative, idealized farm and landscape scenes—that he developed for the rest of his relatively short career. His "Portrait of Nan" (1931) presents her as a much more glamorous young woman than her counterpart in "American Gothic" (though wearing the same cameo as there). In 1932 he began a self-portrait (unfinished until 1941) showing him in closely cropped three-quarter profile with a windmill in the background. He appears wary, uncertain, even vulnerable. It is a haunting piece (one of the most revealing in the show) and gains by being hung cater-corner to the pastel and gouache "The Return From Bohemia" (1935), in which he sits frowning at his easel while several figures, perhaps relatives, stand disapprovingly behind him. (He did the piece for the cover of an unrealized autobiography.)
Wood's paintings are "primarily expressions of his inner life."
"Daughters of Revolution," shown at the Whitney Biennial in 1932 and praised for being "as delicious as it is wicked," depicts three priggish spinsters ridiculously posed before Emanuel Leutze's "George Washington Crossing the Delaware"—and noted by Wood himself as his only satirical work. The mood could not be more different in "The Midnight Ride of Paul Revere" (1931), a well-known, almost cartoonish fable of sorts, or in "Fall Plowing" (1931), a eulogy for the end of the agricultural cycle in the rolling hills of Iowa done in luminous shades of brown, yellow and green with a lyrically rendered antique walking plow in the center foreground.
In 1933, under the Public Works of Art Project, Wood was commissioned by Iowa State University in Ames to undertake a series of murals to decorate its library. (He was at the same time appointed state director of the P.W.A.P.) Taking as inspiration Daniel Webster's axiom "When tillage begins, other arts follow," he completed his first mural on agriculture, engineering and homemaking in 1934 and the second showing a pioneer farmer plowing a field in 1937. No one agreed more with Webster: "The farmers therefore are the founders of human civilization."
Time magazine's first color cover in 1934 featured Wood and his fellow Midwesterners Thomas Hart Benton (who was born in Missouri) and John Steuart Curry (of Kansas). Its corresponding article on "The U.S. Scene" praised the three "Regionalists" as champions of a new American painting that celebrated the nation's heartland virtues in a time of economic challenge and looming international conflict. Wood acted as a spokesman for the three and increasingly presented himself in a mythic way as a son of the soil, wearing overalls and speaking of himself as "the plainest kind of fellow you can find." (He claimed that while in Paris he had realized that "All the really good ideas I'd ever had came to me while I was milking a cow.")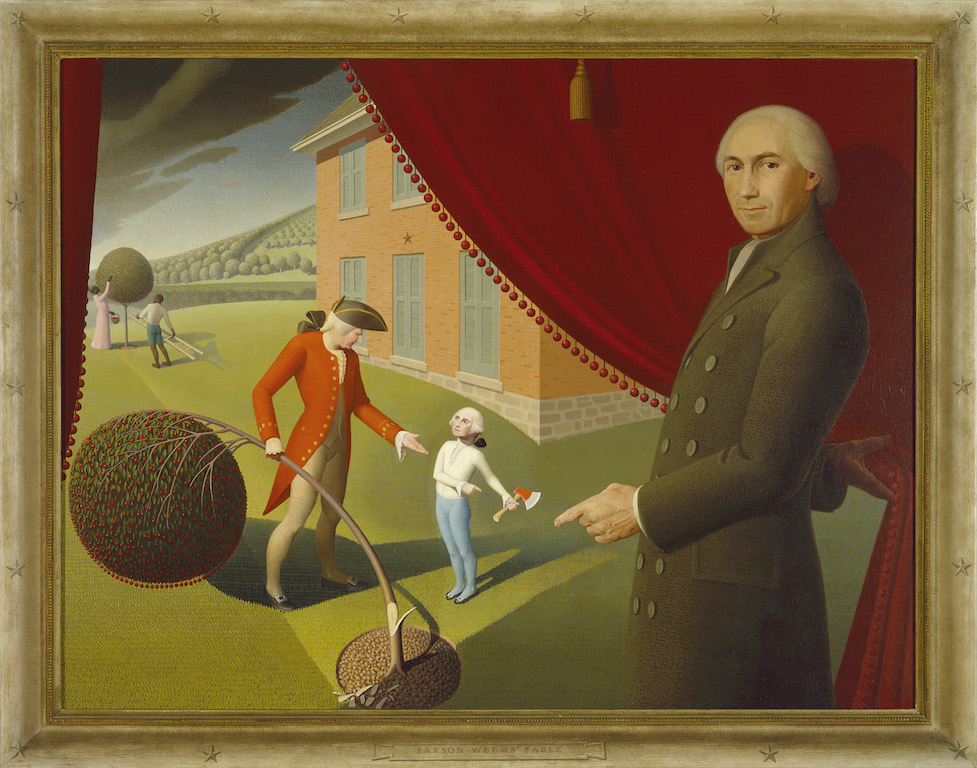 Against the advice of friends, Wood in 1935 impulsively married a former opera singer named Sara Sherman Maxon, a difficult union from the start that ended in divorce in 1938. He also began to streamline his landscape style, although some of the work has been called "Magic Realism," as in the sensuous yet highly patterned forms in "Spring Turning" (1936). A more restrained realism is evident in some fine charcoal sketches and in book illustrations such as those he made in 1936 for a deluxe edition of Sinclair Lewis's Main Street (1920).
The greatest change came with a turn to more patriotic subject matter. "Parson Weems' Fable" (1939), rather oddly shown early in the exhibition, tells the story of the boy George Washington admitting he cut down the cherry tree—as a stage presentation of what is not history but rather an edifying myth about our first president. Still more natural to the artist's true talent is a charming pair of paintings, "Spring in Town" and "Spring in the Country," both from 1941. In the former, a small church overlooks a cluster of houses amid which a shirtless young man tends a garden painted as an ominous grave-like black rectangle. In the country counterpart, a boy helps his mother set out cabbage seedlings as his father arrives with his team of horses from behind a blossoming apple tree.
"In making these paintings," wrote Wood, "I had in mind something which I hope to convey to a fairly wide audience in America—the picture of a country rich in the arts of peace; a homely, lovable nation, infinitely worthy of any sacrifice necessary to its preservation."
The artist-patriot was to live not much longer before dying of pancreatic cancer on Feb. 2, 1942.
Does this exhibition retrieve Grant Wood as an artist greater than has been realized? Not really, though it is certainly spacious and sympathetic. Barbara Haskell is insightful in her assessment that Wood's paintings are "primarily expressions of his inner life." She is also less assertive in her catalog than are the show's wall labels about Wood's homosexuality and its relation to the ambiguity and anxiety that courses through much of the work. But it is hard to deny that many of the landscapes suffer from a kind of pneumatic sameness. Much of the figurative work is also scarcely more than illustration, and some canvases are not only melodramatic but poorly painted ("Death on the Ridge Road," for example, which R. Tripp Evans unaccountably allowed to appear on the cover of his 2010 biography of Wood).
We should be grateful, though, to see so fully and generously an artist who reminded Americans of much they could be proud of at an exceedingly difficult cultural and political time. And if the show prompts us also to seek out work by Wood's fellow Regionalists Benton and Curry in New York museums and around the country, then all the better.