'Living Biblically' on CBS shows audiences how to live out faith in a modern world
Patrick Walsh is the executive producer of "Living Biblically," a new CBS sitcom about Chip, a husband and expectant father in New York City who decides to become a better Catholic after his best friend dies. Mr. Walsh is the son of a Catholic theology professor and a practicing Catholic. The cast on his new show includes a priest (Father Gene, who helps Chip translate the rules of the Bible to a modern world) and a rabbi (Gil Abelman, who respects Chip's chutzpah and is glad to serve as a sounding board when they meet at their local bar).
Mr. Walsh's writing and producing credits include "It's Always Sunny in Philadelphia," "Outsourced" and "2 Broke Girls." On Feb. 8, I interviewed Mr. Walsh by phone about "Living Biblically," which debuts on Feb. 26. The following transcript of our conversation has been edited for style and length.
A CBS sitcom about a lapsed Catholic who decides to "live biblically" seems unusual in today's TV landscape. What inspired this show?
It's inspired by the book A Year of Living Biblically by A. J. Jacobs. And [executive producer] Johnny Galecki's company has the rights to it. I read it, I loved it, I could not believe they were going to make it into a TV show—and I just thought I had really great experience for the job. I was raised very strictly Catholic, and I've always been something of a student of religion, fascinated by it.
I've had friends from a wide variety of religious backgrounds. All of them, myself included, have always wondered why, if there are so many people—84 percent of the world, according to the most recent statistic—aligning themselves with religion, why is there so little entertainment made for and about people of faith?
How much of your own life resonates in this show?
I would say a great deal. Chip, especially in the early stages of the script, was very much based on me. I'm engaged to be married, which of course makes you think about life, getting yourself on track and not being a kid anymore. In this case, in Chip's case, he learns that his wife is going to have a baby, his best friend dies abruptly and he's feeling lost.
It's a very confusing time in America; there's a lot of fighting going on. I think a lot of people feel lost. I could certainly say I do. I wake up every morning, get on Twitter and put myself in a bad mood with all the news stories of the world. And I, much like everyone, am sort of looking for help. A lot of times that search leads you to religion, or back to religion. That's where we find Chip at the start of it: He's looking for guidance, looking for help, and he finds it through living biblically. He's a guy who does everything "all in" and he really goes "all in" with this.
And I, much like everyone, am sort of looking for help. A lot of times that search leads you to religion, or back to religion.
Why did you put this concept into a sitcom rather than drama format?
Mainly because I consider myself a comedy writer, but also—and most important—because so much of the material made for and by religious people is so somber and serious and so pious that it's unwelcoming to people who are not of faith. For me, I think laughter is a great uniter, it brings people together. When I get together with my friends of various religions and we all start talking about religion, there's a lot of laughter there and it's not mocking. The show's tone is not mocking, but is just people coming to a better understanding of how others live their life. With a topic as sensitive as religion, I just think laughter was the way to do it, the best way to break through people's uptightness about discussing it. Everyone's so concerned about offending others.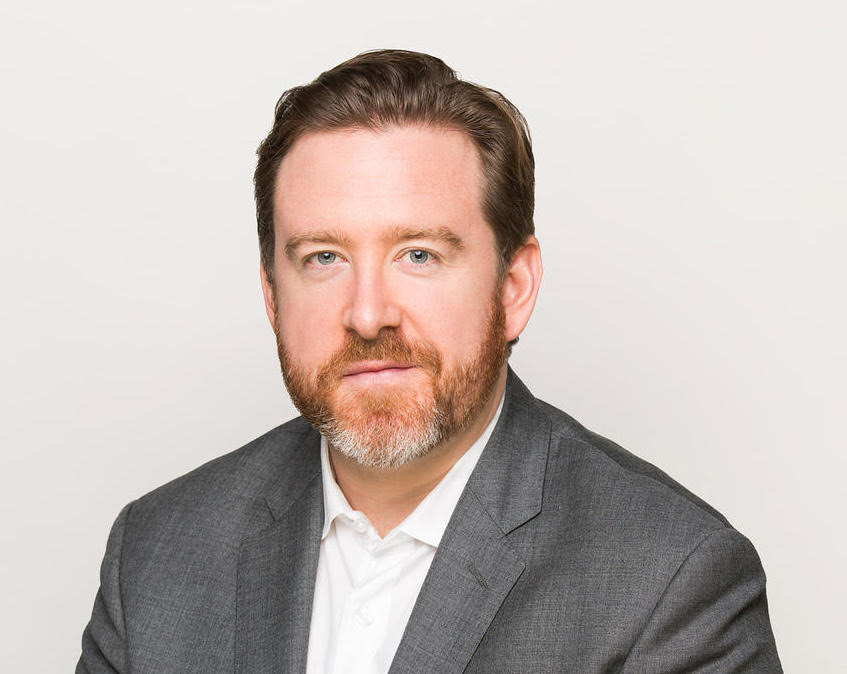 You wrote some funny scenes of Chip talking with his priest, who tells the young film critic it's impossible to live completely by the Bible without adapting it to our times. What are some ways the world today makes it hard for Chip to be a Catholic?
They're the things that would make anyone struggle with it. I think the reason Father Gene, the Catholic priest in the show, is telling him it's not going to be possible is that the world has changed. You know, you're not going to stone an adulterer in 2018. That's sort of a joke, but we also do an episode on lying. Chip says "that will be an easy one, I just won't lie." But he doesn't realize how often—daily, hourly—people are telling lies to not hurt feelings. Even if their intentions are pure, they're still lies. We do one where he's struggling with his relationship with his father, and the premise is kind of: "How do you honor your father if your father is a jerk?"
Chip also receives qualified support from his pregnant wife, Leslie, a rabbi he meets in a bar, his coworker and his boss at the newspaper. How do they affect his quest to live biblically?
Leslie, his wife, is an atheist—so that is certainly a struggle. One of the more interesting episodes is "Submit to Thy Husband." Once she starts digging into the Bible, she says: "Is this going to change our marriage? If you're really living it 100 percent, what does that mean for our marriage? Are you in charge of me now?" That was one of the more interesting and difficult episodes to do. But what's great about their marriage is that, at the end of the day, she is supportive of him, she sees the positive changes it's having in his life.
His boss, Ms. Meadows, is pretty cynical at first. But over the course of the show, her opinion and the opinion of his co-workers change from gentle mocking to being impressed at the changes in his life. The only times he starts to rub people the wrong way are when he becomes overly judgmental or says "my way is the only way."
That happens in the episode where Chip spars with his mother-in-law, a scientist, about the power of prayer. How does the show treat believers and non-believers in these kinds of debates?
That was very tricky because I didn't want to make the atheist character a villain, as is often the case in movies about faith. I just wanted it to be an open discussion. She's coming at it from a place of science, he's coming at it from a place of faith, and they both learn from each other. Chip says "I'm a man of faith, but I believe in science as well," which is a surprise to her. Then she's saying to him "I don't believe in prayer," but he prays for her during a health issue and it works, and she's very thankful for that. The message of that episode is if you talk with people about their beliefs, you're going to find a lot more understanding and common ground than you may think.
What makes "Living Biblically" different from other shows on network television?
I think it's drastically different from most shows on television just for being about religion. I can't think of any sitcoms right now that are tackling these issues. In terms of CBS sitcoms, it's also a cleaner show, very much by design. I wanted it to be a show that families can discuss, couples can discuss—that can be discussed in a sermon or homily on Sunday. It brings these biblical issues to our modern day in a way I hope really connects with people and opens up discussion.
Any final thoughts?
Most important, I would just like to say we took this very seriously. I think a lot of the early feedback, in terms of internet comments, has been: "Oh no, Hollywood is going to make fun of us again; Hollywood is going to do what it always does and mock my faith." So I really want to stress that our goal is love and respect, opening up discussion between nonbelievers and people of faith. We had a priest and a rabbi on staff who read every draft of the script, removing any concerns about making stuff up or taking liberties with the Bible, so I hope we caught most of that through the dialogue of our priest and rabbi characters.
More than that, at the end of the day, I just think it's a funny show that people will really enjoy. I hope they aren't scared of the subject matter or how they are portrayed, because I think they'll be pleasantly surprised.
Sean Salai, S.J., is a special contributor at America.