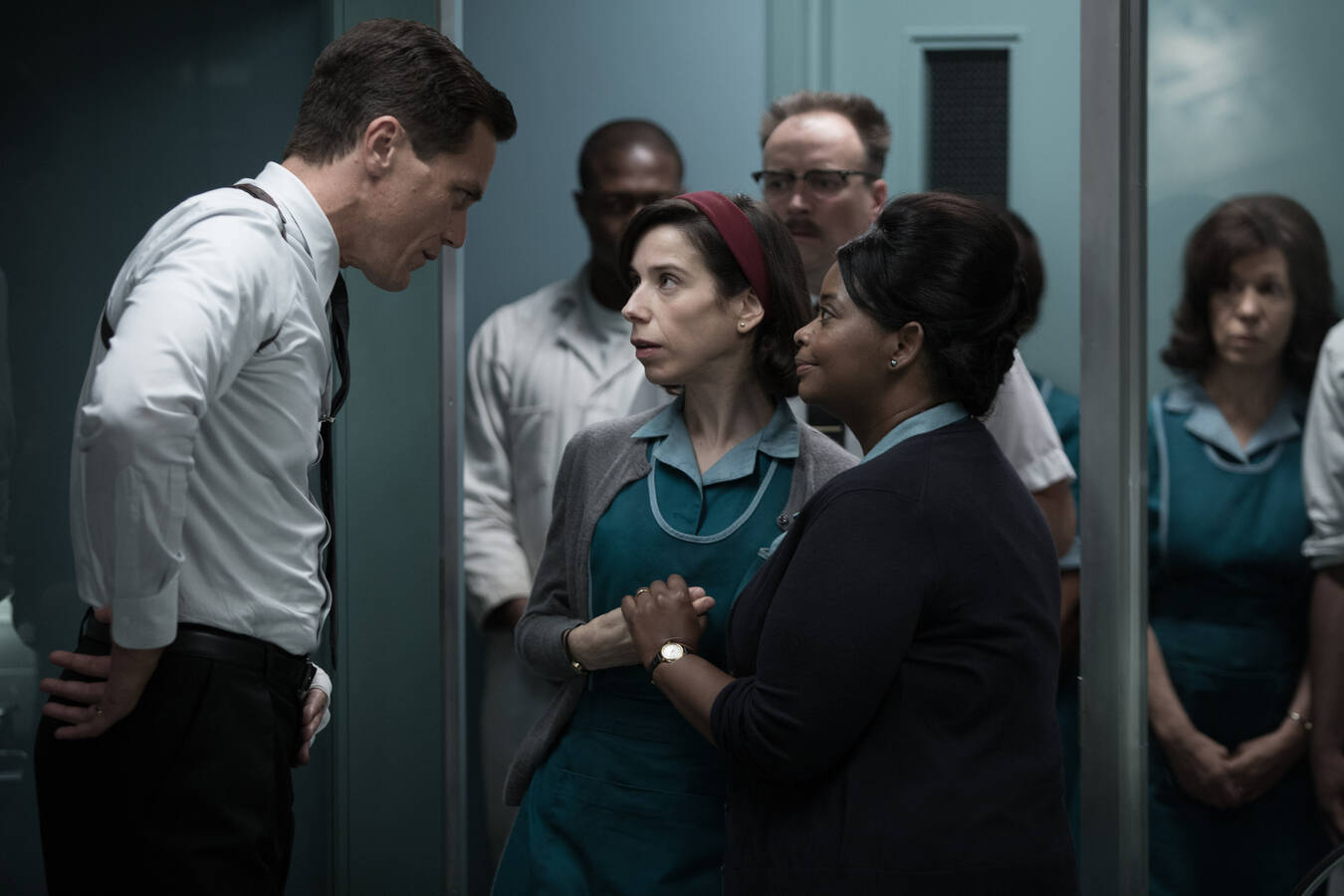 'The Shape of Water' reveals a world 'mediated by meaning'
Here's a challenge: How exactly do you convince somebody that a Cold War story about a woman falling in love with a fish-man held captive in a secret government facility is somehow not a sci-fi, B-movie train wreck but actually the best film of the year? It is not easy—words tend to fail—but these are the kinds of challenges that Guillermo del Toro's "The Shape of Water" presents. For those who are willing to make the imaginative leap alongside the 53-year-old Mexican director they will discover that what appears, on its face, to be a monster movie is actually an elegant and sublime fable.
Elisa Esposito (Sally Hawkins) is a mute woman who works as a janitor on the midnight shift at a Baltimore-based research facility in 1962. She works alongside her friend, Zelda Fuller (Octavia Spencer), who keeps up a running monologue all night long as they journey through large concrete corridors to clean up laboratories where highly confidential experiments are taking place. One laboratory in particular becomes a source of fascination for Elisa. It houses a human-sized amphibious creature brought from the Amazon. She begins to make clandestine visits to the lab during her lunch break—bringing him food, playing records and teaching him sign language.
After a menacing government agent—played by the modern master of menace, Michael Shannon—has repeatedly tortured the creature, he decides to kill it so it can be dissected for research. (Spoiler alert ahead.) Elisa urgently hatches a plan to save the creature with her neighbor, Giles (Richard Jenkins). She is unwittingly aided at the lab by Dr. Hoffstetler (Michael Stuhlbarg), an undercover Soviet spy-scientist. (This is the height of the Cold War after all.)
Guillermo del Toro has created a fairy tale for adults.
The ensemble is a murderers row of incredible British and American character actors, each of whom has a detailed storyline that are like small films within the overall story. But it is Sally Hawkins—for whom the terms "innocent" and "waifish" seem to have been created—who is the engine that enables Del Toro's script to work on screen. As Elisa, she deftly transforms from isolated, dreamy naïf to steel-willed provocateur and finally to star-crossed lover without uttering a single line of dialogue. It is an incredible performance.
As he did with "Pan's Labyrinth" (2007), del Toro has created a fairy tale for adults. There is a Capraesque sensibility at work in these films. The strange, magical beauty that is evident in daily life—for those with hearts that can see—is threatened by authoritarian forces that want to control and kill. But unlike "Pan's Labyrinth," del Toro doesn't need to create a fantasyland to convey that magic in "The Shape of Water." In his hands, the grey, wet landscape of 1962 Baltimore is rich and lush and already bursting with enchantment.
The Oscar contender is soaked in what Bernard Lonergan called 'startling strangeness.'
"Startling strangeness" is the term the Jesuit philosopher and theologian Bernard Lonergan used to describe the feeling we get when we move beyond a naïve understanding of reality to see more deeply into a "world mediated by meaning." That world comes to us, says Father Richard Liddy in his book on Lonergan, Transforming Light, "through the language and memories of other people, the pages of literature, the labors of scholars and scientists, the reflections of saints, the meditations of philosophers. It is the world filled with meaning." "The Shape of Water" is soaked in startling strangeness.
Del Toro's great achievement with "The Shape of Water" is not simply that he is able to fuse together a number of well-worn genres—caper movie, spy movie, love story, monster film—into something original. The larger accomplishment is his ability to infuse that mixture with a nuanced beauty, humanity and believability that those genres rarely achieve on their own.
In the past 25 years, a surfeit of directors have come to prominence whose work clearly reflects an enormous debt to—and love for—the history and language of film. Quentin Tarantino, the Coen brothers and Wes Anderson are just a few of the best-known directors whose greatest work is deeply informed by the world of cinema. These great auteurs have styles as recognizable and unique as their fingerprints, but their love for film often becomes an end in itself.
Guillermo del Toro is able to mine that same passion but with a very different outcome. He draws on the language and aesthetics of genre pictures and B-movie tropes without simply falling in love with the exercise of those styles. Instead, he uses those formulas to create something that is authentic, beautiful and magical at the same time.
But, as I said, words tend to fail...you should really see for yourself.