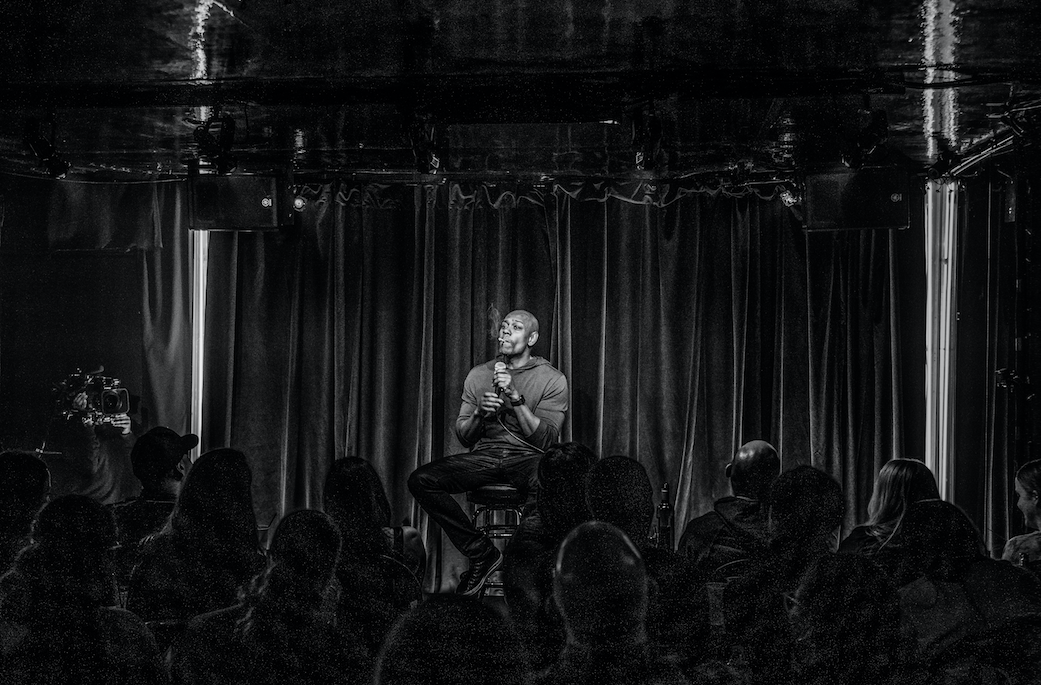 Dave Chappelle and the 'Imperfect Allies' the #MeToo Movement Needs
The opening credits of Dave Chappelle's Netflix comedy special "The Bird Revelation" begin, somewhat unusually, with an epigraph: "I came alive. I could fly." The quote, from jazz legend Charlie Parker, silently fades onscreen for a moment like an introductory grace note before the concert begins. Parker, whose nickname was Bird, was referring to the moment he discovered how to break through the confines of traditional jazz structures and began to finally play the music he heard in his head.
The analogy to jazz is appropriate for Chappelle. He released "The Bird Revelation" along with another special, "Equanimity," on the last day of 2017, and both sets highlight different aspects of a virtuoso talent. "Equanimity," a polished, high-production theater show, is his grand Duke Ellington moment, while "The Bird Revelation," an intimate, free-flowing bit of improvisation in a small club, is the bebop set in which Chappelle solos without a net. Together they reveal a true master who is capable of finely wrought observation, insight and social commentary as well as a raucous performer who is unafraid to entertain, offend or simply think out loud.
"The Bird Revelation" and "Equanimity" highlight different aspects of a virtuoso talent.
Chappelle, 44, burst into the country's pop culture consciousness in 2003 with "Chappelle's Show," a revolutionary sketch comedy show that ran for only two seasons but has achieved mythical status and set the stage for other series in the genre like "Inside Amy Schumer" and "Key & Peele." The show was outrageous and funny and dealt with issues of race in ways that were as incisive and fresh as Eddie Murphy and Richard Pryor in their primes. Classic Chappelle characters—like Clayton Bigsby, the blind white supremacist who is not aware that he is a black man—are still witheringly funny and relevant 15 years after the show's debut.
In 2005, after just two seasons, Chappelle abruptly and without explanation left his own show—walking away from a $50 million contract with Comedy Central. There were rumors that the comedian had checked into a psychiatric facility or rehab. But, in the few interviews he has given, Chappelle hinted that the reason for his sudden departure was a crisis of conscience about the immensely popular work he was doing. Were people laughing with him and seeing the racial stereotypes he was skewering in a deeper social-cultural context or were they simply laughing at a clown who used racial humor for cheap laughs? The question seemed to force him to step back and reassess his values and goals. He went so far as to travel to South Africa to recharge spiritually and learn about the country's post-apartheid Truth and Reconciliation movement.
Chappelle's two latest specials wade deeply into our national conversation.
A decade after his disappearance, Chappelle returned in 2017 and delivered four specials to Netflix in which there could be little doubt regarding his artistic intentions. The first two shows, released in March, were solid outings but were recorded before the election of 2016. In the age of President Trump and the growing national scandal surrounding sexual harassment, Chappelle's two latest specials wade deeply into our national conversation and reflect much of it back in ways that are as fresh, funny and provocative as they are intelligent and disarmingly earnest.
Fair warning: If you are offended by harsh language or adult material, these stand-up specials might not be for you. But for those who are willing to give Chappelle a chance, I challenge you to find an artist with more range. His latest shows cover topics from growing up in a middle-class white suburb of Washington, D.C., and raising teenage boys to the murder of Emmett Till, the civil rights movement and how our current Trump moment of despair could lead to real societal change.
Chappelle seems instead to be searching for a true note, an empathic note, a healing note, and he includes us in his search.
It is not hard to imagine that, somewhere along the way, Chappelle had a moment of revelation akin to Parker's and that he is no longer bound by conventional forms. He is now making connections in his work that would not have been possible before. "The Bird Revelation," in particular—an hour-long riff on Hollywood's sexual assault scandal and Chappelle's own disappearance—veers from hilarious observations about taking a knee at N.F.L. games to the "responsibility to speak recklessly" as a comedian.
With a topic as delicate as sexual harassment, there is no doubt that some will be uncomfortable with what they hear. As Chappelle feels his way through such sensitive material he is clearly not concerned about hitting the wrong notes. He seems instead to be searching for a true note, an empathic note, a healing note, and he includes us in his search.
"Ladies, I want you to win this fight," he says. But he warns that if you only go after individuals, the system—not unlike apartheid—is not going to change. "Fear doesn't make a lasting peace. Ask black people," he cautions. "You gotta have men on your side. And I'm telling you right now, you're going to have a lot of imperfect allies."