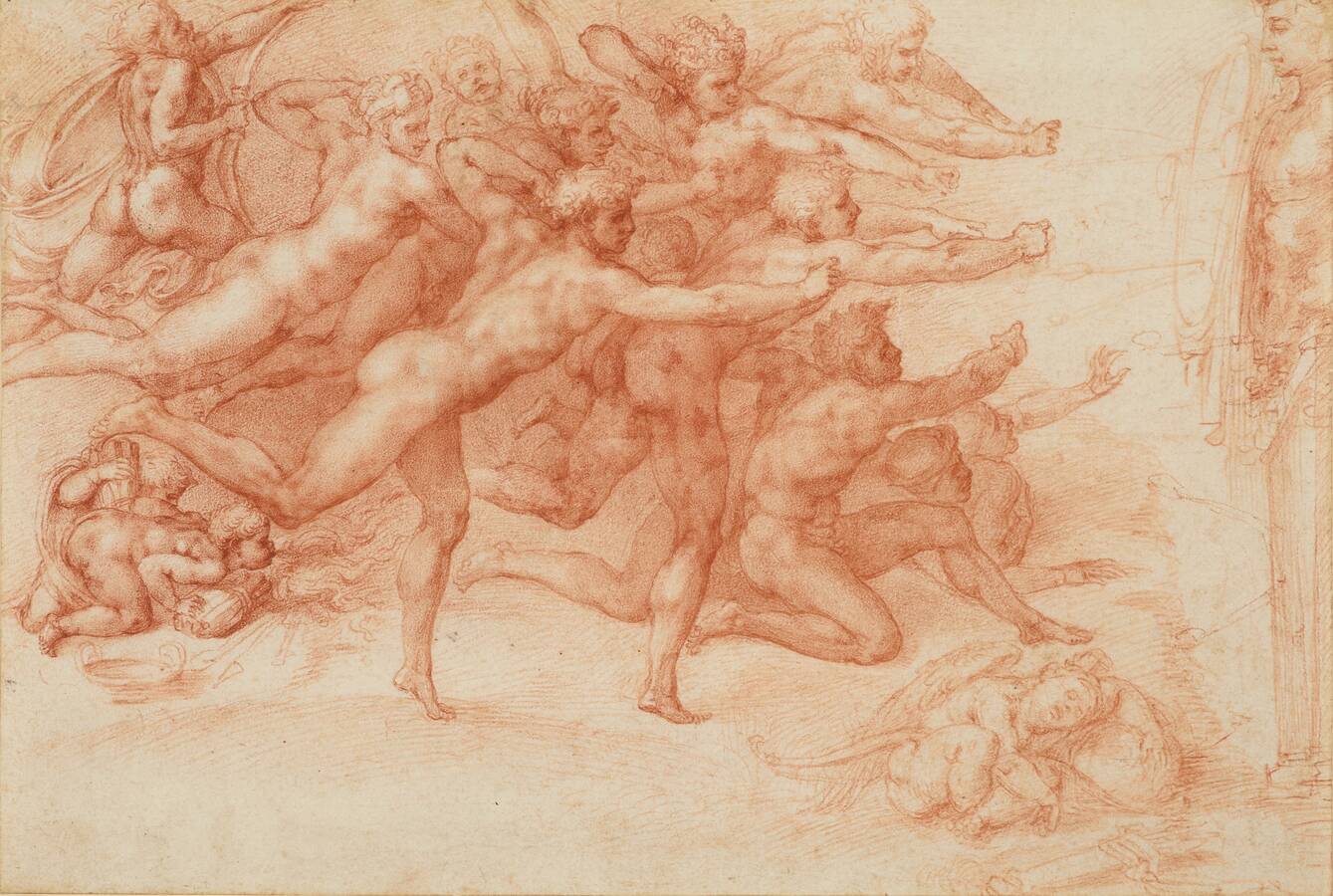 A new Met exhibit on the genius of Michelangelo provides a 'spiritual experience'
For 500 years Michelangelo Buonarroti (March 6, 1475–Feb. 18, 1564) has occupied an uncontested place in the pantheon of Western art. A Renaissance master of design, drawing, painting, sculpture and architecture, Michelangelo was an energetic, irascible genius.
One must travel to Italy to see Michelangelo's greatest masterpieces: St. Peter's Basilica, the Piazza del Campidoglio, the Sistine Chapel ceiling and "Last Judgement" painting, and his sculptures of David, Moses and the Pietà. Yet a trip to Italy would leave out the 200 works assembled by the Metropolitan Museum of Art in New York City for the exhibition, running from Nov. 13 2017 through Feb. 12 2018, "Michelangelo: Divine Draftsman and Designer." The Met spent eight years securing 133 drawings plus paintings, sculptures and architectural models from 50 different institutions and individuals in Europe and the United States. The exhibition affords viewers a once-in-a-lifetime opportunity to see works rarely shown and too fragile to travel again soon.
If Michelangelo's accomplishments make him seem superhuman, this exhibition (title aside) grounds and humanizes him.
If Michelangelo's accomplishments make him seem superhuman, this exhibition (title aside) grounds and humanizes him. Viewers see that Michelangelo had to learn artistic techniques as an apprentice and had to out-hustle contemporaries for commissions. He had to satisfy the demands and whims of patrons, including six popes, and to collaborate with formidable peers to finish his assignments. Michelangelo also had to direct his teams of craftsmen, some of them from the art classes he taught, mostly for aristocratic young men. This exhibition also shows the artist's impressive knowledge of classical mythology, Christian iconography, Scripture, the Roman Missal, military history and the apparel and interactions of differing social classes.
A Few Highlights
The exhibition includes drawings by his teacher Domenico Ghirlandaio, a painter, and his contemporaries, but no drawings by Michelangelo as a young apprentice survive. We do see "The Torment of Saint Anthony," Michelangelo's first documented painting. Made in tempera on wood at age 13 or 14, the piece is a colorful copy of a black-and-white engraving by Martin Schongauer, a German artist. His earliest extant sculpture, "Young Archer," was begun by the artist at 21. Carved from a single piece of marble, it remains unfinished.
A large-scale preparatory drawing, or cartoon, of a mural planned for the Great Council Hall in Florence comes with a backstory. The councilmen arranged one of the fiercest art competitions in history: They engaged Leonardo da Vinci, 48, a reigning star, to paint the "Battle of Anghiari" and Michelangelo, 25, a rising star, to paint the "Battle of Cascina" on facing walls. The cartoon on view shows what Michelangelo had planned. Neither painting was finished; only the widely copied cartoons for both paintings survive to tell the tale.
Drawings, sketchbook studies, handwritten letters, poems and gifts are especially intimate and reveal Michelangelo the man. In his private words and sketches, one can glimpse the artist's candor and wit, his complaints to a friend, how deeply he grieves a loss, the ways he expresses emotion. "I've already grown a goiter from this torture," Michelangelo wrote a friend about frescoing the Sistine Chapel ceiling. He sketched a caricature of himself standing, brush in hand.
Drawings, especially sketches, are intimate. One sees the haste in Michelangelo's marks as he rushes to put on paper the flood of ideas pulsing through his brain. Quick sketches in a series capture creativity as it flows out in multiple variations. As Carmen C. Bambach, who curated the exhibition and wrote the eponymous catalog, put it, we can "almost look over Michelangelo's shoulder."
If Michelangelo's accomplishments make him seem superhuman, this exhibition (title aside) grounds and humanizes him.
Before the 16th century, drawings were thought to be purely preparatory. The notion of a "finished drawing" as an artwork in itself came of age during Michelangelo's time. One can note differences (in the mouth, turn of head and serpent positioning, for example) between his sketch of Cleopatra and the completed drawing. One can also see how "divine" Michelangelo's draftsmanship is, a term used by his fellow artists. Drawings record unrealized ideas, rejected thoughts and corrections. One large cartoon ("Roman Soldiers") shows a man with two walking sticks: A second stick was drawn to correct the angle of the first.
Michelangelo's love of young men has fueled much speculation. It is discussed in historical accounts and in his own poetry and letters. Surely the artist's work depicts an appreciation of the human body in all its sensuality and strength. Walter Isaacson, in his biography of Leonardo da Vinci, describes Michelangelo as "a pious Christian" who "imposed celibacy on himself." But was he a sensual celibate? Did he profess celibacy merely as protection, given the times?
Artist as Believer
In "Sketches of the Virgin, the Christ Child Reclining on a Cushion," the infant stretches his tiny finger toward his mother's lips; their eyes are locked in an embrace. In "Unfinished Cartoon of the Virgin and Child" and in other studies and statuary, a squirming infant sucks his mother's breast and clasps it with his hand. This tender tactility is shown by an artist who lost his own mother before he turned 7. Michelangelo's drawing "Risen Christ" shows the child having grown into a muscled nude bursting from the tomb, tossing the shroud of death behind him. Remember, Michelangelo's Creator God and Created Adam reach for each other, their fingers almost touching as they stretch across the ceiling of the Sistine Chapel (re-created in the exhibition at quarter scale so viewers can see the drawings in context).
I mention these images because Michelangelo, a Florentine, spent the last 30 years of his life as a citizen of Rome, working on religious commissions. It was a period of deepening personal spirituality, stimulated in part by his love for Vittoria Colonna. She was beautiful, scholarly and cultured. A widow, a poet and a spiritual ascetic, she was also 15 years younger than Michelangelo. They exchanged letters and poems. He drew a Pietà and a Crucifixion for her; she sent him a handmade book of her religious sonnets, now in the Vatican Library. In poetry they discussed their faith as rooted in a personal, unmediated relationship with God. Then Vittoria died in 1547, the year Michelangelo became chief architect of St. Peter's. He was disconsolate. Eight years after her death, when he was 80, he referred to Vittoria in a grieving sonnet as "that great fire which burned and nourished me."
"The Last Judgment" fresco on the altar wall of the Sistine Chapel was uncovered in 1541, almost three decades after the ceiling was unveiled, to public consternation. Most critics objected to the amount of nudity and the beardless Christ. Michelangelo was used to such criticisms and moved on to other projects. During the final decade of his life, he drew up plans for others to execute. When he died, the dome of St. Peter's was still unfinished.
At the press preview for the Metropolitan, Ms. Bambach, the curator, described the exhibition as a "spiritual experience." I certainly concur. See it for yourself if you can, or explore online resources. Michelangelo's legacy continues.