It's been 100 years since the United States entered World War I. What have we learned?
Our home in Trenton had its very own World War I museum. The long room on the third floor served as my father's office and bedroom. Here, after his time in the military, I would often hear him pounding away on an editorial for The Trenton Times. He had served in the "Great War" as part of the 78th Infantry Division, also known as the "Lightning Division." For my brother Dave and me, World War I was not something that happened long ago—it was a spirit alive in our home. The mementos of that time, which he stored in his office, also emphasized the war's presence in our lives.
There were his dog tags, binoculars and medals, including the Distinguished Service Cross, the second highest military honor that a soldier can receive after the Medal of Honor, and the French Croix de Guerre. There was his iron helmet emblazoned with the logo of the "Lightning Division"; and his pistol, which he used to take a German prisoner during the war. The most precious item, however, was a battered sardine can that he had carried in his breast pocket. The can had blocked the blow of a flying hunk of shrapnel that would have killed him.
For my brother Dave and me, World War I was not something that happened long ago—it was a spirit alive in our home.
This year, on the 100th anniversary of the United States' entry into World War I, the New York Historical Society is presenting "World War I Beyond the Trenches." The exhibit, which opened in May and will run through Sept. 3, highlights the United States' involvement in the war and "explores how artists across generations, aesthetic sensibilities, and the political spectrum used their work to depict, memorialize, promote, or oppose the divisive conflict."
The star of the exhibition is John Singer Sargent's "Gassed," (1919) which, at 90 by 240 inches, fills a whole wall. Ten men, blindfolded after being burned by mustard gas, are being led toward treatment. There are men sprawled around them, some wounded, others dead. In the background men play soccer. For Sargent this is a story of moral blindness. In time the wounded will remove their blindfolds, but will they understand what they see?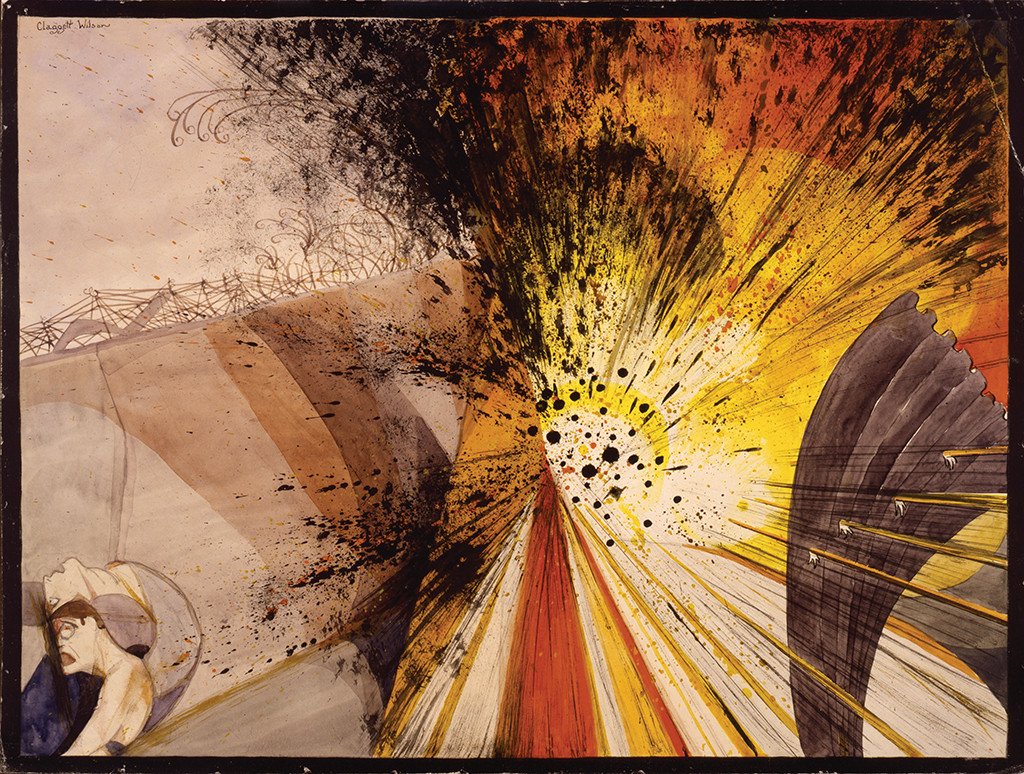 Claggett Wilson's abstract combination of watercolor and pencil on paperboard in "Flower of Death—The Bursting of a Heavy Shell—Not as It Looks, but as It Feels and Sounds and Smells" (c. 1919) depicts the bursting of a heavy shell with red, yellow and brown lines blasting out from a center to catch not what an explosion looks like but how it "feels, sounds and smells." The most horrifying painting is George Wesley Bellows' "The Germans Arrive," (1918) in which a huge German soldier has seized a young man. The boy's bare torso is shining white and another soldier holds him around his neck. The boy's eyes are frantic with fear as the leader with his bloody sword chops off both the boy's hands.
The most disturbing painting is John Steuart Curry's "Parade to War," in which the army of 1938 in their tan uniforms and bayonets stuck in the rifles on their shoulders marches boldly off to war before a cheering crowd. But wait! Look at their blurred faces. They are bare skulls. The marching men are dead. Zombies?
"America is privileged to spend her blood and her might for the principles that gave her birth and happiness and the peace which she has treasured."
Another timely release is World War I and America, Told by the Americans Who Lived It. Published earlier this year by the Library of America and edited by Woodrow Wilson biographer, A. Scott Berg, the anthology features accounts from individuals like Edith Wharton, W.E.B. Du Bois, James Weldon Johnson and Claude McKay. It offers a firsthand view, from the start of the war in 1914 through events like the Paris Peace Conference and the League of Nations.
In 1914, W.E.B. Du Bois convinced his fellow black Americans that the war affected them more than they realized. "The colonies which England and France own and Germany covets are largely in tropical and semitropical lands and inhabited by black, brown and yellow peoples," Du Bois wrote. In an editorial for the Plainfield Courier-News on June 11, 1918, "Why Should a Negro Fight?" James Weldon Johnson further called for black Americans to fight because America was their country since they had been "here three hundred years; that is, about two hundred years longer than most of the white people." Johnson added that black Americans were citizens "of this country, declared so by the Constitution."
Between 1913 and 1918, the vast majority of the 373 lynchings were of blacks. In the one exception a Collinsville, Ill., mob hanged a white German-American for allegedly expressing opposition to the war. On July 26, 1918, President Wilson issued a public statement against mob violence, in which he addressed the lynchings occurring across the nation. The lyncher "has adopted the standards of the enemies of his country, whom he affects to despise," Wilson stated.
Following the end of the war, activist W.A. Domingo wrote, "The New Negro has arrived with stiffened back bone, dauntless manhood, defiant eye, steady hand and will of iron." In the summer of 1919, 11 people died in a Washington, D.C., riot and 36 in Chicago. Claude McKay's poem, "If We Must Die," speaks for his generation: "Like men we'll face the murderous, cowardly pack, / Pressed to the wall, dying—but fighting back."
A hundred years ago, on April 2, 1917, President Wilson called a special joint session of Congress asking the government to declare war on Germany. In what Berg calls "one of the most important speeches in American history," Wilson stated, "It is a fearful thing to lead this great people into war, into the most terrible and disastrous of all wars, civilization itself seeming to be in the balance." He concluded the address, "America is privileged to spend her blood and her might for the principles that gave her birth and happiness and the peace which she has treasured. God helping her, she can do no other." Four days later, on April 6, Congress passed a war resolution, and the United States entered World War I.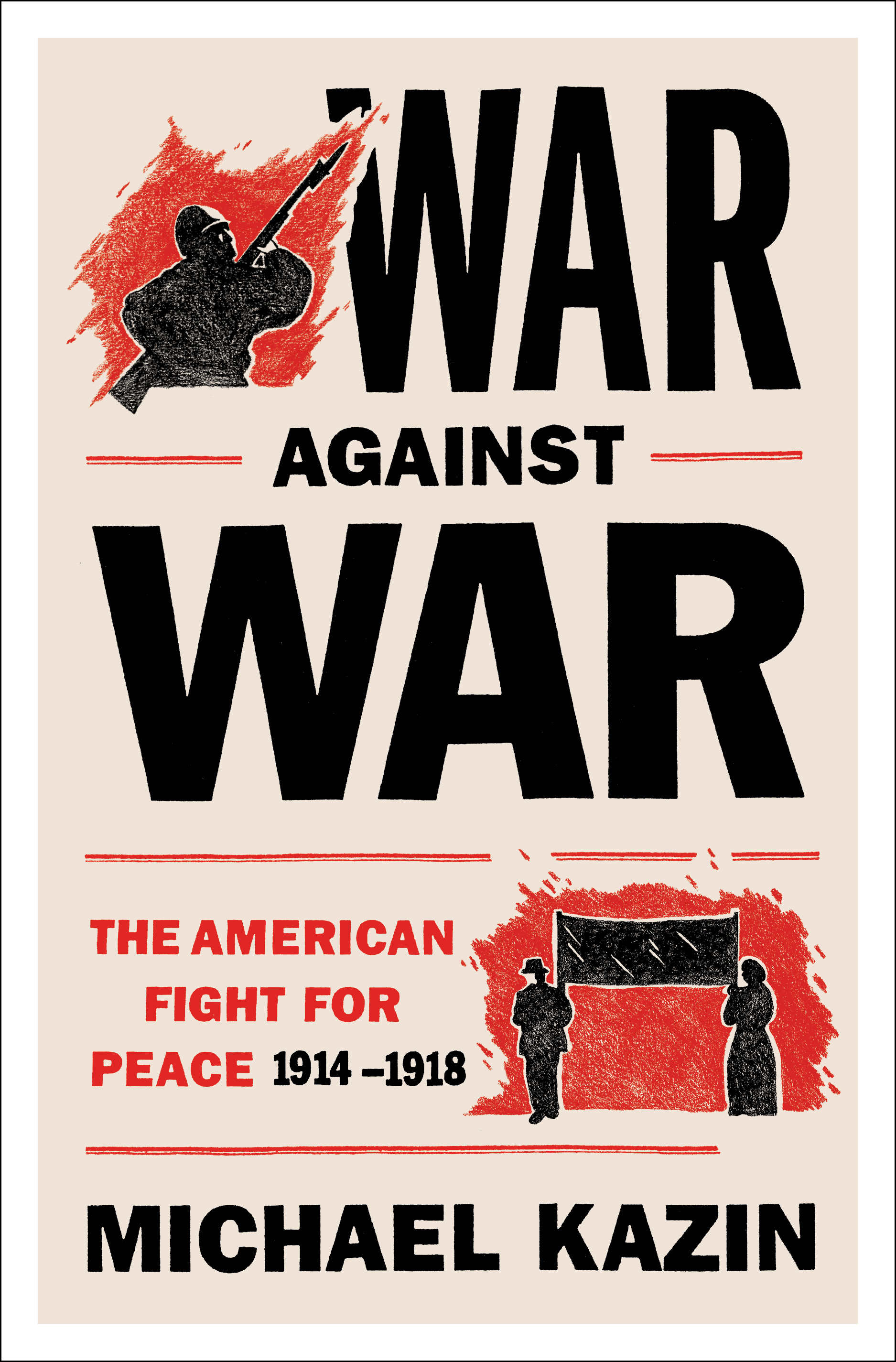 Michael Kazin, a professor of history at Georgetown University and author of War Against War: The American Fight for Peace, 1914-1918, describes entering the war as a "great mistake." In an op-ed for The New York Times, he writes that over 100,000 American soldiers were killed and more than double that number were wounded. Along with these numbers, Kazin writes, American involvement "most likely foreclosed the possibility of a negotiated peace among belligerent powers that were exhausted from years mired in trench warfare."
Shirley Millard joined the American Red Cross as a nurse in the French military hospital at Soissons, imagining that she would "glide silently among hospital cots placing a cool hand on fevered brows" writes vividly in I Saw Them Die: Diary and Recollections of Shirley Millard. Instead, she saw flesh torn by shrapnel, faces half shot away, one with no eyes at all, a stomach blown wide open, a chest blown open rendering the pumping lungs visible. She removed a bandage from a man's head and his brains tumbled out, a slippery mass, into her hands.
Almost 100 years after the war's end, the world has not become a more peaceful place. We are now facing issues like the disintegration of the Middle East, the "Forever War" in Afghanistan and the re-emergence of the possibility of nuclear warfare. Nevertheless, World War I can teach us, if we allow it.