The Dachau Album captures the horror of the Holocaust and the necessity of hope
In the years after the Second World War, allied soldiers assembled an album of objects and images from the infamous Dachau concentration camp for a 15-year-old survivor, Arnold Unger. These photos, patches of uniforms and drawings create a piecemeal account of life at Dachau during and after the war.
Now over 70 years after its creation, the Dachau Album will be presented at The Sheen Center along with readings by students from the Fiorello H. LaGuardia High School of Music, Arts & the Performing Arts. The event, created by the Arnold Unger Foundation for Remembrance in association with The Sheen Center and The Jewish Broadcasting Service, will be held this Sunday, April 23, at 6 p.m. It will include an interfaith panel discussion, and experts will discuss the topic "never again is now."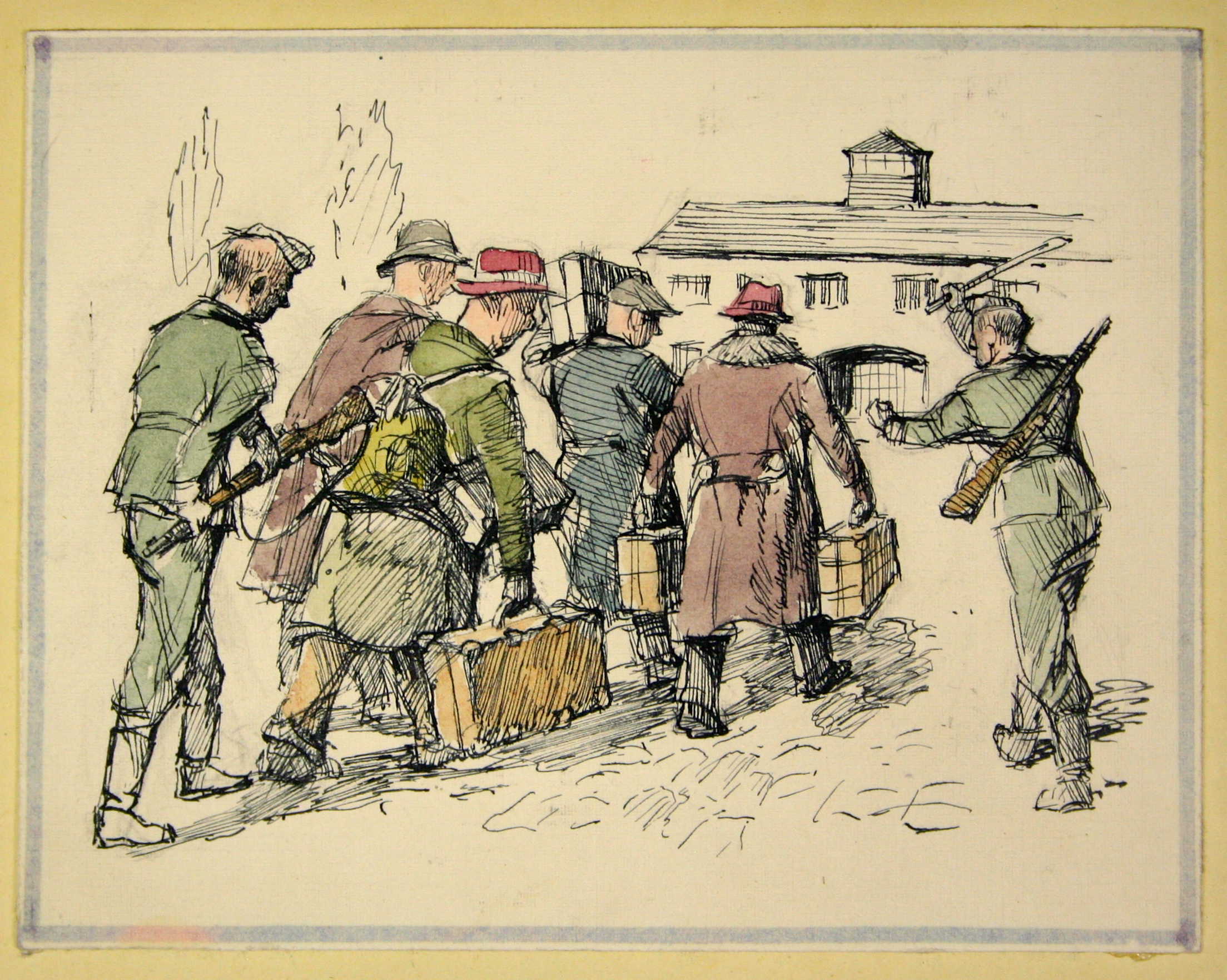 When Arnold Unger was 9 years old, he was separated from his family. He was sent from camp to camp before arriving at Dachau in Bavaria at the age of 15. After the war, he worked as an assistant for U.S. army officers, who took him under their wing (one officer even offered to adopt Arnold if he could not find his family) and put together the album for him.
The album itself is a multicultural artifact, among other items including a patch from the "Farhud," a Nazi-Arab alliance during the Holocaust; 30 drawings from Michael Porulski, a Roman Catholic artist who was imprisoned in Dachau for four years; and over 250 photographs that document the horrors of Dachau as well as Arnold's life in the years following the war.
The military and prisoner uniform patches are followed by Mr. Porulski's hauntingly neutral depictions of Nazis and prisoners in Dachau and photos that capture the tragic everyday of camp life. It concludes with a few pages from a healthy, happy Arnold and his sweetheart Sally (herself a survivor of Auschwitz) in love and living just outside the camp that had been the site of so many atrocities.
Arnold eventually came to the United States, went to school, got married, became an engineer and had four children. He helped to design the landing gear for the Apollo lunar module.
"What's fascinating is not only do we have the album itself, we also have mountains of supporting correspondence and materials that he kept: every letter that was written to him, all of his journals, all of the supporting materials," said Avi Hoffman, an actor, Jewish culture activist and now president and executive director of the Arnold Unger Foundation for Remembrance, Inc. "All of that will be here and all of that will be available for people to look at.
"In Yiddish, there's a word we use called bashert, which means: 'It's meant to be,'" said Mr. Hoffman. "This whole project to me feels like it's bashert. It's just fated." He explained that he happened to meet Shari Unger, Arnold's daughter, as they were dropping their children off at the same school in Coral Springs, Fla. Both being children of Holocaust survivors, Ms. Unger asked Mr. Hoffman to take a look at the album, which had been shuffled from one closet to another in her family for years.
"She knew that I had done a lot of work with Holocaust education and awareness over the years as an actor, producer and director," he said. "Talk about bashert.
"After that, it's just been a crazy ride," Mr. Hoffman said. After meeting Ms. Unger, he reached out to his contacts and eventually the album was taken to Dachau with a documentary film crew to investigate its origins. There the team learned the tragic story of artist Michael Porulski, who was arrested for creating a postcard that criticized the Nazi regime, survived Auschwitz and Dachau and died in obscurity in England.
Discovering that Mr. Porulski was a Catholic, Mr. Hoffman determined to have the album blessed by the pope, a feat he accomplished years later in May 2015, when he and Shari Unger met Pope Francis in St. Peter's Square.
"When Pope Francis meets with people, generally it's 'hello,' a handshake, a 'thank you; move on,'" said Mr. Hoffman. "He spent about four or five minutes with us. He was so fascinated with the album…. He blessed us; he blessed the album; he blessed the project; and here we are."
These photos, patches of uniforms and drawings create a piecemeal account of life at Dachau during and after the war.
Mr. Hoffman cites that experience as "the tipping point" for the project: "From that day on, things just started to slowly fall into place."
He hopes that the event at the Sheen Center is the first of many, and, with enough support, the team will be able to fund future exhibitions of the album as well as the production of a documentary and academic materials about it.
"There's just so much that needs to happen," he said.
At the event this Sunday, attendees will see clips from a documentary in progress about album, and LaGuardia students will read correspondence from the American officers, Arnold Unger and his sweetheart Sally.
"We wanted to go totally multicultural," explained Mr. Hoffman. "In order to join us, each [student] had to write or videotape something related to the concept of 'never again is now.' And it was fascinating." He described some of the perspectives from these New York young people, including African-American students who related the dehumanization of the Holocaust to slavery and intolerance they face today.
"You can't take the Jewish experience out of the Holocaust," said Mr. Hoffman. Rather, the aim of this project is to link the lessons we can learn from remembering that unique horror to contemporary occurrences of discrimination and genocide.
"When do we actually say 'never again' is today, and every day?" asked Mr. Hoffman. "That became my mission."
After students' presentation, attendees will hear from Shari Unger, Arnold Unger's daughter.
"I'm going to be speaking most specifically about my father and his life and the contribution that he's made to the greater good," said Ms. Unger, who hopes to impress on others "the importance of acceptance of all those who may be different than us."
Sunday's event will close with a panel discussion moderated by Rabbi Mark Golub. Rabbi Golub is the host of the long-running radio program, "L'Chayim." The panel will include Dr. Yael Danieli, a victimologist and refugee expert, specializing in the Holocaust; the Rev. Brian E. McWeeney, the director of the office of ecumenical and interreligious affairs for the Archdiocese of New York; Dr. Debbie Almonstaser, the founder and chief executive officer of Bridging Cultures Group, Inc.; and Steven A. Ludsin, a member of the original President's Commission on the Holocaust during the Carter administration.
The group is meant to represent the project's effort to link cultures in a frank discussion of the contemporary applications of the lessons of the Holocaust and World War II.
"That to me is really what 'never again' is all about," said Mr. Hoffman, expressing a hope that the Dachau Album becomes a tool to create multicultural and interfaith dialogue about the Holocaust and the threat today of genocide and human rights abuses.