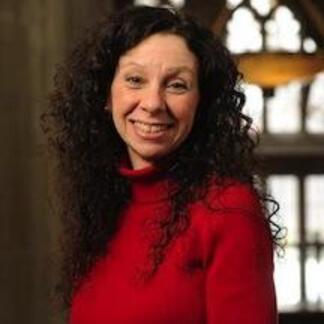 Angela Alaimo O'Donnell teaches English Literature, American Catholic Studies and Creative Writing at Fordham University in New York City, and serves as Associate Director of the Curran Center for American Catholic Studies, an interdisciplinary certificate program for undergraduates who are interested in learning about the Catholic intellectual tradition. Before coming to Fordham seven years ago, she taught for 18 years at Loyola University Maryland. 
O'Donnell has published four books of poems: two chapbooks, MINE (2007) and Waiting for Ecstasy (2009), and two full-length collections of poems, Moving House (2009) and Saint Sinatra & Other Poems (2011). Her poems appeared regularly inAmerica, Christian Century, Christianity and Literature, The Cresset, First Things, Hawaii Pacific Review, Italian Americana, Potomac Review, Riverwind, RUNES: A Review of Poetry, Vineyards, Xavier Review, ThePedestalMagazine.com, Valparaiso Poetry Review and Windhover, among other publications. In 2012, O'Donnell published The Promise of Joy: Praying with Flannery O'Connor, a book of hours based on the prayer life of Catholic fiction writer, Flannery O'Connor.
In addition to writing poems, O'Donnell writes essays that engage literature and art in the context of the Catholic intellectual tradition. Her essays and reviews have appeared in journals such as America, Anglican Theological Review, Commonweal, Studies in Philology, Christianity and Literature and have been included in a variety of collections and anthologies.  Her essay on "Poetry & Catholic Themes" was recently published in Teaching the Tradition, edited by John Piderit, SJ, and Melanie Morey (Oxford University Press, 2012).