China has agreed to receive Pope Francis' Ukraine peace envoy after long delay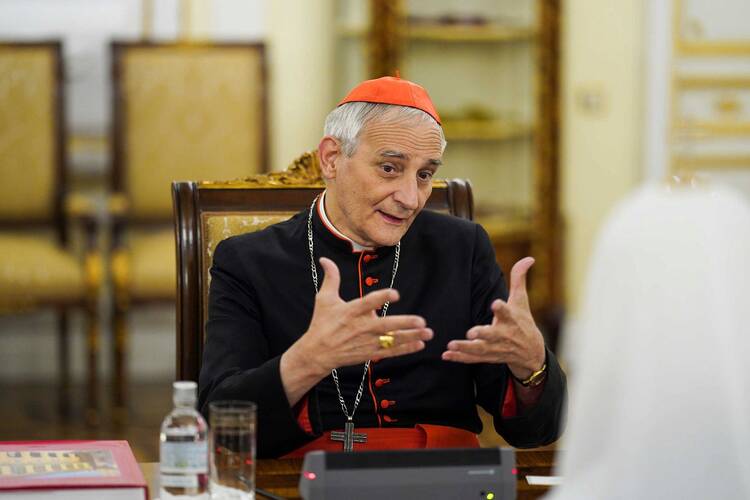 Cardinal Matteo Zuppi, on a peace mission to Moscow on Pope Francis' behalf, speaks with Russian Orthodox Patriarch Kirill of Moscow at the patriarch's residence at the Danilov monastery in Moscow June 29, 2023. (CNS photo/Courtesy of the Russian Orthodox Church, Department for External Church Relations)
Cardinal Matteo Zuppi, whom Pope Francis chose as his personal envoy to work for peace in Ukraine, is on a flight to Beijing this evening "to support humanitarian initiatives and the search for paths that can lead to a just peace."
The Vatican confirmed the trip at 4 p.m. local time, Sept. 12, on the 566th day of the Russian invasion of Ukraine. It said the cardinal, accompanied by an official of the Vatican's Secretariat of State, "will go to Beijing, on Sept. 13-15, as the envoy of Pope Francis." It added that "the visit will constitute a further step of the mission wished for by the pope to support humanitarian initiatives and the search for paths that can lead to a just peace."
Though the Vatican did not spell it out, "the humanitarian initiatives" are widely understood to refer to the return of some 20,000 Ukrainian children from Russia, where they have been deported during the war, and the exchange of prisoners. The Vatican has been working on these initiatives and has had considerable success with the prisoner exchange.
Pope Francis' personal peace envoy is on a flight to Beijing this evening "to support humanitarian initiatives and the search for paths that can lead to a just peace" in Ukraine.
The Italian cardinal is expected to meet Chinese leaders, but the Vatican did not say whom he might meet. It is significant, however, that the Chinese authorities have agreed to receive him as the pope's envoy. Hitherto, because China does not have diplomatic relations with the Holy See, the highest-level meeting between Chinese and Holy See officials has been at the level of foreign minister, when Wang Yi met his Vatican counterpart, Archbishop Paul Gallagher, in Munich on Feb. 14, 2020.
Whether the cardinal will meet a higher-level government official is not yet clear, though some Italian media report that he could meet China's premier, Li Qiang.
This is the fourth stage of the peace mission that Francis first entrusted to Cardinal Zuppi on May 20, the aim of which, the Vatican said at that time, is "to help reduce tensions" and to create a climate that could open the way for peace.
The cardinal first visited Kyiv from June 5-6, where he met Ukrainian President Volodymyr Zelensky as well as top-level representatives of the state and churches. He then went to Moscow, June 28-29, but there he only met Yuri Ushakov, a diplomatic counselor of President Vladimir Putin, but not the Russian president or foreign minister. He also met the Russian Orthodox Patriarch Kirill, a friend for many years of the Community of Sant'Egidio. His third journey took him to Washington, D.C., July 17, where he met President Joe Biden and senior American church and state officials.
The 67-year-old cardinal is president of the Italian Bishops' Conference and has experience in the field of conflict resolution from his days as a member of Sant'Egidio, when he played a key role in brokering peace in 1992 to end the 17-year-long civil war in Mozambique. He has also been engaged in other peace initiatives with Sant'Egidio, mainly in Africa.
Whether the cardinal will meet a higher-level government official is not yet clear, though some Italian media report that he could meet China's premier, Li Qiang.
Pope Francis announced several times that he hoped Cardinal Zuppi would go to Beijing on a peace mission, but it has taken a long time for the Chinese to agree to accept him. That acceptance would seem to be a positive development in how Beijing views Francis' efforts for peace, and it appears to have come after the Italian foreign minister, Antonio Tajani, visited Beijing and met Chinese leaders last week.
Indeed, news of the cardinal's visit to Beijing was broken by Mr. Tajani yesterday in Berlin, where he was attending an annual meeting for peace organized by the Sant'Egidio Community. At that meeting, the Italian daily La Repubblica quoted Mr. Tajani as saying:
We support all initiatives for peace on condition that in the end there is a just peace that guarantees the independence and freedom of Ukraine. I said this on the occasion of my recent visit to Beijing last week: we look with favor on the mission of Cardinal Zuppi, that the pope wanted, because it is a mission for peace. We are for peace, and we want peace to be built.
Mr. Tajani and the cardinal spoke together in private in Berlin.
Speaking to the press in Berlin, Cardinal Zuppi emphasized that his mission is not that of a mediator, a point also emphasized by Cardinal Pietro Parolin, the Vatican secretary of state, during visits to Moscow and Kyiv. Furthermore, President Zelensky, when he visited the pope in May, stated clearly that he did not see the Vatican's role as that of a mediator but rather as assisting in the humanitarian field for the exchange of prisoners and the repatriation of Ukrainian children who have been deported to Russia by the invading Russian forces.
In an interview that aired on Ukrainian television on Sept. 8, one of Mr. Zelensky's closest advisors, Mykhailo Podolyak, said he did not see Pope Francis as a mediator because of the pope's remarks to young Russians in St. Petersburg on Aug. 25. In that video call, the pope praised their homeland, "the great Russia of saints, of kings, the great Russia of Peter the Great, Catherine II, the great, educated Russian Empire of so much culture." When reporters asked Cardinal Zuppi whether Mr. Podolyak's statement signaled a failure of his mission, he said no because "no one [on the Vatican side] has ever spoken of mediation."
In Berlin, Cardinal Zuppi told the press that he considered China "a very important" element in efforts to bring peace to Ukraine. But he emphasized that "it must be a peace that is chosen by the Ukrainians, with all the guarantees, and the commitment and efforts of everyone. It is therefore clear that China is perhaps one of the most important elements [for achieving this]."
In a message to the Sant'Egidio meeting in Berlin, which the cardinal attended before leaving for Beijing, Pope Francis said:
Let us not be afraid to become beggars for peace, joining our sisters and brothers of other religions and all those who do not resign themselves to the inevitability of conflict….It is indeed necessary to press forward in order to surmount the wall of the impossible….It is difficult, but not impossible. It is not impossible for believers, who live the audacity of a hopeful prayer. But it must not be impossible for politicians, leaders or diplomats either. Let us continue to pray for peace without losing heart, to knock with a humble and insistent spirit at the ever-open door of God's heart and at the doors of humankind. Let us ask that ways to peace be opened, especially for beloved and war-torn Ukraine. Let us trust that the Lord always hears the anguished cry of his children. Hear us, Lord!
Cardinal Zuppi no doubt had these words ringing in his ears as he boarded the plane to Beijing.