A healthy democracy does not fear its leaders.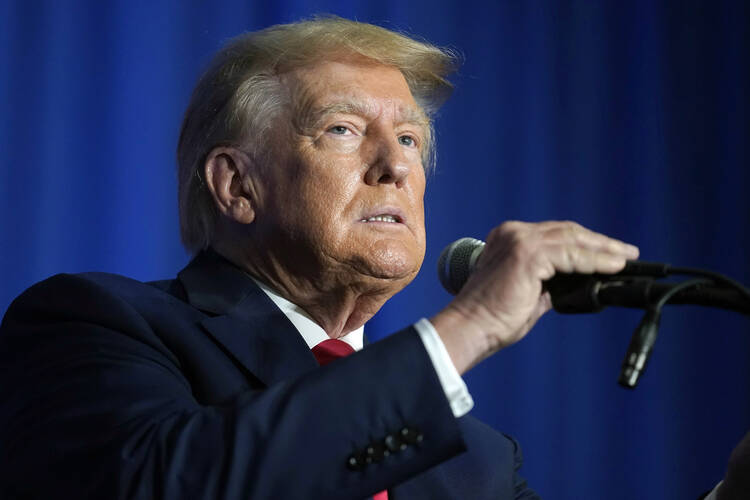 Former President Donald Trump speaks at the New Hampshire Federation of Republican Women Lilac Luncheon, Tuesday, June 27, 2023, in Concord, N.H. Trump has countersued E. Jean Carroll, the advice columnist who accused him of rape, saying she defamed him by continuing to insist she was raped even after a jury declined to agree. Lawyers for Trump filed papers late Tuesday, June 27. (AP Photo/Steven Senne)
Donald J. Trump, former president of the United States, was arraigned in federal court in June on 37 counts related to alleged mishandling of classified documents. Mr. Trump had already been found civilly liable for sexual assault and defamation in one case, and has been charged in another for falsifying records to conceal payments made to hide a scandal during his presidential campaign in 2016. He may yet be charged with an attempt to tamper with the results of the presidential election in Georgia in 2020 and with helping to instigate the insurrection at the Capitol on Jan. 6, 2021. Now he is also accused of trying to hold on to documents that included national secrets, for reasons that are unclear, even after federal officials requested their return.
None of this seems to have hurt his popularity among Republican voters: A poll conducted in the aftermath of his arraignment found that more than half of Republican or Republican-leaning voters still supported his nomination for president in 2024.
How can this be? Not since the Watergate scandals of 1973-74 has the country faced such serious charges leveled against a president or former president. Today, there is no national consensus on whether Mr. Trump should face charges—or whether it is proper for him to run for president again while facing them. At this early stage, he is dominating the Republican presidential primary campaign trail, promising "retribution" against not only Democrats but against those in his own party who have sought to hold him accountable for his actions.
For better or for worse, we are a more engaged electorate in these times.
The result is a political "Groundhog Day." The former president's disdain for democratic norms, which America's editors warned against before the 2020 election, continues unabated. Far from being sobered by the danger of the political violence he helped instigate on Jan. 6, 2021, Mr. Trump has instead doubled down on his demagoguery about "conspiracies" and "witch hunts" against him and his supporters to deflect from his own electoral failures and legal troubles. His irresponsible and self-serving rhetoric distorts the political process across all three branches of government. How can we have a free and fair election when one candidate's principal campaign pitch is that any result in which he loses is evidence of nefarious forces arrayed against him?
The answer cannot be fear. If we vote—and our politicians campaign—based on a fear of what might happen, then those democratic norms become irrelevant. Nor should we give in to despair. The Jan. 6 insurrection, after all, was unsuccessful, with many participants brought to justice in the years since. Our civic institutions were bent, but they did not break. And the nation's economic and social prospects seem much improved from those dark days in many other ways. The Covid-19 pandemic is receding, inflation is slowing down and even some of our international standing, so damaged during the Trump presidency, is being regained.
There are also positives that have emerged in the last few election cycles, including a higher rate of citizen participation in the voting process. We sometimes forget that a generation ago, one of the primary concerns of many pundits was voter apathy and disengagement from the political process. Voter turnout has been higher by historical standards in every election since Donald Trump first announced in 2015 that he was running for president. For better or for worse, we are a more engaged electorate in these times.
Both parties—and perhaps political interest groups at every level of governance—need to nurture younger, more dynamic and more creative politicians.
Nor is the answer to sit on our hands and wait to see what happens with Mr. Trump's legal troubles. If our national politics are to be healed, the medicine cannot be dependent on any particular outcome regarding Mr. Trump. We are not so fragile that the future of our country depends on the outcome of one trial—or, worse, that our future depends on doing anything possible to avoid the sight of a former leader on trial. At the very least, we should not give in to the self-fulfilling prophecy of behaving as if we are that fragile.
Seeking reconciliation does not mean overlooking bad behavior or failing to deal out consequences for that behavior. (Nor should we hinder any investigations of wrongdoing, as in the case of Hunter Biden, by insisting that "the other side is worse.") In the aftermath of Watergate, President Gerald Ford thought he held the answer: to pardon the disgraced former president Richard M. Nixon so as to bring an end to our "long national nightmare." That will not work today.
No one should take any pleasure from seeing a political opponent on trial—"lock them up!" is an un-democratic chant no matter which side is using it. Yet it is also dispiriting to surrender to the notion that while we expect other nations to hold their leaders accountable, Americans are so hot-headed and prone to violent tantrums that we must do anything to shield ourselves from the spectacle of a former president on trial. This kind of paternalistic conflict avoidance will only embolden future leaders in both parties to test and even break the law even more brazenly.
What, then, is the answer? Perhaps the most obvious is to steer away from cycles of revenge and retribution, and look to future options for leaders. Both parties—and perhaps political interest groups at every level of governance—need to nurture younger, more dynamic and more creative politicians. Presidential candidates in their 70s and 80s are perhaps by definition not future-oriented; nor are they the most likely to advocate for change. But the electorate is.
Let us look again to the aftermath of Watergate. The country was only beginning to emerge from the ruinous Vietnam War; Mr. Nixon was insisting to the last that he had done nothing wrong; his own vice president had been convicted of bribery; confidence in civic institutions was at an all-time low; and issues that still vex us today—including abortion, immigration policy, racial divides and economic inequality—had come to the forefront of the minds of many. And yet our political process seemed durable and resilient. Gerald Ford's presidency yielded to Jimmy Carter; his then yielded to that of Ronald Reagan. Those election cycles were rancorous in their own way, but they were not dominated by fear.
It is within our capacity to move beyond yet another national nightmare; it is in the best interests of us all to do so.