Bishop Flores: Texas car crash that killed 7 migrants part of 'corrosive tendency' to devalue vulnerable human life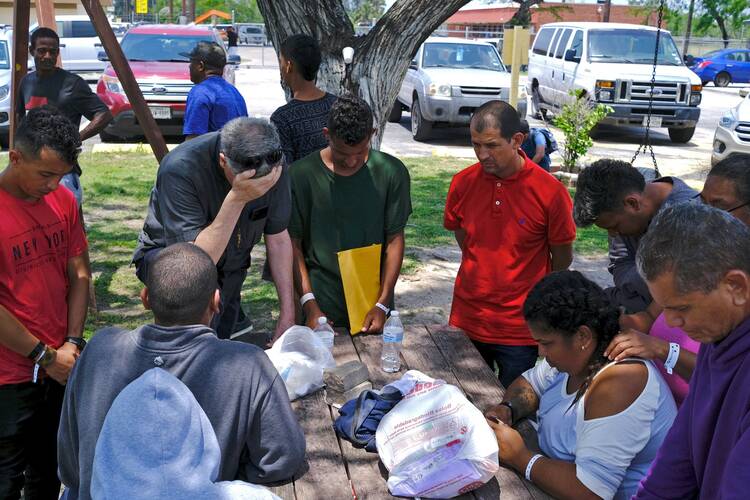 Oblate Father Kevin Collins, pastor of St. Eugene de Mazenod Parish, places his hand onto his forehead in prayer with migrants at the Bishop Enrique San Pedro Ozanam Center, a shelter for migrants and homeless, after a deadly incident where a car ran into pedestrians at a bus stop nearby in Brownsville, Texas, May 7, 2023. (OSV News photo/Miguel Roberts, Reuters)
(OSV News) — A vehicle crashed into a crowd waiting at a bus stop outside a migrant shelter in the border city of Brownsville, Texas, killing at least seven people and injuring at least 10 others, authorities said.
Around 8:30 a.m. May 7, a gray Range Rover crashed into a bus stop where a group of individuals were waiting for a bus, several of whom were sitting on a curb, as the unmarked city bus stop lacked a bench, local police said. The bus stop is outside the Bishop Enrique San Pedro Ozanam Center, where surveillance footage captured the incident.
Bishop Daniel E. Flores of Brownsville called the crash indicative of a "corrosive tendency" to devalue vulnerable human life.
The driver, George Alvarez, 34, has been charged with eight counts of manslaughter, police said, adding that he has an "extensive rap sheet."
Many of the victims were Venezuelan men, local officials said, who were waiting for a bus back to downtown Brownsville after spending the night at the shelter.
Brownsville has seen an increase in Venezuelan migrants in recent weeks. Shelter director Victor Maldonado told the Associated Press that the shelter had not previously received threats, but they have since the incident.
"I've had a couple of people come by the gate and tell the security guard that the reason this happened was because of us," Maldonado said.
Prior to identifying Alvarez as the suspect, Brownsville police investigator Martin Sandoval told the AP that police do not yet know whether the crash was intentional, but that the suspect was being uncooperative.
Sandoval told the AP that there are three possible scenarios for the collision.
"It could be intoxication; it could be an accident; or it could be intentional. In order for us to find out exactly what happened, we have to eliminate the other two," he said, adding the suspect is "being very uncooperative at the hospital, but he will be transported to our city jail as soon as he gets released."
Alvarez is a resident of Brownsville, local media reported.
In a statement issued in both English and Spanish, Bishop Flores said, "We mourn and are shocked by the horrific loss of the lives of the seven immigrant men from Venezuela who were killed when a vehicle crashed into them this morning in Brownsville. And we pray for several others who were injured and are in serious condition."
"This tragedy occurred this morning outside the Enrique San Pedro Ozanam Center, a place that has served the homeless and immigrants for decades," Bishop Flores said. "Over the past several months, in particular, Catholic Charities of the Rio Grande Valley has worked closely with the Ozanam Center in Brownsville to help provide humanitarian aid to the immigrant population as they seek shelter while making arrangements to meet with their families further north."
Bishop Flores said that humanitarian aid is conducted "as an assistance to, and with the cooperation of, government authorities."
"The safety, protection and assistance of the immigrant men, women and children who have been given permission to stay in the United States remains a priority for the Catholic Diocese of Brownsville and for our generous staff and volunteers at Catholic Charities of the Rio Grande Valley," Bishop Flores said. "We must resist the corrosive tendency to devalue the lives of immigrants, the poor, and the vulnerable. Let us take extra steps as a local community to care for and protect one another, especially the most vulnerable."
Bishop Flores added that "as we await a fuller report from law enforcement authorities, let us stop for a moment to mourn these losses of life and to pray."
"Pray for the victims, pray for their families and loved ones, and pray for our community," he said. "And after we pray, let us continue our common efforts to serve those most in need."
Bishop Flores also posted a tweet that he and Auxiliary Bishop Mario A. Avilés, as well as local clergy, celebrated Mass at the Ozanam Center "to offer consolation to the immigrants and staff."
"Pray for those who saw it happen; they are devastated," he wrote. "Many first responders attended the Mass; pray for them also, for the burden they carry is great."