What Queen Elizabeth can teach Americans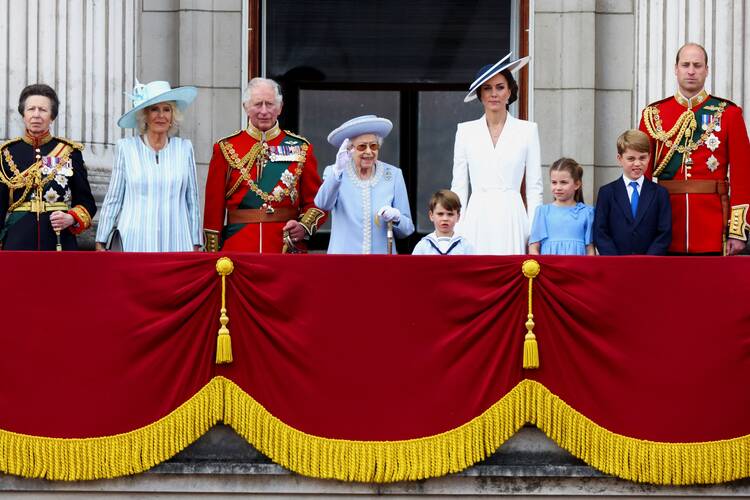 Britain's Queen Elizabeth, Princess Anne, Prince Charles, Camilla, Duchess of Cornwall, Prince William and Catherine, Duchess of Cambridge, along with Princess Charlotte, Prince George and Prince Louis appear on the balcony of Buckingham Palace as part of Trooping the Color parade during the queen's Platinum Jubilee celebrations in London June 2, 2022. Pope Francis sent well-wishes to Queen Elizabeth II for the occasion. (CNS photo/Hannah McKay, Reuters)
Queen Elizabeth II reached yet another unprecedented milestone this year when she became the first British monarch to reign for 70 years. The official celebrations of what was dubbed Her Majesty's Platinum Jubilee occurred over four days in June and, according to Reuters News, included: 1,400 parading soldiers, 200 horses and 400 musicians; 71 planes, which soared over Buckingham Palace in a flypast salute; 3,500 beacons, which were lit across Britain and the capitals of the Commonwealth of Nations; 2,000 guests at a service of thanksgiving at Saint Paul's Cathedral in London; 22,000 attendees at a "Platinum Party at the Palace"; and more than 15,000 official street parties from Edinburgh to Brighton.
A truly magnificent spectacle for a singular sovereign!
As I watched the pageantry unfold—I reluctantly admit that I tuned in to a good chunk of it—I was filled with a curious feeling of wistful bemusement. It all seemed too much and yet not enough at the same time. Too much in the sense that it seemed like a great extravagance for a single person who is, after all, merely a figurehead. And yet not enough, for that same extravagance seemed to suggest that Elizabeth II is a great deal more than a figurehead: She is the mother of the nation, a unifying role she can perform only because she is a figurehead. The leaders of every major political party in Britain, as well as every living former prime minister, attended the service at Saint Paul's. Who else or what else (short of an enemy attack) could unite a country in this way?
"The present age of polarization has unleashed the most ferocious forces, which seem hellbent on creating a narrow unity only through cynical division..."
I felt wistful because I seem to remember a time when republics could do this too—generate great moments of national pride and unity—moments when our partisanship would yield to our patriotism. I think of many a Memorial or Veteran's Day, but above all I think of the values and conventions—now under severe threat—that have long undergirded the constitutional order of our own country. There was a time when such values and conventions would compel even the most partisan among us to act for the greater good or in the national interest. We celebrated such moments, priding ourselves, for example, on every peaceful transfer of power, every triumph of the rule of law over the wayward hearts of human beings.
Such moments matter, for they permit us to maintain a continuous national identity amid the vicissitudes of national life. "There is a serious lesson to be learned in the U.S. from the spectacular celebration Britain has just staged," Gerard Baker recently wrote in The Wall Street Journal. "The queen's jubilee, marking the longest reign of any monarch in English history, reminds us of the importance of unifying institutions and symbols for a badly fractured country in perilous times.... [N]ational cohesion requires at least something that commands national legitimacy."
Indeed it does. The present age of polarization has unleashed the most ferocious forces, which seem hellbent on creating a narrow unity only through cynical division, a factionalizing of our citizenry that is contrary to the letter and the spirit of e pluribus unum. And yet without this national unity, without a shared sense of national purpose, of a greater good that inspires us to rise above our baser instincts, then this great republic of ours cannot have much longer to live, for we will have rid ourselves of one tyrant only to find ourselves in the grip of another a mere two and a half centuries later. "The alternate domination of one faction over another," George Washington said in his farewell address, "sharpened by the spirit of revenge, natural to party dissension, which in different ages and countries has perpetrated the most horrid enormities, is itself a frightful despotism...and sooner or later the chief of some prevailing faction, more able or more fortunate than his competitors, turns this disposition to the purposes of his own elevation, on the ruins of Public Liberty."
King George III was said to have told John Adams, the first U.S. ambassador to Great Britain, that he prayed that the new United States of America would "not suffer unduly for its want of a monarchy." Perhaps, in a way, we have suffered, or we are at least in some way suffering now.
I am not calling for the restoration of an American monarchy. But the restoration of those values that safeguard our national life, as well as the spirit of the American Revolution, is an urgent national necessity. We would do well to remember this July 4 that here in America, in the absence of a monarch, the Constitution is sovereign. Yet as Elizabeth II just showed us, sovereigns reign only as long as they elicit the affection and loyalty of their subjects.