Dreamers top priority for Hispanic ministry directors during Hill visits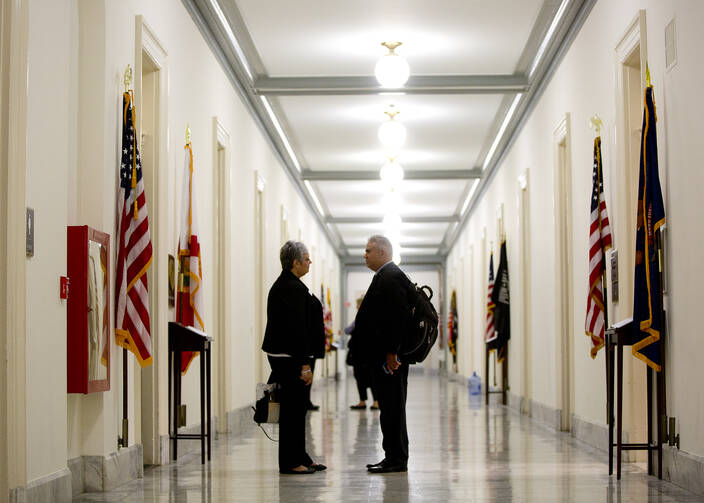 Vivi Iglesias and Carlos Flores, both of St. Petersburg, Fla., stand outside the office of Rep. Charlie Crist, D-Fla., in Washington Nov. 8. They were among diocesan directors of Hispanic ministry from across the country in the nation's capital to advocate on immigration issues and lobby for a "clean" DREAM Act, or the Development, Relief and Education for Alien Minors Act, to keep the Deferred Action for Childhood Arrivals program in place. (CNS photo/Tyler Orsburn)
Olga Villar wants to be sure that young adults who were brought to the United States as children by their families can achieve the same success that she has in her life.
Villar, director of Hispanic ministry for the Archdiocese of Mobile, Alabama, is concerned though that the 800,000 "Dreamers" in the U.S. may not have that opportunity.
She along with about 80 diocesan Hispanic ministry directors and staffers blanketed Capitol Hill Nov. 8, delivering a message of compassion and understanding to lawmakers while pushing for a legislative fix for the Dreamers. The so-called "Hill Day" was part of the annual conference of the National Catholic Association for Diocesan Directors of Hispanic Ministry held in suburban Washington.
"I suppose it was very important to express that as people of faith, we're not so interested in politics as for what's best for people we serve," said Villar, 46, who came to U.S. with her parents and two siblings from Colombia in 1987 and now is a legal resident.
"I walked out of there with a greater commitment not only for Dreamers, but for every young person," she told Catholic News Service.
For Dreamers, the future is uncertain. They have been allowed to remain in the country under the Deferred Action for Childhood Arrivals program, known as DACA. The program, established in 2012, permits them to apply for a work permit and a reprieve from deportation.
In September, however, President Donald Trump rescinded DACA and asked Congress to find a legislative fix, giving lawmakers six months to act. While legislation known as the Development, Relief and Education for Alien Minors Act, or DREAM Act, repeatedly has been introduced since 2001, Congress has failed to act on the measure.
The bill's acronym gives rise to the title of "Dreamers" for those who would qualify for relief under it.
Many, like Villar and her fellow ministers, see the bill as the most promising way for the young people in the country illegally to gain legal status.
"We know the faces, we know the stories. We cry with those who are hurting, and it's sad to see young people feeling unsure about the future, who are just wanting to be a part of this country, to have dreams and be able to build those dreams," Villar said.
The bill, or something like it, got a boost a day after the congressional visits when 15 Republicans gathered at the Capitol and said they want a vote on the bill now.
Rep. Ileana Ros-Lehtinen, R-Florida, was among those calling for passage. She also happened to be one of the representatives Villar saw. Villar said Ros-Lehtinen, who is retiring in 2018, told the Hispanic ministry directors that she wanted to see the bill passed and the sooner the better.
"She was different because she's looking for the best solution to give Dreamers an opportunity," Villar said.
Javier Bustamante, executive director of the Office of Cultural Diversity and Outreach for the Archdiocese of Washington, told CNS that the visits were fruitful. Bustamante delivered 500 letters in support of DACA signed by people who attended the archdiocese's recent gathering to prepare for the Fifth National Encuentro to be held in September in Grapevine, Texas.
In addition to promoting the DREAM Act, the diocesan Hispanic ministry directors discussed the importance of not cutting foreign poverty-focused development and humanitarian aid programs with congressional staffers.
Currently, such aid accounts for about 1 percent of the federal budget. Trump has called for deep reductions in the $60 billion spent on such aid to partially offset boosts in military spending.
The aid supports programs such as agricultural development and nutrition, emergency food assistance, water, sanitation and hygiene, international disaster assistance, education, health care, including malaria, tuberculosis and AIDS treatment, and maternal and child care.
The congressional visits also offered the chance for the ministry directors to express moral and humanitarian arguments behind their "asks" with members of Congress.
Estela Villagran, director of Latino ministries in the Archdiocese of St. Paul and Minneapolis, said that she wanted to bring her message to Capitol Hill after participating for weeks in prayer vigils at the office of Rep Erik Paulsen, R-Minnesota, to convince him to support the DREAM Act.
"He's very tough," said Villagran, president of the directors' association and a native of Uruguay.
For the meetings, Villagran's group asked a young woman to be their spokesperson.
"Who better than her to speak for her young colleagues and university students? She told how (the Dreamers) would not be able to graduate with her. We presented down-to-earth problems with the staffers," Villagran said.
Carlos Flores, associate director of Hispanic ministry in the Diocese of St. Petersburg, Florida, said the key to the Capitol Hill meetings is strong follow-up and further developing relationships with congressional staffers both in Washington and in local district offices.
"We're planning on letting them know of things happening and what we are doing in the diocese," Flores told CNS, "so that if they are aware, if they want to come, they can view and participate."