The Editors: Patriotism loses its meaning when it is used as a political weapon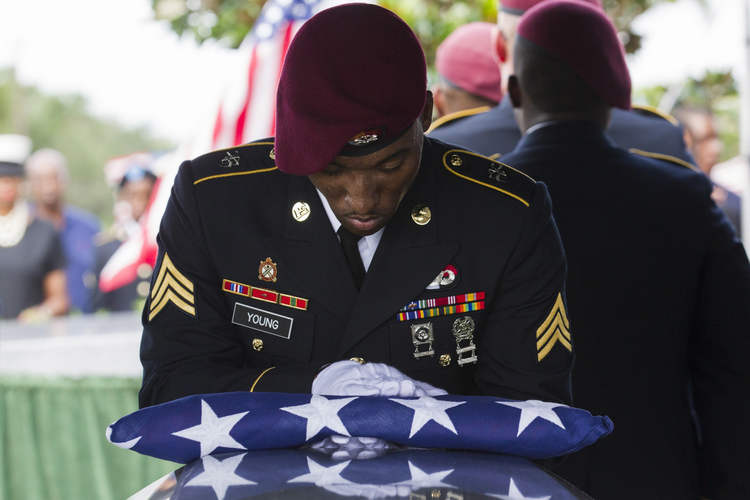 Sgt. Donald Young places a U.S. flag over the casket of Sgt. La David Johnson during his burial service in Hollywood, Fla., on Saturday, Oct. 21, 2017. Mourners remembered not only a U.S. soldier whose combat death in Africa led to a political fight between President Donald Trump and a Florida congresswoman but his three comrades who died with him. (Matias J. Ocner/Miami Herald via AP)
Patriotism loses its meaning when it is used casually as a political weapon—and it has repeatedly been used this way by the Trump administration. Perhaps most notably, President Trump has repeatedly called athletes like Colin Kaepernick unpatriotic. "N.F.L. players continue to kneel during the National Anthem, showing total disrespect to our Flag & Country," he tweeted in October.
That same month, Representative Frederica Wilson, Democrat of Florida, criticized Mr. Trump's phone call to a military widow, Myeshia Johnson, in which he appeared to forget her late husband's name. John F. Kelly, the retired general who is now White House chief of staff, hit back at Mrs. Wilson, alleging that two years ago she took credit for the funding of a new F.B.I. field office. (Video footage proved that Representative Wilson had made no such claim.)
There is nothing patriotic about a disregard for facts.
When Chip Reid of CBS News pointed out that Mr. Kelly had incorrectly described a statement by Ms. Wilson, White House Press Secretary Sarah Huckabee Sanders adopted Mr. Trump's strategy and implied that fact-checking General Kelly would be unpatriotic, given his military rank. "If you want to get into a debate with a four-star Marine general, I think that is something highly inappropriate," Ms. Sanders told Mr. Reid.
There is nothing patriotic about a disregard for facts. In both of these cases, accusations of being "unpatriotic" launch shouting matches that distract from the issues at hand. Mr. Kaepernick's patriotism—or lack thereof—has been discussed at greater length than the police brutality his kneeling protest hoped to draw attention to, and Ms. Wilson's critique of how Mr. Trump handles calls to Gold Star families has received far more air time than the attack in Niger that resulted in the deaths of Sgt. La David Johnson and three other U.S. soldiers.


Nor does criticism of one's country equal disloyalty to it. "'My country, right or wrong' is a thing no patriot would think of saying except in a desperate case," G. K. Chesterton once quipped. "It is like saying 'My mother, drunk or sober.'"
Patriotism is gratitude for and pride in the gifts of one's nation, not an assertion of a nation's indefectibility or destined greatness. That, in fact, is idolatry.