Europe's alt-right takes to the high seas to intercept refugees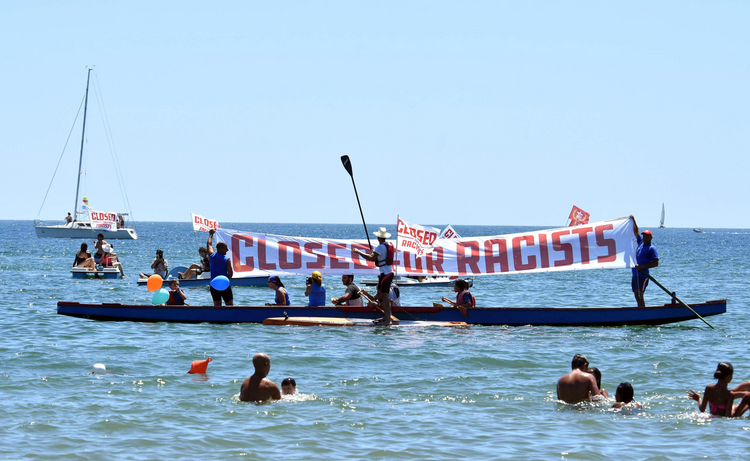 People join a demonstration titled, "City Flotilla, at Sea Against Racism," to protest against the scheduled arrival of the C Star, a ship that an anti-immigrant group has chartered to try and halt migrant arrivals to Europe from Africa and elsewhere, in Catania, Sicily Island, Italy, on July 29. (Orietta Scardino/ANSA via AP)
Newly emerging far-right groups have been "crowdfunding"—raising money online—to pay for a purported defense of Europe. The aim of the new-right is to target vessels of various charities and aid agencies that are trying to rescue refugees at risk on the Mediterranean in make-shift or foundering vessels. Their action plan is to physically disrupt these humanitarian missions.
History shows no shortage of risible, if not hare-brained enterprises that flow from scatty ideologies. Ideology and pathology are often close-family; among their first cousins you can count xenophobia and bigotry. And this summer's so far largely botched far-right activism on the Mediterranean Sea, attacking refugee rescue boats, would be laughable were it not so appalling.
Earlier in the summer, a shadowy French-based group had managed to divert a search-and-rescue ship off Sicily, using, as far as can be ascertained, a hired high-speed vessel. Since then, the group has become more prominent, calling themselves "Identitarians," a neologism with at least some connection to a French far-right faction self-identifying as "Génération Identitaire." According to the U.K.-based anti-Fascist activist group Hope not Hate, the group is presently relaunching their operations under the banner of "Defend Europe."
This summer's so far largely botched far-right activism on the Mediterranean Sea, attacking refugee rescue boats, would be laughable were it not so appalling.
The avowed aim is to "defend Europe" from refugees. Typically, the language that Identitarians use is emotive and xenophobic; milder examples include "swarms" and "invasions" of refugees amid much talk of threats to European culture and a looming catastrophe for white identity. They accuse aid agencies of collusion with the human-traffickers that are putting helpless and defenseless refugees on the water.
The Guardian reported that the French faction's website, which has apparently been taken down or removed to the "dark web," had claimed: "We are losing our safety, our way of life, and there is a danger we Europeans will become a minority in our own European homelands."
This emerging movement has attracted praise on several occasions from the U.S. Breitbart news agency, and it has been likened it to "alt-right" groups in the United States. German media sources trace its rise in part to a right-wing young adult group that began to emerge in 2015. Its first public action had been to unveil a banner across Berlin's landmark Brandenburg Gate bearing the slogan: "Sichere Grenzen, sichere Zukunft" ("Safe borders, secure future"). Several media sources describe Identitarians as "new-right hipsters." German chancellor Angela Merkel, soon up for re-election, has attracted much hostility from her country's new right after promoting hospitality to refugees over the last two years.
The Identitarians have succeeded in raising at least £50,000 ($66,000) toward the purchase of a vessel. One social media thread, since taken down, appeared to suggest that they were in the market for lightweight, high-powered boats. That has attracted criticism from more mainstream anti-immigration groups, concerned that their Greenpeace-mimicking fellow travelers will undermine what they believe is a cogent political case for reducing migration into Europe.
So far their maritime efforts have proved to be inept, if irritating to the aid agencies, and publicity about their antics has been largely negative. The Mongolian-flagged ship they have acquired was detained in the Suez Canal after its captain failed to produce the necessary documentation.
The U.K. columnist Katie Hopkins, known for her outspoken xenophobic and bigoted stances, did Identitarians no favors by joining them last week in Sicily. Ms. Hopkins, who has advocated the use of gunships to stop refugees, was recently fired from London's LBC talk-radio station for a series of offensive statements. Her self-churning controversy culminated in her call for a "final solution" to be visited upon Muslims after the Manchester bombing earlier this summer. During the U.S. presidential campaign candidate Donald J. Trump spoke warmly of this woman, describing her as a "respected British journalist" on more than one occasion.
Falling into the background is the continuing tragedy of refugees trying to enter the European Union by the Mediterranean. Pope Francis has continued his advocacy for refugees, trying to keep this human disaster in the public eye. In the weeks to come, he will have no doubt more to say. But advocates for refugees increasingly find that news-fatigue is among the chief obstacles they face.
Once again in 2017, the peak summer migration season has seen many calamities and a great loss of life. The refugee tragedy has not come to an end even if reporting about it has. All too often, what little reporting there is fails to confront ideology-driven xenophobic propaganda about refugees as a menace. It is a reflection of a massive failure by European media: when innocent people die horrible deaths by drowning and now face harassment on the high seas by groups like Defend Europe, someone has to step up to confront the fake news.