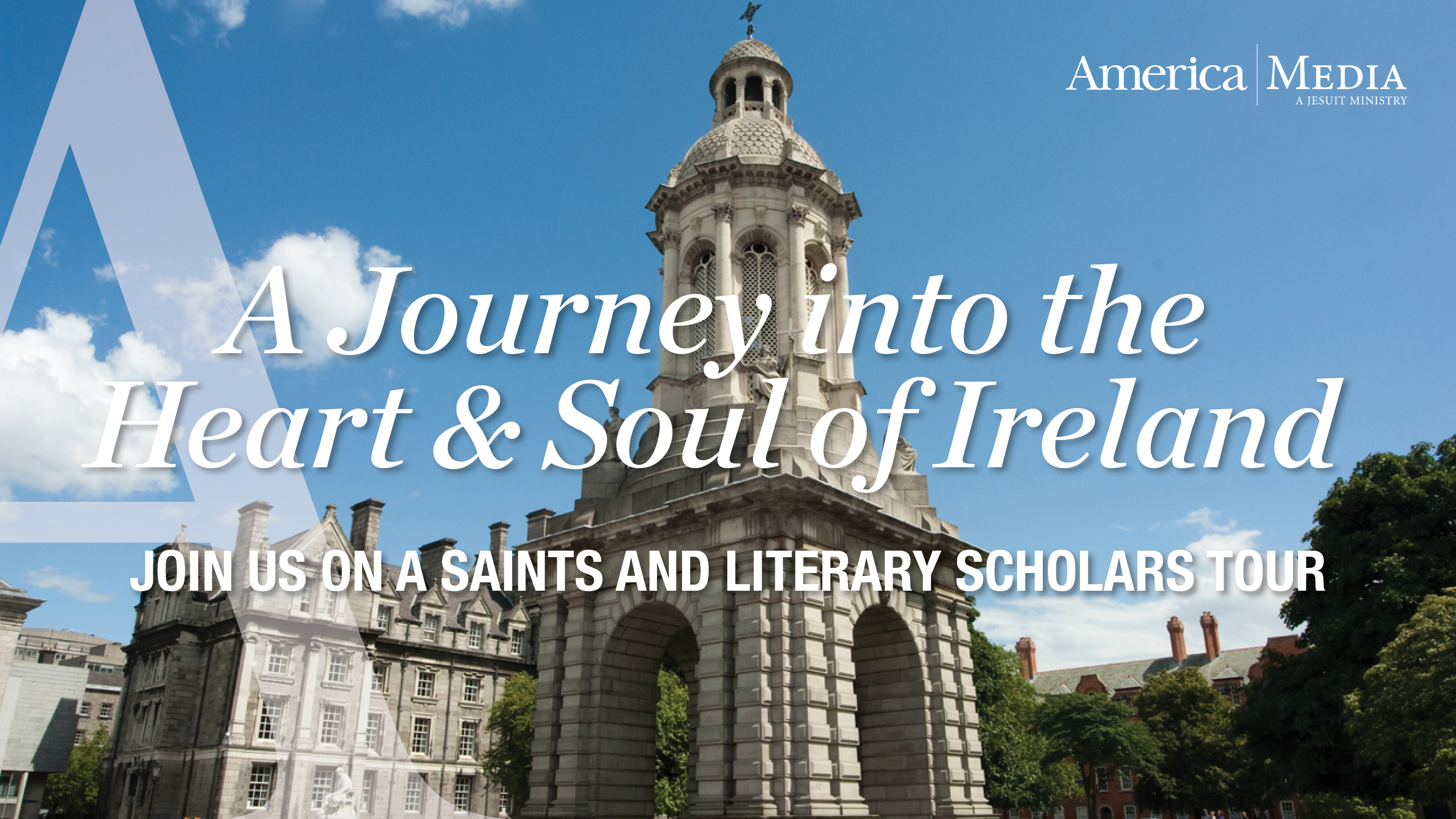 Advertisement
It should come as no surprise to readers of this magazine that we have always had a special place in our hearts at America Media for the Emerald Isle. (We used to joke that the masthead was our own version of the "O Antiphons": "O'Brien, O'Hare, O'Keefe, O'Toole…"). Even today, we have many Irish-Americans on staff, and we still cover news from Ireland with some frequency, from the visit of Pope Francis for the World Meeting of Families last summer to an in-depth feature on the struggles of the Irish church last spring.
Over the past several years, we have also been leading pilgrimages to various holy sites in Christian history, from our yearly trips to the Holy Land and visits to Rome and Ignatian sites in Spain. In addition to the many spiritual fruits of these pilgrimages, they have also allowed me and many of our staffers to get to know our readers better. Friendships have been formed on those trips that will last lifetimes.
So why not add to that list a journey into Ireland, we wondered? In addition to the many holy sites and "thin places" of Ireland, it is also a land rich in literary history. Imagine: celebrating Holy Mass at the Marian shrine at Knock; touring the ruins of monasteries 17 centuries old on the Aran Islands; seeing the Book of Kells up close at Trinity College; taking a literary tour of Dublin through the eyes of Joyce, Yeats and Beckett.
With that in mind, James T. Keane, our literary editor and I are delighted to invite you to join us on our America Media journey through the land of saints and scholars, from October 20 to 28, 2019. 
More details can be found by clicking here, and as always, feel free to contact our Director of Advancement, James Cappabianca, at 212.515.0101 or via email at jcappabianca@americamedia.org with any questions. 
But don't delay too long to sign up: We're limited to 45 travelers! 
Sláinte,
Fr. Matt Malone, S.J.