Jesuit conference president: White American Catholics need to face the truth about slavery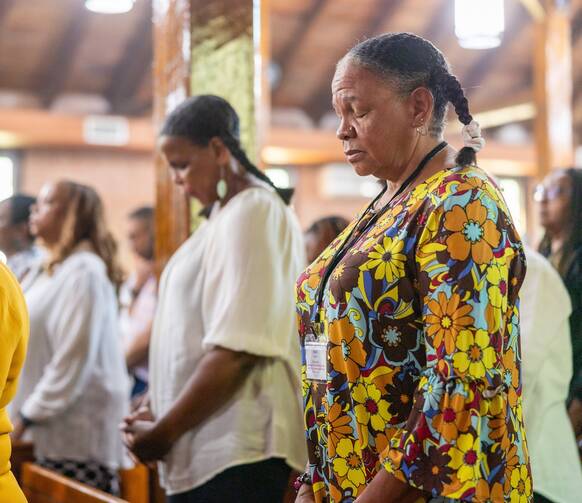 From left to right, family members Bernadette Semple (in the background), Toni Ann Semple and Denise Semple pray during Mass Sept. 3, 2023, at St. Peter Claver Church in St. Inigoes, Md. The Mass closed the Southern Maryland GU272 – Jesuit Enslaved Descendant Gathering Aug. 31-Sept. 3. (OSV News photo/ Mihoko Owada, Catholic Standard)
Six years ago, for the first time, I sat face-to-face with the descendants of the 272 people my own religious order, the Jesuits, enslaved and sold 185 years ago. It could have been contentious, and no one could have blamed the descendants if they had raged against those of us who represented the devastating past they had recently uncovered. I would be less than honest if I did not acknowledge that there have been many difficult moments during this journey. Reconciliation is not easy. But that first meeting was the beginning of a descendent-led partnership that has blossomed into an unprecedented movement toward truth and reconciliation with the racist sins of our past—one that offers a pathway for healing in the United States.
As I prepared for that first meeting, I felt shame for my religious order, for the Catholic Church and for my alma mater, Georgetown University, for having enslaved and sold hundreds of people. I felt embarrassment at our complicity in this original sin of slavery, which was a part of the founding of our nation and even accepted in our Constitution and our church until after the Civil War.
Six years ago, for the first time, I sat face-to-face with the descendants of the 272 people my own religious order, the Jesuits, enslaved and sold 185 years ago.
Most of all, I felt sadness because of the generations of accumulated pain and trauma, now compounded in the descendants—many of whom are faith-filled Catholics—who had discovered this betrayal within their own church.
The Jesuit order in the United States benefited financially from enslaved labor; and the financial gains of tearing apart families and selling 272 enslaved men, women and children for $110,000—nearly $3.5 million in today's dollars—are built into the foundation of our religious order and its mission. Just as the descendants had no choice but to inherit generations of pain, we in the Society of Jesus must accept that this terrible legacy is our inheritance.
The descendants of those individuals did not owe us their forgiveness, yet we asked for it. And in spite of all our past sins, they granted it.
The descendants came to us out of love with a vision for a foundation that would embrace a shared mission to repair the wounds in our human family—wounds inflicted because of the false ideology of a hierarchy of skin pigmentation. And while they gave us their forgiveness unconditionally, we could not, in good faith, accept it without placing a condition upon ourselves: to make their forgiveness a turning point and a call to action to help create a moral path for racial justice within the Catholic Church and in the United States.
The descendants came to us out of love with a vision for a foundation that would embrace a shared mission to repair the wounds in our human family.
The Descendants Truth and Reconciliation Foundation, founded in 2019, is the organization we have partnered with to help right the wrongs of racism through multigenerational education investment and community-based racial healing initiatives, along with care for elderly and infirm descendants. This foundation is the expression of our shared mission of truth and reconciliation. Along with the tremendous efforts of so many existing Jesuit-sponsored apostolic efforts, this new, descendant-led partnership is another way we are working to rectify the insidious, hideous and pernicious legacies of slavery and racism in America. Anti-Black racism still leads to horrendous acts of violence, as we saw in Jacksonville, Fla., several weeks ago, as well as daily injustices large and small across our country. We believe it is a moral sickness and a disease that all decent people—and our institutions—must work to cure.
We know that we face serious headwinds: fear, mistrust and all too often an unwillingness by many white Americans to accept the historical facts of history. Three years after the murder of George Floyd, our country has turned away from a profound moment of racial reckoning as white support for the urgency of racial justice, which soared in May 2020, has receded. Much of the current social and political debate is related to whether our country "owes" Black people for the trauma, segregation and poverty that can be traced back to legalized slaveholding. Sadly, too few in our country understand multigenerational trauma and poverty, and too many underestimate the value of the privilege that white skin confers in our culture.
But our greatest challenge may be a lack of faith that racial healing can ever happen in America, and a lack of imagination that we could live together in peace as one human family. Any faith in that possibility is constantly tested; nearly 60 years after the enactment of civil rights legislation, we still live with staggering disparities in life outcomes for white and Black Americans—and the protections offered by some reforms, such as the 1965 Voting Rights Act, have been rolled back.
That is why the Jesuits have already contributed $22 million to the Descendants Truth and Reconciliation Foundation, and why we have pledged another $10 million over the next five years to match a recent $10 million pledge from Georgetown University. This $42 million in commitments are the foundation of our pledge to do our best to seek $100 million over five years from Jesuit networks—our alumni, parishioners and benefactors—with the help of our sponsored works for the initial capitalization of this foundation. I am deeply grateful that Timothy Kesicki, S.J., has agreed to lead this campaign.
The foundation has an ambitious vision for an eventual billion-dollar foundation to support educational grants for all descendants who need assistance, along with racial healing initiatives and support for elderly and infirm descendants in need of assistance—not just today but for generations. The more resources available to this new foundation, the more will be available each year for us to invest in educational opportunities and racial justice—in other words, in our collective future. Next year, for the first time, the foundation will award $400,000 in educational grants to descendants through the Thurgood Marshall Foundation. There will also be $400,000 awarded to community-based racial healing initiatives. This is just the beginning.
In partnering with us, the descendants have given us a tall order. They are calling us to leave our comfort zones in pursuit of truth, healing and transformation. I and my Jesuit brothers, along with all Americans, must have the faith and imagination to answer that call and meet this moment. Together we can choose to do our part to end a 400-year cycle of pain and work to fulfill the vision that we all hold within our heart of hearts: a world in which love, peace and acceptance lead us to justice and equity together. That is God's dream for our world.