Update: Pope Francis has asked Cardinal Matteo Zuppi to conduct Ukraine peace mission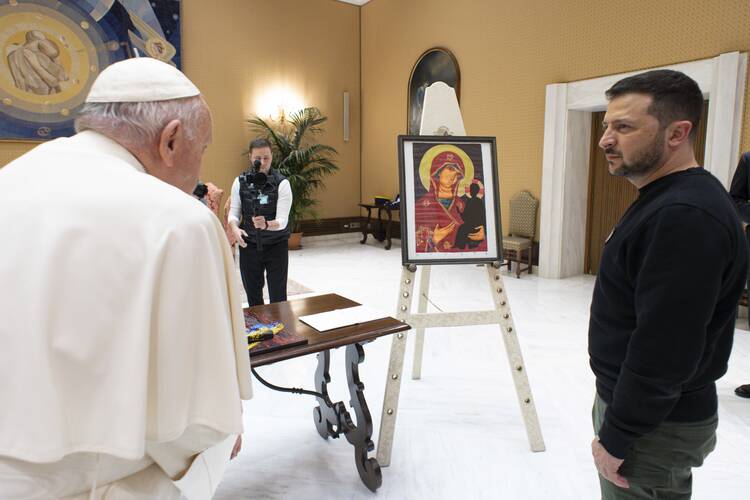 Pope Francis and Ukrainian President Volodymyr Zelenskyy stand in front of a work of art the president gave to the pope after their meeting at the Vatican May 13, 2023. Titled "Loss 2022-58," it commemorates the 243 children who died during the first 58 days of the war, said an accompanying explanation. (CNS photo/Vatican Media)
Pope Francis' peace mission, which he first announced on April 30, appears to be underway. This was confirmed by the Vatican on May 20 when it announced that Pope Francis has entrusted Cardinal Matteo Zuppi, archbishop of Bologna and president of the Italian Bishops' Conference, with "the task of conducting a mission, in accord with the Secretariat of State, that may contribute to reducing the tensions in the conflict in Ukraine, in the hope, never dismissed by the Holy Father, that this could open to paths of peace." It said, "The time of the mission, and its modalities, are currently under study."

The Director of the Holy See Press Office, Matteo Bruni, broke the news in a statement sent to the Vatican accredited media on Saturday evening.
The statement came as the G7 meeting in Hiroshima, Japan, attended by Presidents Biden and leaders from France, the United Kingdom, Germany, Japan, Italy, and Canada and the European Union, renewed their support for Ukraine. President Zelensky was present for the last part of the meeting, after arrived from a meeting of Arab League.
Pope Francis' first announced the peace mission on April 30 on the return flight from Budapest. On May 18, an Italian website, Il Sismografo, reported that the pope was sending two personal envoys to President Volodymyr Zelensky of Ukraine and to President Vladimir Putin of Russia "to discuss and reach a truce" to the war that was then on its 449th day. It identified the envoys as Cardinal Matteo Zuppi and the Italian Archbishop Claudio Gugerotti, prefect of the dicastery for Oriental churches.

On the afternoon of May 19, however, Archbishop Gugerotti issued a statement denying that he had been entrusted with a peace mission as reported in the media. Cardinal Zuppi, for his part, kept silent and Vatican sources (who asked not to be identified) that spoke to America suggested that he may indeed be the one envoy entrusted by the pope with this delicate peace mission. Today the Vatican confirmed that he has been entrusted with the mission.
Pope Francis' peace mission, which he first announced on April 30, now appears to be underway.
Cardinal Zuppi has had experience in attempts at conflict resolution, mostly in Africa. He played a key role as a member of the Community of Sant'Egidio, in helping broker a peace agreement that ended the 17-year civil war in Mozambique in 1992.
News of this initiative came a day after Cardinal Pietro Parolin, the Vatican secretary of state, told a gathering of heads of state at the fourth Council of Europe Summit, meeting in Reykjavik, Iceland: "We cannot accept passively that the war of aggression in that tormented country continues." He added: "This is the time to take action and to establish a definitive and just peace in Ukraine, and in all the other so-called 'gray' areas of Europe."
Pope Francis' peace mission is reminiscent of the one taken by Pope John Paul II in early 2003 when he sent personal envoys to Iraq's President Saddam Hussein and U.S. President George W. Bush to prevent the war in Iraq. That initiative failed because Mr. Bush had already made up his mind to go to war.
Francis' initiative comes at a time when the war in Ukraine has already caused between 100,000 and 200,000 casualties, both Ukrainian and Russian. Moreover, according to the United Nations High Commissioner for Refugees, it has forced the displacement or exile of almost a quarter of the 44 million Ukrainians who lived in the country before the Russian invasion. It has also caused widespread destruction in the country and greatly disrupted food and energy supply chains across the world.
The choice of envoy is significant. Cardinal Zuppi has had experience in attempts at conflict resolution.
The peace mission comes at a crucial moment when an even more dangerous phase of the war appears to have begun. Russia has bombed Kyiv already nine times this month, and Ukraine has started to launch a major offensive to recover lost territory.
The pope is deeply concerned at the potential loss of life and greater destruction that would happen if the war continues. He is determined to do all he can to bring this war to an end, but his is an uphill struggle and a fight against time, inspired by faith alone and trust in the power of prayer.
Ukrainian officials, including Mr. Zelensky, have made it clear during the recent visit to Rome that they do not see this as the right moment for a ceasefire or truce as it would only work to the advantage of Russia, which would remain in the territory it has taken by the invasion. They want to regain their territory before they will sit at the table to negotiate a peace accord.
The Ukrainian leadership acknowledges that the Vatican can play an important role in the humanitarian field, especially regarding the exchange of prisoners and the return of more than 20,000 Ukrainian children who have been forcibly taken to Russia during the war. But it says peace is a matter for Ukraine to decide.
News of the papal initiative broke a day after Dmytro Kuleba, Ukraine's foreign minister, held talks with Li Hui, China's special envoy for Eurasian affairs and former ambassador to the Russian Federation, in Kyiv on May 17. Mr. Li was visiting Moscow and Kyiv in an attempt by China to explore a settlement to the war. But according to a statement from the Ukrainian foreign ministry, Mr. Kuleba told him that his country would not accept any proposals to end the war with Russia that involved it losing territory or freezing the conflict.
Mr. Zelensky has said he saw no sense in trying to involve Russia in a dialogue at this stage.
Since the war began, Pope Francis has sought to reach out to both Mr. Putin, who started the war on Feb. 24, 2022, and Mr. Zelensky. The pope has done so in the hope of trying to stop the war, but only Mr. Zelensky has responded.
Il Sismografo claims that both the Russian and Ukrainian presidents have separately agreed to receive the pope's envoys. It is likely that Mr. Zelensky, who met the pope last week, would be willing to speak with a papal envoy, but whether Putin would be ready to do the same remains to be seen. Since the war started, the Russian president has not been willing to have any direct contact with the pope, and so far there is no evidence to suggest that Zelensky's visit to Francis may have caused him to change his mind.
Pope Francis first revealed that a mission for peace "is underway" aimed at stopping the war between Russia and Ukraine on April 30, on his return flight from Budapest. In the following days, however, spokespeople for both Presidents Putin and Zelensky said their respective sides knew nothing about such a mission. But Cardinal Pietro Parolin, the pope's right-hand man, challenged these denials on April 3 and said both sides were informed.
On May 13, Mr. Zelensky visited Pope Francis in the Vatican, and the two spoke together in private for 40 minutes. The Vatican said they discussed "the humanitarian and political situation in Ukraine caused by the war" started by Russia on Feb. 24, 2022. It said "the pope assured him of his constant prayer, as witnessed by his many public appeals and invocation to the Lord for peace since February of last year." The Vatican statement read, "both [leaders] agreed on the necessity to continue the humanitarian efforts in support of the [Ukrainian] population." Pope Francis emphasized in particular "the urgent need for 'gestures of humanity' towards the most fragile persons, the innocent victims of the conflict."
Mr. Zelensky, for his part, issued the following tweet after he had left the Vatican: "I met with Pope Francis. I'm grateful for his personal attention to the tragedy of millions of Ukrainians. I spoke about thousands of deported Ukrainian children. We must make every effort to return them home. In addition, I asked to condemn Russian crimes in Ukraine. Because there can be no equality between the victim and aggressor. I also talked about our Peace Formula as the only effective algorithm for achieving a just peace. I proposed joining its implementation."
Later, in an interview on Italian television, when he was asked whether he saw a role for the pope as mediator between Russia and Ukraine, Mr. Zelensky replied, "With all respect for His Holiness, we do not need mediators. We need a just peace. We invite the pope, as [we do] other leaders, to work for a just peace, but first we have to do all the rest," meaning "it's important to end the war in Ukraine" and, by winning, put a stop to Mr. Putin's aggression.
Mr. Zelensky said he saw no sense in trying to involve Russia in a dialogue at this stage, because in Minsk in 2015, Mr. Putin did not keep his word: "One cannot make a mediation with Putin. He just knows how to kill."
This story was originally published on May 18 and has been updated with developing news.