How Martin Luther King Jr. helped me make sense of today's Gospel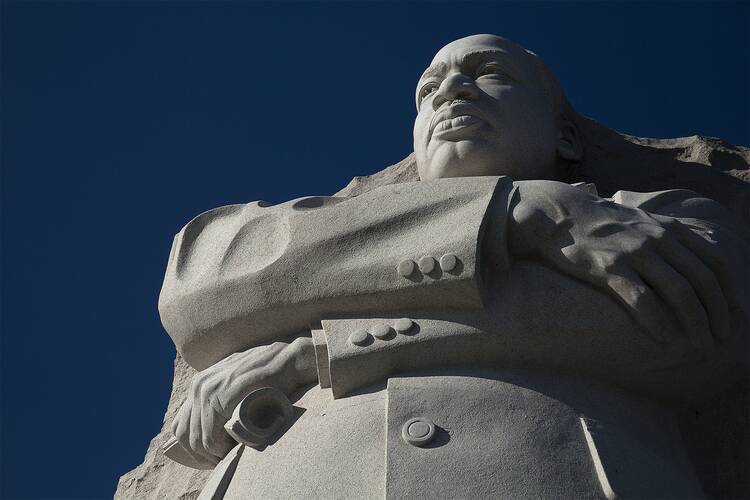 The Martin Luther King Jr. Memorial in Washington is seen in this illustration photo. The life and legacy of the slain civil rights leader is commemorated Jan. 17, 2022, which is a federal holiday. Beginning in 1970, a number of states and cities made his birthday, Jan. 15, a holiday. In 1983, Congress declared a federal holiday for Rev. King and set the annual observance for the third Monday of January. (CNS photo/Tyler Orsburn)
A Reflection for Monday of the Second Week in Ordinary Time
Find today's readings here.
"Likewise, no one pours new wine into old wineskins.
Otherwise, the wine will burst the skins,
and both the wine and the skins are ruined.
Rather, new wine is poured into fresh wineskins." (Mk 2:22)
What is a wineskin? And why does new wine ruin new wineskins?
Of the many parables that appear in the Gospels, this story is not among the most viscerally clear, at least not to me. I've handled mustard seeds, so I know of their diminutive size. I've turned on lamps in dark rooms. I've even had the opportunity to spend time with lambs. (Technically, I think they were miniature goats, contained within a fence at a New Hampshire farm, but I got the general idea.)
But new wine ruining new wineskins? Not quite the same.
When I learned that my turn to write a Scripture reflection fell on the day we commemorate the prophetic witness of the Rev. Dr. Martin Luther King, Jr., I had hoped that the readings would easily lend themselves to a reflection about the fight for justice or the trouble prophets face when they call on society to change its wicked ways.
But after I read today's readings, I felt stuck.
Until I discovered notes from a sermon Dr. King delivered in Montgomery, Alabama, in October 1954, on this very story.
Preaching at Dexter Avenue Baptist Church, Dr. King noted that "Jesus came in the world conscious that he was bringing something essentially new."
"The long caravan of humanity had been moving in one direction for centuries, now it was to stop and change its course," Dr. King continued. "Wherein it had been moving toward the city of legalism, it was now to move toward the city of Grace."
Dr. King concluded that for the world to be transformed, we must work not only to change our habits, but structures as well.
But Dr. King observed that new ideas are not always welcome in a world stubbornly set in its way.
"There have been times in history when new and creative ideas appeared on the scene, but they ended up unaccepted because the very historical atmosphere at that time was not sufficiently new and strong to contain them," he preached.
That, of course, still rings true today. New ideas flowing from eternal Gospel truths don't always find a way in the world. Sometimes it can feel too overwhelming to continue to fight for justice. Maybe that's just the way of the world.
But, Dr. King goes on, there are also moments when the world is ready to receive a message. Including when Jesus entered human history.
"The atmosphere of time and history had been so impregnated with a newness and fullness that the new event of God's revelation that appeared in his person was destined to succeed," he preached. "The new event which appeared in the coming of Jesus was so world shaking because it was contained in a new bottle of historical receptivity. Time and history were ready for his coming."
Dr. King concluded that for the world to be transformed, we must work not only to change our habits, but structures as well. Or put another way, we've got to seek out new wine—and new wineskins to hold it.
"The real problem lies in the fact that this new fresh resolution is not coupled with a change in one general or overall structure of life," King said. "He has a new and fresh desire to change one segment of his life, but this new desire is placed in the same old worn out general structure."