The martyr who made people laugh: Blessed Miguel Pro
A Reflection for the Memorial of Miguel Agustín Pro, Priest and Martyr
Find today's readings here.
When the Lord brought back the captives of Zion,
we were like men dreaming.
Then our mouth was filled with laughter,
and our tongue with rejoicing. (Ps 126:1-2)
The alternate readings for today mark the martyrdom of Blessed Miguel Agustín Pro, a Jesuit priest who was killed by firing squad in his native Mexico on Nov. 23, 1927. Wednesday is the 95th anniversary of his death.
The readings are fitting for a memorial for a martyr. In the first reading, from Sirach, we read: "You have saved me from death, and kept back my body from the pit." Blessed Miguel Pro was not saved from physical death, but we know he earned eternal life. Indeed, in the Gospel reading, Jesus says: "Do not be afraid of those who kill the body but cannot kill the soul." When Miguel Pro was executed, he stood with his arms raised at his side, like Jesus on the cross, one hand holding a rosary, the other a crucifix. He did not fear those who would kill his body.
But I would like to focus on another line from today's readings, because it helps us understand Miguel Pro the man. In today's psalm we read: "When the Lord brought back the captives of Zion,/ we were like men dreaming./ Then our mouth was filled with laughter,/ and our tongue with rejoicing."
Miguel Pro was a man whose mouth was often filled with laughter. More importantly, perhaps, he made other people laugh. His biographer, Gerald Muller, C.S.C., notes that he was a gifted mimic and enjoyed making his classmates laugh with impressions of his teachers. (Though Father Muller is at pains to point out that he was careful not to target individuals who might be hurt by his impressions.)
It may seem inappropriate to smile on the feast of a martyr, but I think Blessed Miguel Pro would be fine with it.
I smiled at these descriptions, and then laughed out loud at this anecdote. Because of the persecution of the Catholic Church in Mexico, the Jesuits were forced to relocate their seminarians to Los Gatos, Calif., where they were to continue their studies. Father Joseph Howard describes how the Spanish-speaking Jesuits communicated with their U.S. counterparts:
In those early days of acquaintance, much of our conversation consisted of "How do you say this?" or in Latin, "Quomodo dicis?" or "What does this mean…?" So in the course of our walk around the grounds, Brother Pro asked, "What does 'go to hell' mean? In Latin we tried to explain "Ite ad infernum." He received the answer with amusement. But it was always my suspicion that he knew perfectly well what the expression meant all the time.
All these years later, Blessed Miguel Pro made me laugh.
It may seem inappropriate to smile on the feast of a martyr, but I think Blessed Miguel Pro would be fine with it. Time and again, Father Muller notes that Pro was a man of good cheer, always trying to lift the spirits of those around him, either with a well-timed prank or an impromptu picnic (with his superior's permission, of course). He was not a great student, and he worried privately that he would never be ordained (he ultimately was). But he carried himself with the grace of someone who knew everything would be O.K. in the end.
For the last 16 months of his life, Miguel Pro was back in Mexico, saying Mass and hearing confessions in secret, wearing disguises to avoid detection. He was picked up by the Mexican authorities because he and his brothers were suspected of plotting an assassination attempt against the president. When he was executed, he wore a blazer, a sweater vest and a tie, looking not unlike some of the Jesuits who taught me. What makes an impression are his raised arms, set in a perfect cruciform, and his defiant last words: "¡Viva Cristo Rey!"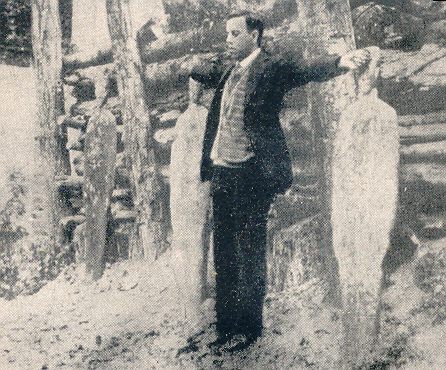 The next day's newspaper carried this image of Miguel Pro, and it galvanized the public. The Mexican president watched as 40,000 people turned out for his funeral. The Catholic persecutions would continue, but for this day at least the people seemed unafraid. No doubt a few of them knew Father Pro, and smiled at the memory of the cheerful and witty priest who, in his final moments, showed the awesome depths of his faith.