Podcast: Covid spike and rocket attack complicate Pope Francis' Iraq trip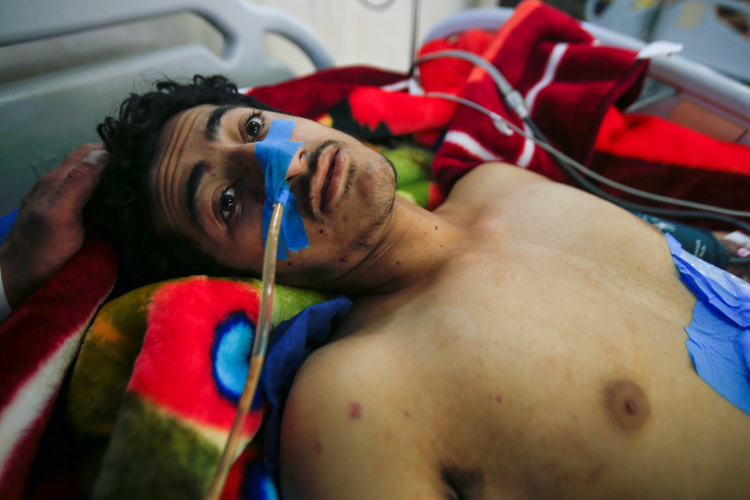 A man is treated at a hospital in Irbil, Iraq, Feb. 16, 2021, after he was injured during a rocket attack the previous evening on U.S.-led forces near Irbil International Airport. Pope Francis is scheduled celebrate Mass March 7 at Irbil's Franso Hariri Stadium during his four-day visit to the country. (CNS photo/Azad Lashkari, Reuters)
Pope Francis' trip to Iraq, scheduled for March 5-8, has been thrown into further question in recent days. Following the discovery of the new UK-based strain of the novel coronavirus, Iraqi authorities closed businesses and places of worship, including those where the pope was expected to hold events during his visit.
A rocket attack near the Erbil airport on Feb. 15 has also heightened security concerns, as the pope was expected to meet leaders from Iraqi Kurdistan at the airport. Despite the concerns, the Vatican insists that the trip is going forward.
Listen to "Inside the Vatican" on Apple Podcasts and Spotify.
This week on "Inside the Vatican," host Colleen Dulle and Gerard O'Connell look at the challenges of planning this papal trip. "When I asked some people in the Vatican, 'Well, how is this going to be possible with the lockdown?' They said, well, you know, there's always an exception to a rule," Gerry said.
Gerry and Colleen also give updates on the church's involvement in protests in Myanmar, Pope Francis' praise for a new Colombian law granting protections to Venezuelan refugees, and the plans for Ash Wednesday services in the Vatican.
Correction 2/17/2021: A previous version of this article stated that the pope would depart for Rome from the Erbil airport. He will fly from Erbil to Baghdad.
Links from the show:
Iraq announces Covid-19 restrictions ahead of papal trip
Cardinal Charles Maung Bo on Twitter
America Magazine's documentary on Venezuelan refugees