Poems from children on the frontlines of climate change
On the settlement for internally displaced persons in the Rift Valley, Kenya, the grade-two classroom is a small shed with walls of corrugated metal and a dirt floor. I pull up a seedy dandelion growing by the door as I walk in. The children, eyes wide and mouths open, stare at me like I am a ghost.
After the introductions, I hold up the fluffy weed. Make a wish, I say.Silence fills the room. In the room next door, the children sing their math problems:
Number nine, number nine, where are you? Here I am! Here I am! How do you do?
Finally, one boy asks, in a clear voice:What is a wish?
I learned about the meaning and value of water from those who walk long distances to collect it.
Before arriving in the Rift Valley, I spent a decade studying climate change as an academic. In 2015, I went to Kenya to learn about the human impact on the ground. I taught at a primary school in an I.D.P. camp that is home to diverse tribes who were displaced during post-election violence in 2005. Farmers shared stories about severe drought, unpredictable rainfall and problems with cattle grazing, theft and starvation in their home communities. I learned how climate change is being lived out among the most vulnerable in East Africa, among those whose lives are already impossibly stressed.
I also learned about the meaning and value of water from those who walk long distances to collect it.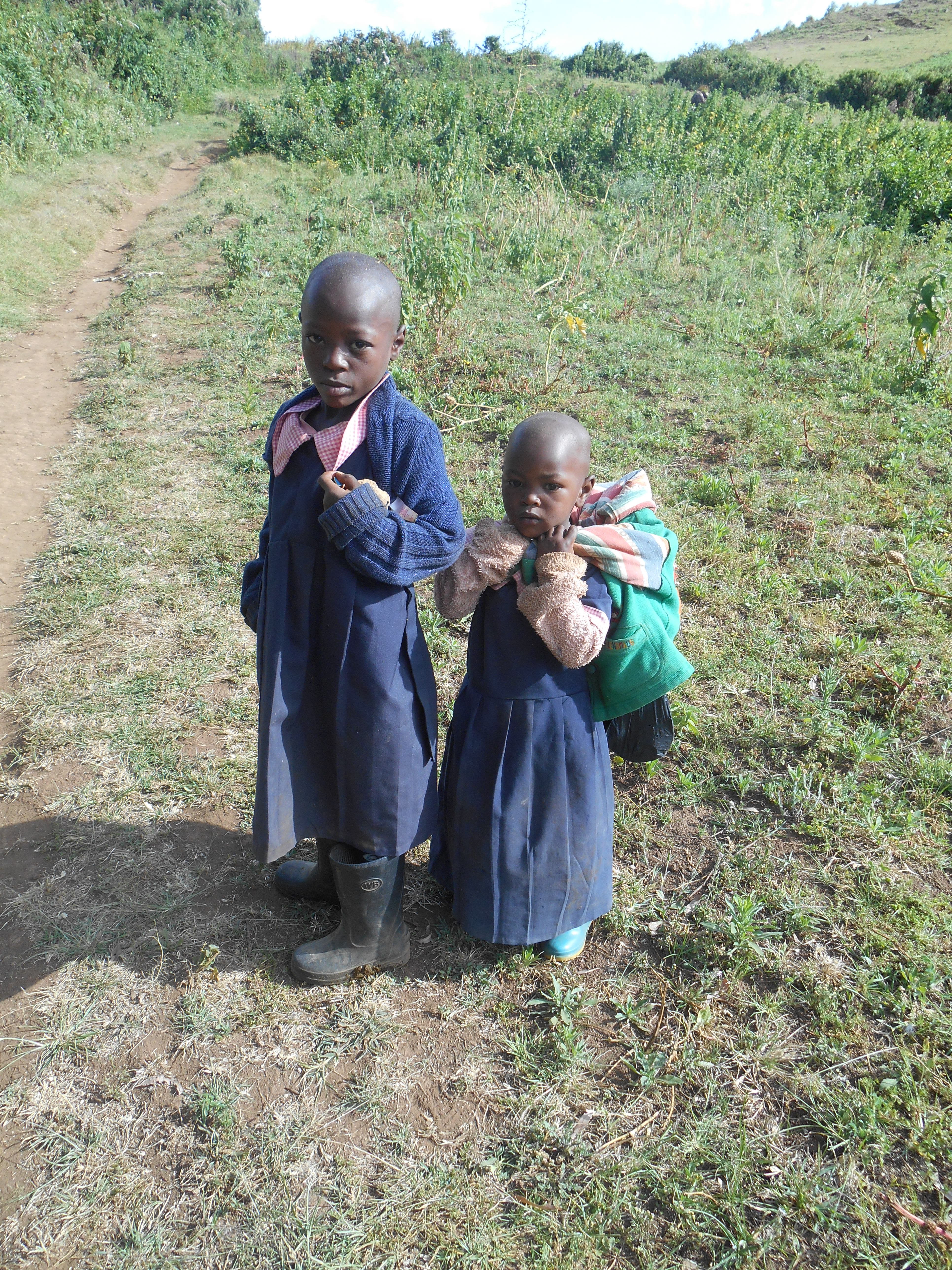 No amount of scientific knowledge about climate change could have prepared me for my first trip to Kenya to work with children struggling to survive with ever more limited basic resources. I worked at another remote school in Western Kenya, a rural region suffering from even worse drought, and found conditions that were even more impoverished. There, I also met a group of orphaned and disabled children who live in a house at the school called a "small home." Most had been severely malnourished in the years before they arrived there.
In both schools, we built vegetable and flower gardens and wrote poems about the parts of the environment they cared most about—soil, fruit, animals and, above all, water. The students understood in the most visceral way the value of water. The misuse of natural resources during our age of climate change is unethical and inhuman. No matter your world view, water is special. Kids get this.
•••
Children in rural parts of Kenya rise before dawn and carry yellow Jeri cans to gather water from ever-shrinking ponds. A trip to get water for a child can take hours for a child. I have seen the smallest children, 3 or 4 years old, on the road early in the morning. On the way to the pond, they carry two empty yellow cans, one in each hand. Some children are too small to carry both cans when full, so on the walk back they set down one can, run a ways, then run back to get the first, then set it down and repeat.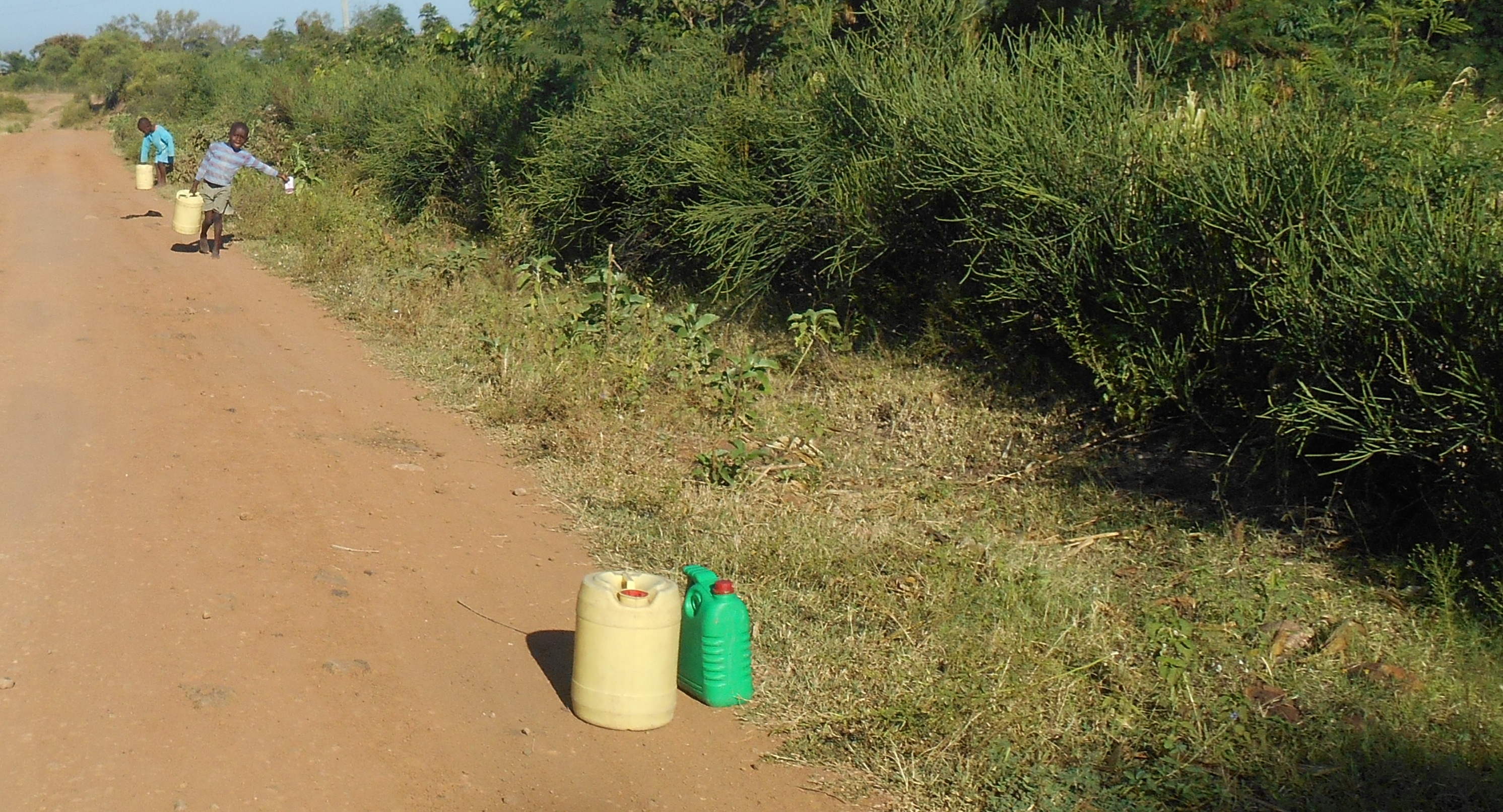 When the water in their local pond dries up, they must run to the next pond and the next. The farther they run, the more school they miss. And the farther the pond, the more competition they face from other gatherers. Sometimes they return with empty cans. If there is no rainfall for long periods time, a family will start selling off assets—cattle, sheep or a goat—to buy bottled water.
At the schools where I taught, the children and I cultivated gardens and wild meadows for pollinating insects. At the end of the day, the children would write poetry about the lesson. On the day we talked about water, they became very quiet and spent a long time lying in the grass, writing.
When the water in their local pond dries up, they must run to the next pond and the next. The farther they run, the more school they miss.
One student started a poem with the words "I am water," and many of her classmates followed her lead.
I am water and I am so good.
I am a soul,
and a brain.
I am so beautiful and I am a tree.
I am a brain and I am the heart.
I am it, and I am all.
Wrote another student:
I am water and I am beautiful.
I am water and I am important.
I help to shade the animals or birds who live in trees—ha,
if you see a tree,
that is also me.
In the poems, the children see water as life and the bringer of life.
I am the water
I am the boy
I am the fish
water is a gift
water is a life:
I like to wash the clothes
I like to cook the chapati
I like to wash the utensils
I like to cook the ugali.
Another wrote:
I flow towards the river and I was not treated
because God treat me before made me.
I water crops and people drink me.
For the children, water is good because it knows who it is and is mysteriously capable of holding every entity that encounters it.
My colour is unknown because
sometimes I am a rainbow,
sometimes I am colourless.
But I am always good.
(And I am I).
•••
In the poems from drought-stricken, rural western Kenya, the older students, ages 12 to 14, wrote about the stark results when the "I" in water cannot survive. Disrespecting water—through over-consumption, waste, pollution, pesticides—also leads to a stop in the flow, which the students see as sacred:
I am water and I am oil spillage
I am human and animal waste
I am waste from industries
I am water and acid rain
I am water and I am
I am water and nothing cannot stop me
Another student wrote:
Our blood is a mixture of water.
Even trees have water in their roots from the heavens
Even water from the rocks
and all the things come up and forms a moisture,
then
up to the clouds
and clouds condenses
yes condenses into rain.
So will we be one day: rain that falls from the heavens.
Children who carry water know what water means, and they know what losing water means. The children also gave me a glimpse into what the world is really facing with climate change.
They tell the truth.
On the last day of school, the students asked me: Are people in your country happy? Do people love us in America? And our trees? Oh, they must love us so much because we are so green.
As the Kenyan kids know, when we disrespect nature, we lose the life connection we need to live within it. We lose humility. We lose balance. When we feel we are in control of nature and its processes, we lose nature itself. As Pope Francis writes: "Creation is a gift, it is the marvellous gift that God has given us, so that we will take care of it and harness it for the benefit of all, always with great respect and gratitude."
I am water and water is life, and my life.
When there is no water we cannot survive
When there is no water we cannot survive
When there is no water we cannot survive