What do U.S. Catholics think about Pope Francis and the sexual abuse crisis?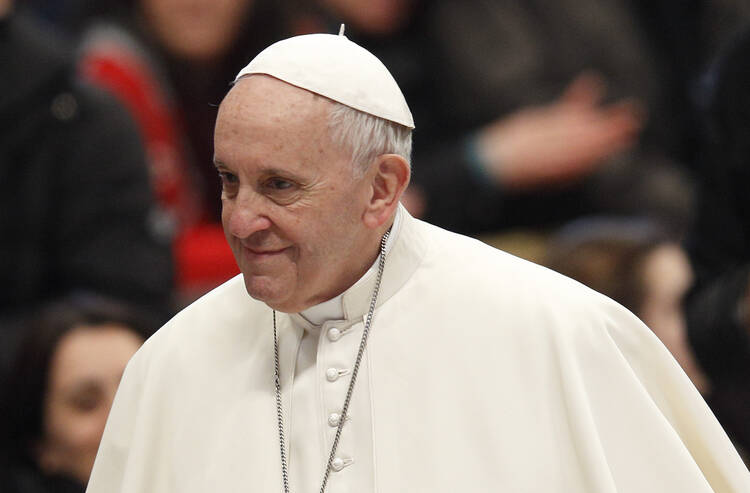 Pope Francis is pictured during his general audience in St. Peter's Basilica at the Vatican Feb. 28. Pope Francis and his international Council of Cardinals discussed the possibility of establishing regional tribunals around the world that would judge cases of sexual abuse allegedly committed by clergy, the Vatican spokesman said Feb. 27. (CNS photo/Paul Haring)
Over the past seven years I have been interviewing U.S. Catholics for a book about attitudes toward the church and toward Pope Francis. In the last round of interviews, which took place last September, I asked people for their reactions to the sexual abuse scandal. They voiced anger and disgust but also hope that substantial changes might soon take place.
For example, Pam, a woman from Minnesota in her early 50s, remarked: "I feel sad for the leaders of the church that they have to defend themselves and our church. But mostly, I don't know whom to trust in the Catholic Church anymore." Allyson, a person in her 20s studying theology in graduate school, commented, "How can the church that I trusted and have had as a center for my whole life, [have] done something like this—be the source of such pain?"
The gathering of heads of bishops' conferences with the pope in February could be a start in a new direction. As Archbishop Charles Scicluna, one of the planners for the meeting, told America, "We bishops need...to adopt what Pope Francis is calling 'a synodal approach.' That is, we cannot do it alone in our community, we need also to empower the laypeople, the laity, in order to help us be good stewards."
What would this empowerment entail? Many of those interviewed called for the laity to take a more active role in the various structures and decision-making processes of the church.'
"How can the church that I trusted and have had as a center for my whole life be the source of such pain?"
Kathleen, an older woman living in Washington, D.C., called for the church to "bring the laity in, full force." She added: "We are a huge hunk of the church. We need to be part of deciding what the church is going to look like."
Larry, retired and living in Wisconsin, pleaded: "Bring women into leadership positions at the highest levels even if you don't want to ordain them. So much of what is human, caring, inclusive, watchful and loving is by and large better expressed by women, or at least better expressed by men and women together." This was a common theme among those interviewed.
Pope Francis is key to a shift from clerical power and privilege to a sharing of authority and decision-making. Nancy, a Midwesterner, told me, "I want my pope to be, at this point in time, a very bold, loud, demanding, daily voice, one who is championing changes that need to take place in the church."
"Bring women into leadership positions at the highest levels even if you don't want to ordain them."
Tom, an 80-year-old from California, also asked for bold action from the pope: "Lead the way! Be strong! Be not afraid! Propose and promote real changes, recognizing and realizing the stiff opposition that you will encounter. Reform the culture of the church itself. Either that or watch the church deteriorate and see millions of people lose their faith."
This cultural change must be embraced by bishops and priests. Ken Untener, the former bishop of Saginaw, Mich., comes to mind. Upon becoming bishop in 1980, he put his official residence into escrow and lived in parishes across the diocese for two or three months at a time. When he died in 2004, the laity turned out in large numbers for his wake and funeral. Bishop Untener was one with his flock. That was a leadership style to be imitated.
Imagine what it would look like if those who attended the February conference with the pope took to heart the insight that we have to be transparent and accountable in our handling of sexual abuse. But this is only the beginning. Bishops must also change the way they manage dioceses They must learn to work in partnership with the laity, to be inclusive. Their chanceries should be open, inviting environments with an emphasis on hospitality and cooperation. Training in this new approach should be offered to priests so that a shift toward a more inclusive culture becomes the norm in parishes as well.
"Thank God we have Francis as our pope. He can shepherd us through the necessary changes."
The crisis of sexual abuse and its cover-up within the church is a symptom of a closed, non-accountable structure. The movement toward an open and shared leadership style points the way to a new way of becoming church. As Ed, a priest who is no longer active, mentioned in an interview, "The task is enormous, the resistance is palpable and seemingly impossible, but a deep conversion is essential."
Ginny, a woman in her 70s living in New England, took a positive view: "Thank God we have Francis as our pope. He can shepherd us through the necessary changes.... This could be an incredible moment of transition in terms of the male-ordained-only reality that our church is, for the most part."
Let this February meeting among bishops and pope be the start of this new conversion. Where will this lead? Hopefully to a vibrant new role for the laity, more leadership opportunities for women in the church and a serious discussion of the responsibilities of the clergy. Based on my interviews, the people of God do not fear but instead demand real change.