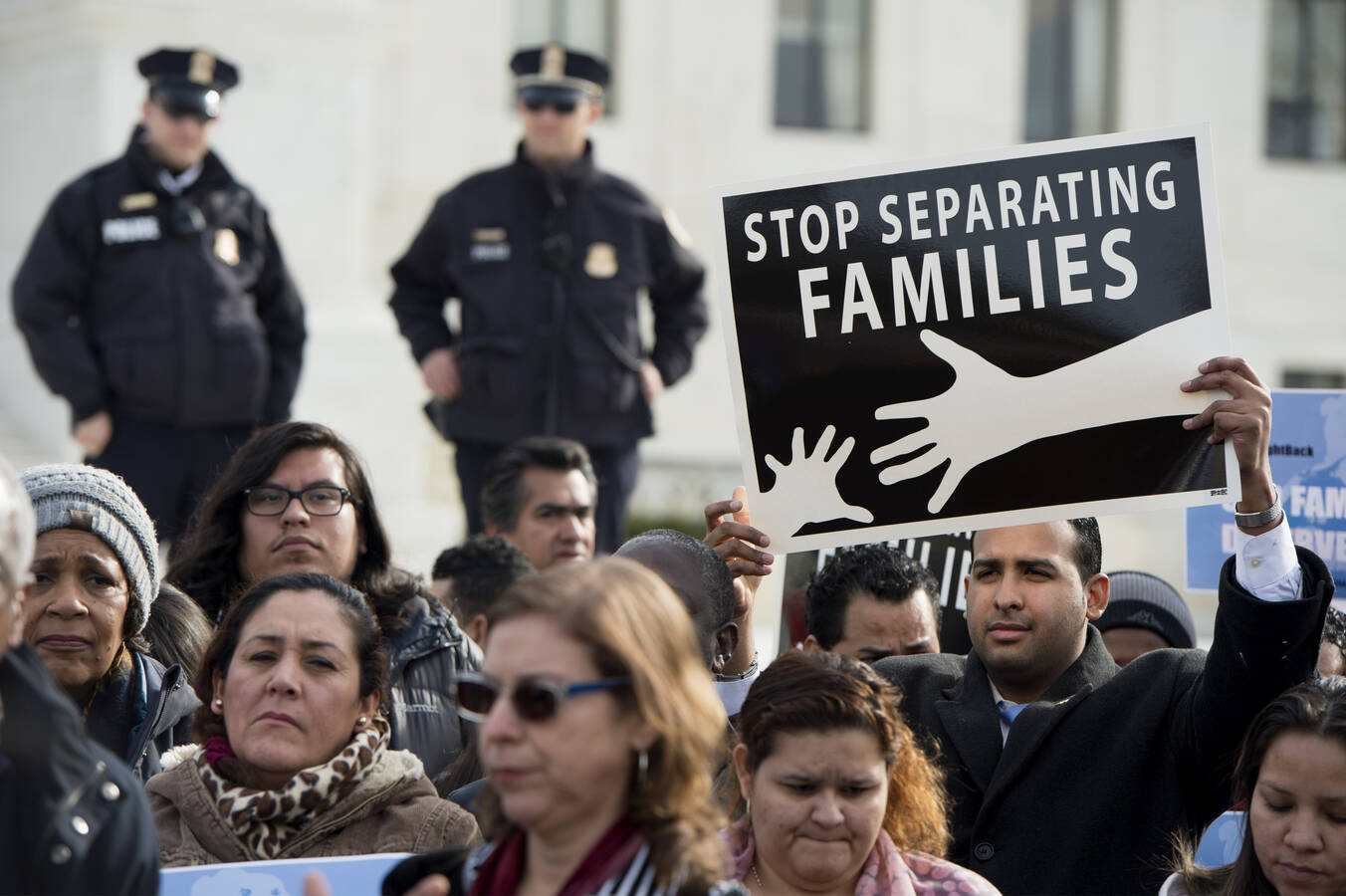 What lies in the heart of an ICE officer?
They asked me to go downtown to ICE and talk them out of deporting someone. Like, just go do that. Walk into the offices of Immigration and Customs Enforcement, unannounced, ask for the supervisor, show him some documents and persuade him not to ship someone out of the United States. And maybe because you are a religious brother clad in black they will listen to you.
So I went down to lower Manhattan, federal buildings, green plazas, everyone brusque and municipal. Early August, a perfect summer morning, bright and cool. Weather that conned you into thinking all was right and lovely in the world. I met with Linda from New Sanctuary Coalition. We met in a place wholly discouraging to humanity, a chain donut shop with white Formica counters, bright fluorescent lights and insane amounts of sucrose.
In the fluorescent palace of Formica Linda explained things. Our refugee, Maria, fled her home country out of fear for her personal safety, came to the United States and sought asylum status. Maria is not her real name. From here the story of her seeking asylum status gets complicated and not complicated. The complicated part has to do with a dark American thicket of bureaucracy, lawyers, poverty and fear. The uncomplicated part is that over the past 11 years Maria has lived in the United States, raising two young children, working several jobs, going to church, building up her community, doing the things people do—living, breathing, making more beloved the world around her. And then she was ordered deported.
They asked me to go downtown to ICE and talk them out of deporting someone. 
After the deportation order came down, Maria took sanctuary in a church in Manhattan. Traditionally ICE will not enter churches to capture someone. Maria signed a waiver allowing people to appeal her exile. I was the latest to do so.
I was invited into this because New Sanctuary is an interfaith group, and I'm a Jesuit brother. And when you are a priest or brother and wear a black suit and a collar sometimes things change. Religious uniforms are a thing for people. People tell you things. The air is different around a collar. That morning on the green plaza sitting outside a shuttered coffee stand, a woman walked up to me and asked for a blessing. She immediately started sharing sad things about her life, about work and death and getting by in this impossible city. She cried, we prayed, she left.
Once wearing clerics sitting in a park, a man came up and told me he was Jewish but had a pig in his heart so maybe he wasn't so much Jewish anymore but he still wanted to pray. So would he be allowed to go into a Catholic Church? He had almost died on an operating table and wanted to pray to God in thanks and so forth. But will they let you in a church if you're not Catholic? Yes, I told him.
These kinds of things happen to you in a collar. The pig was in a heart valve they put in him.
At the disheartening national pastry shop in my dark suit that would maybe change the air over at Immigration and Customs, Linda gave me a sheaf of papers for Maria's case. Application for a stay of deportation, money order for the application, the waiver, letters of support. Letters from a city councilwoman, a state senator, her pastor, co-workers. Thirty-some letters. Her 10-year-old boy scrawling on notebook paper how it would not be wonderful for him to lose his mother.
Linda gave instructions: You go into the office where asylum cases are processed. You ask to see an ICE supervisor. You show him the documents, the letters, the sheaf. You ask for a deferral. He will deny it. He has to follow the rules, he will say. He cannot make an exception for this one person, he will say.
You ask for a deferral. He will deny it. He cannot make an exception for this one person, he will say.
"And then you try to get him to change his mind," she said. "Because actually he could make an exception."
I took this in. I would have to change his mind. I'm not good at speaking off the cuff like that—persuading power to do what it does not want to do. I do not cherish conflict with authority. Words fail me. Linda's hair was short, blonde, spunky, hopeful somehow.
So I came up with lines to change the supervisor's mind. Things about laws and justice and children. I called up a bit of Scripture. I wrote down strategies and arguments and rehearsed them. Redirect the "No." Don't respond to the rule-bound reasons he cites. Make your own case, don't get fixed on his. "The bottom line, sir," I mustered to my imaginary ICE officer, "is that you have a chance today, here and now, to keep this woman from being separated from her kids. The bottom line is that laws are supposed to help people not hurt them."
I rehearsed my arguments until they didn't sound stentorian, podium-worthy, but just like words from a guy talking, asking for a thing to happen.
The bottom line is that laws are supposed to help people not hurt them.
The ICE office, another national chain, more fluorescent lights, molded plastic chairs, white counters, linoleum floors, crushing brightness. Beauty so rarely attends the precincts of the poor. I asked for the supervisor, showed the documents, asked for the deferral, he said no. The rules.
But the law is supposed to help people not hurt them, I said, regular guy talking. James, the supervisor, in a blue plaid shirt with no tie, referred again to the rules. Another supervisor stood silently off to the side and a little behind him. Like a strength coach making sure his trainee lifted with the legs. Making sure James, I suppose, stuck to the handbook. James isn't his real name.
I didn't quote Scripture to James. The moment didn't require it. I avoided becoming spiritual. I did my best to not let spirituality get in the way of the spirit. Just two guys talking.
New Sanctuary comes to ICE every day of the week. Mainly Protestants, Muslims and Jews. Mostly they accompany asylum seekers on deferral hearings. The presence of two or three or 30 companions demonstrates to a judge that an undocumented immigrant has a community behind them. Sometimes it helps them win a stay of deportation and another year to strengthen their case for asylum.
James said he can't let his feelings get in the way of this. He can't bend the rules for one person.
With Maria, they have been sending people to represent her for a few months now. The same documents, the same letters. Sometimes James is the supervisor they meet. I said to James, "Maybe you're tired of people like me coming down here." I acknowledged the situation: O.K., so this is happening, and we both know it.
But come on. What is it going to take to keep this woman here? Guys at a bar, brass rail, ice rattling in beveled glasses. James said he can't let his feelings get in the way of this. He can't bend the rules for one person.
His feelings. So maybe there is pity, empathy. Maybe James thinks our refugee ought to be allowed to stay. Perhaps James is not in favor of the new federal urgency to deport immigrants—to rid, rinse, flush out; to purify the nation of an entire category of humans. Maybe an unclean animal does not reside in the heart of every ICE officer.
But who knows what James thinks? We really can't speak for other people.
I thanked James and left. My clerics availed me little. It had felt meaningful but just a touch hopeless. The next week a Jesuit priest would make a plea for Maria. The week after that a rabbi. They got about as far as I did. Maria is still in sanctuary.
Separations via deportations are still happening, every day.
Why do we do this, I asked Linda, walking back to the subway in the warm sunshine. Why do we petition ICE when it seems nearly certain we'll never get anyone to bend the rules?
"Because," she said, "it's being like the persistent widow from the Bible. The persistent widow kept making her case until the judge relented and gave her what she wanted."
I thought, who wants to be like a widow? And where are the fearful judges anyway who are terrified of widows? Are they even putting these types of people on the bench anymore?
And we do this, said Linda, because at least they see us. Rabbis, pastors, union members, the religious, the irreligious, belts and satchels in gray bins, hustled through metal detectors, cramming into elevators, sitting in courtroom galleries. They see us. The feds, ICE, lawyers, guards, officers, supervisors, watchers of supervisors, people who like rinsing the nation and people who don't—if nothing else they see us. They know someone has eyes on this, the religious public is watching. There is value in that, Linda said.
And I can't help but wonder if it isn't weirdly comforting that someone thinks enough of your job that they come every day to watch you do it. Even at ICE. New shifts of observers all the time. Guards, judges, officers, secretly, unconsciously, want the public to keep an eye on all this. People at ICE want to be watched and troubled and called to something better. Herod and the Baptist. When he heard him speak he was very much disturbed, yet he felt the attraction of his words.
Because, truth be told, they don't know what they are doing and they know it. And they want someone to puncture this. Deep down I think they do. They want someone to cut through the fog of insanity that for no earthly reason wants to tear the beating heart plain out of an immigrant's body, because if anyone thinks that the "separations" of children from their mothers ended with an embarrassed, hastily arranged executive order three months ago, they are painfully and brutally mistaken. Separations via deportations are still happening, every day, in ICE offices like the one in downtown Manhattan on days so nice it feels like nothing could go wrong in the world.
Linda told me that they have almost no Catholic priests or brothers working with them to fight deportations. I don't know why that is. Occasionally they have religious sisters.