The 2018 Diaconate Congress, held in New Orleans from July 22 through 26, celebrated the 50th anniversary of the renewal of the Order of Diaconate as a permanent ordained ministry of the Catholic Church in the United States. "Permanent Deacons have shown themselves to be able co-workers with their bishops, priests, and the lay faithful in many dimensions of ecclesial life," wrote Archbishop Christophe Pierre, the Apostolic Nuncio to the United States, in his letter of congratulations to the Congress, "including apostolic works; sacramental preparation; administrative and financial matters; hospital and prison chaplaincy; and in many other important ministries… making God's love known through humble service."
In his homily for the opening Mass of the Congress, New Orleans Archbishop Aymond called permanent deacons the "conscience" of the church, reminding them of the need to reach out those who are poor or disenfranchised.
Advertisement
Over the past half-century, the number of permanent deacons in the U.S. Catholic Church has steadily grown, to more than 18,000 (see chart below), providing support to parishes during a period of decline in the number of ordained priests. This data comes from the Center for Applied Research in the Apostolate, which this year published an exhaustive study of the duties, characteristics and opinions of U.S. deacons, titled "Word, Liturgy, Charity: The Diaconate in the U.S. Catholic Church, 1968–2018." The infographic below draws from that study, as well as from CARA's data on current enrollment in diaconate formation programs.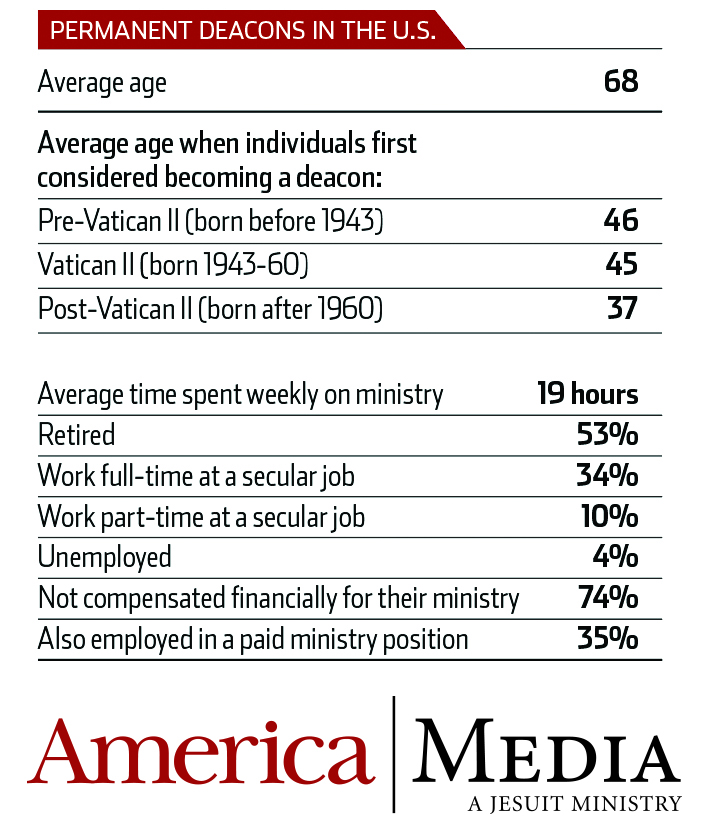 Infographic sources: Frequently Requested Church Statistics, Center for Applied Research in the Apostolate; 2017 survey of 3,166 deacons in the United States, as reported in Word, Liturgy, Charity: The Diaconate in the U. S. Catholic Church, 1968-2018, CARA (compensated ministry positions include director of religious education, director of liturgy, and youth minister); "Catholic Ministry Formation Enrollment: Statistical Overview for 2017-2018," CARA; America/CARA women's survey of 1,508 Catholic women in the U.S., reported in Jan. 16 issue.