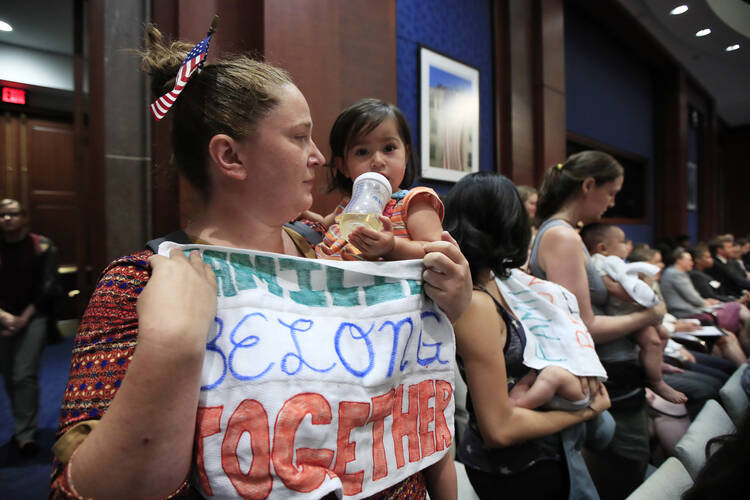 Lucy Martin and her daughter together with other mothers and their babies attend a House Committee on the Judiciary and House Committee on Oversight and Government Reform hearing, to express their support to immigrants and their families and objection to the forced separation of migrant children from their parents, Washington, June 19 (AP Photo/Manuel Balce Ceneta)
Recently, I've received many messages asking: How can I help migrants and immigrants at the U.S.-Mexico border?
1. Call your legislators—your representatives in Congress, your Senators and the White House—and express your opinions. You can find their contact info easily here. Also, in the next election remember that these issues matter.
2. Inform yourself with facts, not uninformed opinions and baseless rumors. The misinformation about migrants and refugees is often driven by racism and fear. Listen to the stories of migrants and refugees, and encounter them as individuals.
How can I inform myself?
I recommend visiting the following websites:
3. Help organizations, financially, who are helping the migrants now, including:
4. Advocate for migrants with friends, family and publicly. They need advocates. The voiceless need your voices. You can also read and sign the Advocacy Action Alert on Family Separation.
5. Pray for them!
Finally, this Thursday, June 21, at 3:30 PM ET Ignatian Solidarity Network will host a live video conversation on family separation with Joanna Williams from the Kino Border Initiative, Dylan Corbett at Hope Border Institute in El Paso (this organization was started in partnership with Bishop Seitz and the diocese there), and Ashley Feasley from U.S.C.C.B.'s Office of Migration and Refugee Service. It will be broadcast live via Facebook Live at: https://www.facebook.com/IgnatianSolidarity/ and available via recording afterward.