The 'Grandiose Narcissist' and the Sexual Abuse Crisis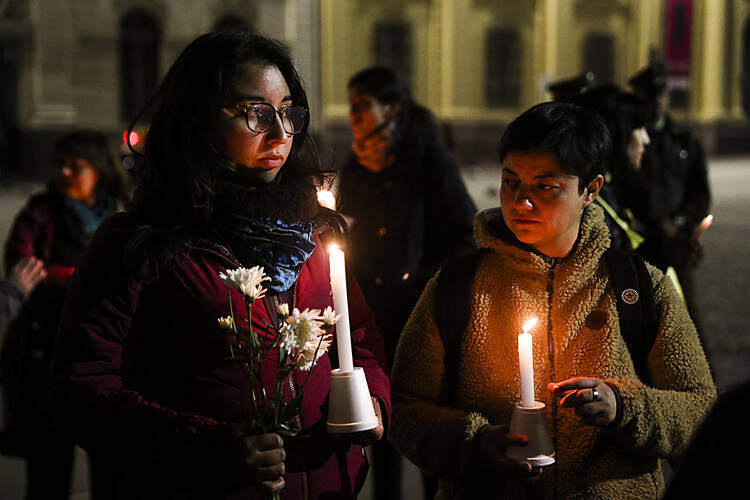 Demonstrators hold candles and flowers Aug. 20 in front of the Metropolitan Cathedral of Santiago, Chile. The demonstration was held as a protest against sexual abuse committed in the Chilean Catholic Church, in an event organized by the Network of Survivors of Ecclesiastical Abuse in Chile. (CNS photo/Alberto Pena, EPA) 
Several years ago, I was invited to address a conference for psychologists and psychiatrists on the topic of sexual abuse in the Catholic Church, held at a large teaching hospital in New York City. My own presentation focused on the ways that the sexual crisis came about in the church, that is, the factors that allowed priests to continue to abuse, and bishops to overlook the abuse. (Clergy from other denominations offered their perspectives as well.) Immediately following my presentation a psychiatrist stood to present his paper.
And what he said astonished me.
There were, he explained, two main characteristics of the sexual abuser: narcissism and grandiosity. The narcissist is almost entirely focused on his own needs and personal gratification. Think of it this way, suggested the psychologist: When an emotionally healthy person accidentally does something offensive to someone, and notices another person recoil or senses a feeling of discomfort in the other, the healthy person will stop, because he or she respects the needs of others. To take a benign example, if you are speaking to someone at a party and physically move too close, accidentally invading someone's "personal space," you may notice the other person take a step back. If you are healthy, you will say to yourself, "I'm making someone feel uncomfortable." And you will take a step back as well.
When the narcissist, however, experiences another person's recoil or discomfort, he will not take that step back. He will not consider the other's feelings. He may not even notice those feelings. Why? Because, as the saying goes, "it's all about him." The narcissist's needs are paramount. This, in part, helps to explain the tragic tendency of the abuser to continue to abuse even when the other is clearly suffering. Though I have never witnessed an actual case of abuse first hand, it is not hard to imagine the suffering that must be evident on the face of the child or young person. The healthy person registers this emotional response; the narcissist does not.
The second quality is grandiosity. Many abusers, explained the psychologist, are typically grandiose men and women. The grandiose person is often the "Pied Piper," the one who easily gathers around him students, football players, altar boys, or even adults. Often a larger-than-life character, he may be the charismatic founder of an organization, the successful president of a school, the beloved teacher, the energetic Scout master, the popular pastor or the well-respected principal. Children and adolescents gravitate towards him because of his charisma; and, more importantly, because of his exalted status adults may feel more comfortable leaving their children in his care.
When the narcissist experiences another person's recoil or discomfort, he will not take that step back. He will not consider the other's feelings. He may not even notice those feelings.
Let me be clear about something else: I'm no psychologist, and no expert in sexual abuse, so I cannot offer any further data other to say this: these words struck me with the force of a lightning bolt. Why? Because the majority of priests I knew who had been removed from ministry because of abuse claims showed precisely these two qualities. And in the case of Jerry Sandusky, Penn State football's defensive coordinator accused of sexual abuse, we see some signs of both: the narcissist (who-allegedly commits rape despite the terrible suffering it causes) and the grandiose Pied-Piper (who founds a center for boys).
But there is a further problem, one that is not often spoken about.
In my experience, after the conviction or removal from office or ministry, those two qualities merge in the person with the terrible consequences. And these consequences make it far more difficult for the institution to address such cases. The grandiose narcissist now focuses almost exclusively on his own suffering. His removal from office, or from ministry, he believes, is the worst thing that has happened to anyone, and he (or she) laments this fate loudly and frequently. Because of his narcissism he focuses almost entirely on his own troubles; because of his grandiosity he inflates them to ridiculous proportions. He suffers the most. This is the "Poor Me" Syndrome.
Even more dangerous: he draws others into his net, and the suffering of the real victims, those whose lives have been shattered, is overlooked-even by otherwise intelligent and well-meaning people. The focus of those within the institution is shifted onto the person they know, rather than the victims that they may not know. "Poor Father," some parishioners may say, "how he suffers." It is difficult for a diocese, a religious order, a school, or indeed members of any institution to resist the powerful pull of the grandiose narcissist. Indeed, people often seem unaware that they are being deluded into an overblown sympathy for the wrong "victim."
In addition, institutional leaders can be overwhelmed by repeated pleas to see how much "poor Father" is suffering, or by widespread complaining about how "hard-hearted" they are for taking action. Tragically, the result can be resistance to real institutional change.