Why does Blair not defend the Church's record?
On Saturday the atheist polemicist Christopher Hitchens went up against former British prime minister Tony Blair in a debate in Toronto on the topic, "Religion is a force for good in the world'. Hitchens, his head shaved from cancer treatment, was in cracking form: outrageous, witty, and clever. Blair, who became a Catholic after leaving office in 2007, seemed way out of his depth, his only argument apparently being that people should focus on the good work of charities inspired by faith.
I have admired Blair, and frequently defended him from many in the Church who try to argue  -- on the fragile basis of his Government's record -- that his Catholicism is superficial. But reviewing his memoir for America, I was shocked to find that his faith seems to permeate almost nothing of his thinking.
Now, in the Munk debate, I see him refuse, time and again, to defend the Church's record against Hitchens's outrageous assertions.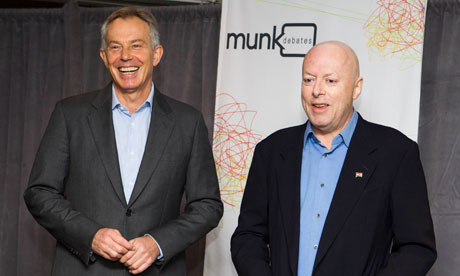 Take this section of the debate. Hitchens, making fun of Blair's repeated argument that the Church in Africa runs many charities, says:
If I was a member of a Church that taught that Aids was not as bad condoms, I would put some conscience money into Africa too ... But it won't bring back the millions of people who have died wretched deaths because of that teaching. This isn't done in the name of religion, as Tony Blair says, it's a direct precept, a direct practice and enforceable discipline of religion.
To which Blair responds:
Just because you can point to examples of prejudice and wrongdoing in the name of religion, that does not mean that prejudice and bigotry are wholly owned subsidiaries of religion. There are plenty of examples of prejudice against women and gay people and others that come from outside the world of religion. And the claim that I make is not that everything the Church has done in Africa is right, but let me tell you one thing it did do -- thew Churches together formed a campaign for the cancellation of the debt; they came together, they succeeded, and the first beneficiaries of the cancellation of debt were young girls going to school in Africa because for the first time they had free primary education. So I agree that not everything the Church or the religious communities around the world is right but I do say, at least accept there are people doing great work day in day out who genuinely not prejudiced or bigoted but are working with people afflicted by famine disease and povery, inspired by their faith.
It seems pretty clear from this that he thinks the Church's stance on Aids is bigoted and wrong; at least, if I had been in the Toronto audience, I would have concluded that. But it's astonishing that, after a week of endless coverage of this issue, Blair could avoid pointing out that "Aids is not as bad as condoms" has never remotely been an article of faith of the Church; and even if some self-appointed Catholic sheriffs have given that impression, the Pope's remarks this week have put paid to that idea in the most public way possible.
The result was 68-32 against Blair -- which, on the basis of his performance, seems a fair result.