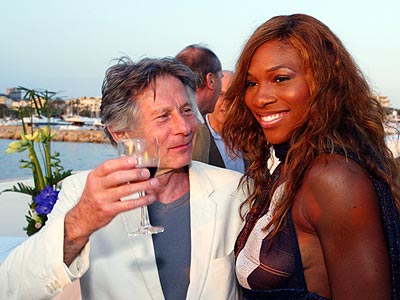 Advertisement
Here I am in Los Angeles, about to start a retreat, when I pick up today's The Los Angeles Times, carrying stories about mortgage-bank woes, gay weddings, forest fires and the like.  Buried in the Arts section is a thumbnail review of the new documentary about Roman Polanski, "Wanted and Desired," which has aired on HBO, and won plaudits at Sundance this year.
"This compelling, smartly told film," wrote the Times' lead film critic Kenneth Turan, "takes the seemingly familiar story of the circumstances surrounding Polanski's fleeing the country after pleading guilty to having sex with a minor and tells it with such intelligence, dispassion and detail that it's like we've never heard it before. Which is exactly the point."  The film opens in L.A. today. 
In 1977, the director fled the country after being convicted of sexually abusing a 13-year-old-girl.  Whether the trial was fair is the subject of the new film.  What is not in doubt is that Mr. Polanski had sex with an unwilling minor, after plying her with Champagne and part of a Quaalude.  The International Herald Tribune reports today that Mr. Polanski may use the documentary to appeal his conviction.
All this leads to a question about double standards.  When it comes to  sexually abusive priests the media is merciless.  When it comes a sexually abusive artiste, the media offers nuance.   Manohla Dargis, in her review in The New York Times in March, wrote this about the film, "Neither is it about Mr. Polanski's likability, his tragic past, morals, short stature, brilliant and bad films, the sleaze factor or your personal feelings on whether there's anything wrong with a 43-year-old man's having sex with a 13-year-old girl."
Whether there's anything wrong? 

Ms. Dargis noted the "curiously divisive reactions he has long inspired."  Yes, curious.
Does abuse matter less if you've won an Academy Award?  Or, put another way, how would the media treat Mr. Polanski if he wore a Roman collar?   
James Martin, SJ