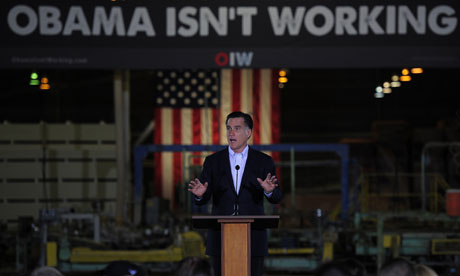 Earlier this week, after a couple startling missteps leading up to his trouncing in the South Carolina GOP primary, Gov. Mitt Romney released his personal income tax information covering the previous two years. In a tradition curiously enough started by his father during his run for the White House, Romney made public his most personal financial details.
There wasn't, however, much new information to be learned. Romney is very wealthy, collecting nearly $40 million over the past two years from smart investments he made largely during his tenure at Bain Capital. Romney is also very generous, as demonstrated in his nearly $7 million in donations to charity, much of it to the Church of Jesus Christ of Latter-day Saints, where he nearly met the prescription that Mormons tithe ten per-cent of their income to the church. Finally, as Romney himself had already alluded to, it was revealed that he paid a staggeringly low percentage of his income in taxes, coming in at about 14 per-cent, far lower than the 25 per-cent or so that billionaire philanthropist Warren Buffet's now lionized secretary pays on her income.
Advertisement
In last night's State of the Union address, President Obama seemed to address Romney personally when he called for laws that would require every individual who earns over $1 million annually to pay at least 30 per-cent in taxes, while leaving the rates unchanged for those bringing in less than $250,000. Speaking before Obama delivered the address, Romney lamented that the President would seek to divide the nation: "Tonight we're going to be treated to more divisive rhetoric from a desperate campaigner-in-chief. It's shameful for a president to use the state of the union to divide our nation," he said.
Romney has convinced himself and is now trying to sell to the electorate the notion that by advocating for a fairer tax system, Obama is engaging in class warfare. Perhaps Romney is shocked that a party that has idolized wealth and deified capitalism is now backtracking on the once imminent nomination of a man who has personified the blueprint of a successful businessman. Why, Romney may wonder, is he the target of so much vitriol? Where was the anger in 2004 when fellow Bay Stater Sen. John Kerry, who is just as wealthy, paid an even lower tax rate than Romney?  
Romney believes that people begrudge his wealth. They don't. It is true that many awe at Romney's wealth, in part because how he made it is so difficult to comprehend, but also because it seems that his only job for the past 6 years has been running for president. But few people actually bemoan Romney for the amount of money he has. He doesn't seem to grasp that the real scandal, as The Daily Beast termed it, is that he is unsatisfied with even this low tax rate. He thinks he and his privileged peers, and the corporations they lead, should pay even less, leaving the burden of funding the programs that make a society on the poor and the middle class.
For all its ills, capitalism seems to be the best way for individuals to thrive socially, economically, and perhaps even spiritually. Such a system will inevitably produce winners and losers, though the hope is that the vast majority will find themselves somewhere in the middle. Government should enact laws, including tax regulations, that help ensure the freedom for all to realize their full potential. But it should also ask those who have benefited from such a system, from the work and talent of others, to give back their fair share, to be part of a society that provides economic and social opportunities for as many as possible. In the economic sense, Romney is definitely a winner. People are outraged not because he won, but because he advocates for a system that simply doesn't allow for others who haven't won to have a fair shake at it.