Cambridge, MA. I've told you about my seminar on Tamil love poetry, most of it religious, in south India. In my last installment, I told you of Tirumalisai Piran, whose two great poems are both philosophical and religious. This time I will introduce you to Antal, the one female poet among the twelve Vaisnava saints of the 7th-9th centuries. Though her poetry too is in an old Tamil that is not easy even for native speakers, she is a much loved figure in contemporary south India, and here in the United States, and even today one hears her songs on the radio, and they are sung and performed in cultural and devotional settings. She composed two famous poems, the 30 verses of Tiruppavai ("Our Holy Vow") and the 14 full songs of the Nacciyar Tirumoli ("The Lady's Holy Words").  
     In Tiruppavai, we are introduced to a group of cowherd women prepared to fulfull the winter vow that by tradition young village women would undertake in hopes of being blessed with a good marriage and good husband. They rise early in the morning, bathe in the cold river, and pray, most often to the river goddess, for blessings as they look to the future. In Tiruppavai, however, they know that their husband can be only Lord Krsna who, in this mythic framework, is also a cowherd in their village. The first verse places us in the Tamil month equivalent to December-January: "It is the month of Markali / the moon is full and the day auspicious. / Come to bathe / you precious girls, richly adorned / dear to Ayarpati, / land of abounding prosperity. / The son of Nandagopa / fierce with his sharp spear, / the youthful lion-cub of Yasoda / woman of matchless eyes, / dark-hued and lotus eyed / his face, is both the sun and the moon / that Narayana alone can give us the parai-drum. / Undertake this vow / And the whole world will rejoice. / el or empavay." (1) [Here and below, I am most grateful to Professor Archana Venkatesan for allowing me to use several verses from her most lovely and superbly annotated translation of Antal's work, The Secret Garland: Translations of Antal's Tiruppavai and Nacciyar Tirumoli (Oxford University Press, forthcoming). In the meantime, you can enjoy Vidya Dehejia's older translation, Antal and Her Path of Love (State University of New York Press, 1990).]
     The first half of Tiruppavai is expressive of their gradual move toward Krsna's house, as more village women awake and rise to go on their journey to see Krsna, waking up, and waking to love of him. At his house, they sing verses to awaken him, seeking to see him and be present to him. At the end, putting aside all other goals, they say that it is only him they want: "We came at the break of dawn / to worship you / to praise your lotus feet / bright as gold. / Listen to the reason for our prayers: / You were born among simple folk / whose livelihood was tending cows / So you cannot refuse our small services. / Know this Govinda / We have not come here / for the pa?ai-drum / For all time: / for this birth and every birth that follows / We are only yours. / We serve only you. / Direct our every other desire toward you. / el or empavay." (29)
     Tiruppavai is a song of spiritual awakening, an approach to God that brought to life in south India the motif of marriage to God; for everyone is one of those cowherd women, and all live in that village, nearby to his house. Our spiritual journeys are a matter of ascetic practice — but in the end, simply of love, immediacy before God.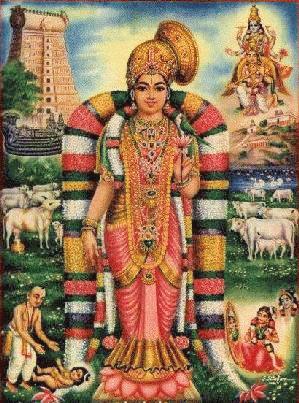 Nacciyar Tirumoli, 143 verses in 14 songs, follows directly on Tiruppavai, but explores love in a multitude of new ways. Antal — if it is directly her voice in the songs — expresses her desire for Krsna, and imagines being close to him and the things that belong to him, even marriage with him: "We were smeared with vermilion and cool sandalwood / Then he and I together rode on the elephants / and circled the festive streets / They drenched us in fragrant waters. / Such a vision I dreamed, my friend."  (6.10) Yet it is also a song cycle of increasing desperation, as she cannot find him and he does not come to her. At times, her anger at her beloved God breaks out, and she warns him that she cannot, will not live without him: ""What is the purpose of future penance / if in this life, I cannot serve my Govinda / in small familiar ways and end the anguish / of my swollen and tender breasts? / Let him enfold me to his perfect chest / Or, let him stand before me, / face me and bid me farewell. / I will accept even that." (13.9) The last song is one of hope — she sings of seeing Krsna in his home, Vrndavana — but they are still not "really" together. Perhaps the cycle was never finished; perhaps it could not be finished in this life.
     We are learning many things by reading these lovely, powerful songs, and have hard but frutiful discussions of how to read mystical poetry, how to learn from it critically, with a sense of historical and cultural difference, with a critical eye toward gender sterotypes — and yet with open hearts. By this point in the course, we've also introduced portions of the Song of Songs in class, since that rich poetry of love is perhaps the best parallel we can find anywhere in the Jewish or Christian traditions: "Let him kiss me with the kisses of his mouth! For your love is better than wine, / your anointing oils are fragrant, your name is perfume poured out; therefore the maidens love you. / Draw me after you, let us make haste. The king has brought me into his chambers. We will exult and rejoice in you; we will extol your love more than wine; rightly do they love you." (1.2-4, NRSV)

     In even smaller portions, I have ventured to add some verses of St John of the Cross' Spiritual Canticle, his own rendering of the Song as a song to his beloved God, Christ: "Where have You hidden Yourself, / And abandoned me to my sorrow, O my Beloved! / You have fled like the hart, / Having wounded me. / I ran after You, crying; but You were gone." (verse 1, David Lewis translation).
     So much to read, hear, think about and discuss! And yes, as always, there are theological questions I have not even touched on — who is Krsna? who is Krsna for a Christian or Jew? what does a modern theologian do with medieval poetry, or with any poetry? — but I think it is wiser for most of us to begin with the poetry. Reading such poetry may seem an acquired taste, but I think we all have the potential for this, since it taps into who we most deeply are. Later, imbued with the verses, we can make sense of who we love this way, and give the Name of this love, even if beyond the classroom.