Seekers at Assisi and in the Church
Cambridge, MA. Like other readers of In All Things, I am grateful to Austen Ivereigh for his eye-witness coverage of the meeting of religious leaders at Assisi the other day, by a papal invitation. All reports indicate that nothing sensational was said or done in the brief gathering; but the fact that it happened was a good omen, this Pope's qualified embrace of John Paul's more vivid and historic 1986 gathering, 25 years ago. I have not found extensive coverage of the event, though in addition to Austen's accounts, various reports have made it onto the web.
My thoughts here are limited to the Pope's final speech to the gathered religious leaders, which intrigued me in several ways. First, there is the important and valuable insistence that religious people need to make it clear that religion is a force for peace and mutual respect, and not essentially a cause of violence. The Pope is candid: "We know that terrorism is often religiously motivated and that the specifically religious character of the attacks is proposed as a justification for the reckless cruelty that considers itself entitled to discard the rules of morality for the sake of the intended 'good.' In this case, religion does not serve peace, but is used as justification for violence." Rather, presumably speaking for himself and his fellow Christians and not for all gathered there, he insists on the essential contribution of Christianity to peace: "The God in whom we Christians believe is the Creator and Father of all, and from him all people are brothers and sisters and form one single family. For us the Cross of Christ is the sign of the God who put "suffering-with" (compassion) and "loving-with" in place of force. His name is "God of love and peace" (2 Cor 13:11). It is the task of all who bear responsibility for the Christian faith to purify the religion of Christians again and again from its very heart, so that it truly serves as an instrument of God's peace in the world, despite the fallibility of humans."
Second and more interestingly, ithe Pope admits that even if he argues for the essential peacefulness and peacemaking of religions, bothersome questions still arise: "How do you know what the true nature of religion is? Does your assertion not derive from the fact that your religion has become a spent force? Is there such a thing as a common nature of religion that finds expression in all religions and is therefore applicable to them all?" He insists that we must take such questions seriously, and even suggests that this is why dialogue is necessary: "We must ask ourselves these questions, if we wish to argue realistically and credibly against religiously motivated violence. Herein lies a fundamental task for interreligious dialogue – an exercise which is to receive renewed emphasis through this meeting." Oddly, as far as I can see, he does not attempt to answer the questions just cited, and gives no further clue as to what kind of dialogue might follow after this meeting; there is no evidence that dialogue took place at the meeting, even in the sense of his listening to speeches by other delegates. In particular, if he is going to ask, "Is there such a thing as a common nature of religion that finds expression in all religions and is therefore applicable to them all?" it would be great were he to respond, and without simply repeating Dominus Iesus (2001), at least not in front of a live audience that includes living members of other faith communities.
Third, Benedict adds that it is not religion, but its lack, an aimless godlessness, that is a greater threat of violence today. This seems to be a criticism of a valueless, materialistic society: "The desire for happiness degenerates, for example, into an unbridled, inhuman craving, such as appears in the different forms of drug dependency. There are the powerful who trade in drugs and then the many who are seduced and destroyed by them, physically and spiritually. Force comes to be taken for granted and in parts of the world it threatens to destroy our young people. Because force is taken for granted, peace is destroyed and man destroys himself in this peace vacuum." This point is well-taken, though as a Hindu friend pointed out to me, it still seems that even in religious cultures, it is people who claim to be religious who often take the lead in promoting materialism and hastening the arrival of the crass, devalued society.
But then Benedict says something genuinely interesting, even beautiful. Building on the preceding point, he seeks to distinguish militant atheists from a wider body of agnostics, some of whom he invited to Assisi (identified by what criterion, I do not know). He suddenly waxes eloquent about seekers who make up "the growing world of agnosticism," but in a special way, for these are "people to whom the gift of faith has not been given, but who are nevertheless on the lookout for truth, searching for God. Such people do not simply assert: 'There is no God.' They suffer from his absence and yet are inwardly making their way towards him, inasmuch as they seek truth and goodness. They are 'pilgrims of truth, pilgrims of peace.'"
As Benedict describes them, these unceertain seekers appear to be mediators essential to our times: "They ask questions of both sides. They take away from militant atheists the false certainty by which these claim to know that there is no God and they invite them to leave polemics aside and to become seekers who do not give up hope in the existence of truth and in the possibility and necessity of living by it. But they also challenge the followers of religions not to consider God as their own property, as if he belonged to them, in such a way that they feel vindicated in using force against others. These people are seeking the truth, they are seeking the true God, whose image is frequently concealed in the religions because of the ways in which they are often practiced. Their inability to find God is partly the responsibility of believers with a limited or even falsified image of God. So all their struggling and questioning is in part an appeal to believers to purify their faith, so that God, the true God, becomes accessible."
This is what agnostics believe? But many such seekers are alsostill sincere Catholics, and an even wider range of honest Catholics suffer the same questions — though Rome has until now seemed largely uninterested when such believing seekers claim their stake inside the Church. In any case, if the Church is committed to being "a pilgrim of truth, a pilgrim of peace," there is a price to pay: we cannot convincingly call ourselves pilgrims if in other contexts we say that we already know exactly where we want to be on every important issue; and as Benedict just said, pilgrims do not get to pocket the truth "as our own property."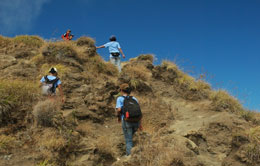 To close with a comment not prompted directly by the Pope's speech: as spiritual seekers will also insist, the path cannot be traveled if praying-together be entirely ruled out (as seems to have been the case in Assisi 2011). Our crises are spiritual as well as intellectual, and even on intellectual grounds, deeper truths can sometimes be glimpsed only through spiritual windows, when they are open. How we can best pray together across religious borders – differently with different believers, one might guess – is open to study and discernment, but the answer is not "pray by yourself." It is not enough to take the train together (from Rome to Assisi) or to give or listen to speeches in the same place. Pray together we must.