The nation's attention over the past couple of weeks has been focused on Florida, where Mitt Romney trounced Newt Gingrich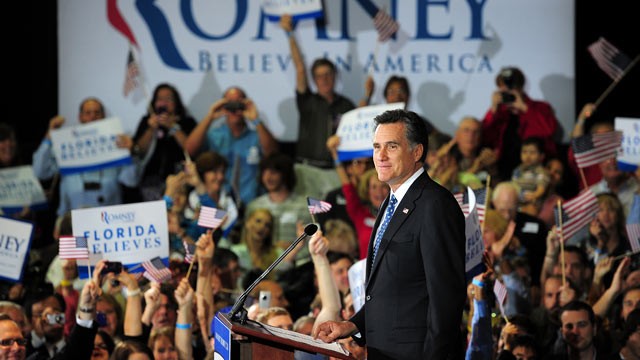 in the latest GOP primary contest. Romney's victory is credited to a combination of the support he received from the many super PACs supporting his campaign and the coalescing of the conservative establishment around his candidacy. (Check out a piece I wrote about super PACs over at Busted Halo here).
The 2008 GOP nominee John McCain, and other establishment politicos including Bob McDonnell, governor of Virginia; former Minnestoa Governor Tim Pawlenty; and Rob Portman, senator from Ohio, have all endorsed Romney. Notably absent from this list is Florida's former governor, Jeb Bush. The New York Times reports that Romney had aggressively courted Bush in the days leading up to the primary, even offering him the title of campaign co-chair. Bush ultimately refused, and the Times suggests that his discomfort with Romney's extreme rhetoric on immigration led him to abstain from getting involved. From the article:
Advertisement
Mr. Bush has made clear in television interviews and in conversations with friends that he is troubled by the sharpening tenor of the race, particularly on immigration. He voiced his concern directly to Mr. Romney, two people close to him said, urging him to moderate his oratory and views to avoid a collapse of support among Hispanic voters in the general election.
While not exactly embracing a "round-em-up and throw-em-out" approach to immigration that is advocated by those on the far right, Romney instead says that his goal as president is to make life so tough for illegal immigrants that they will choose to "self-deport." In a January debate, Romney explained his idea:
Well, the answer is self-deportation, which is people decide that they can do better by going home because they can't find work here because they don't have legal documentation to allow them to work here. (Audience laughs) And so we're not going to round people up. [...] Well, yes, we'd have a card that indicates who's here legally. And if people are not able to have a card, and have that through an e-verify system to determine that they are here legally, then they're going to find they can't find work here. And if people don't get work here, they're going to self-deport to a place they can get work.
Romney opposes most of the DREAM Act, a law that would give the children of illegal immigrants a path to citizenship, and he recently accepted the endorsement of controversial anti-immigrant activist Kris Kobach. Kobach helped write the foundation of the harsh immigration laws in Arizona and Alabama that treat all dark-skinned people as potential criminals.
With such harsh views on immigration, it isn't surprising that Bush chose to sit this one out. Not only is it bad policy, it's bad politics, especially for a man who wants to follow his father's and brother's footsteps into the presidency himself.
What should people of faith, especially Catholics, contribute to the debate around immigration? Three brief examples:
Inside Higher Ed reports that Catholic colleges are leading on issues related to the DREAM Act:
Catholic colleges and the Catholic church, led by Cardinal Roger Mahony, who retired as archbishop of Los Angeles in 2011, are quietly stepping up efforts to enroll and assist students whose parents came to the United States illegally. In recent months, Mahony has held meetings with college leaders and students to find other ways to engage institutions on the issue. The church is planning to distribute several versions of an immigration curriculum, so that colleges can cover the issue from a Catholic perspective in a wide range of classes.
The Archdiocese of San Francisco is publicly backing legislation that would lessen California's involvement in a federal immigration program that checks the documentation of people in state jails, "arguing it is tearing immigrating families apart, setting up minor criminal offenders or those with no convictions for deportation."
Bishops and other church leaders urged the faithful "to be politically active at both the local and national level to promote a humane reform of immigration law" at a forum last month hosted by the US Conference of Catholic Bishops in Salt Lake City.
Because the economy will be the primary issue in the general election, immigration will naturally rise up as one of the top ancillary concerns. While Romney will undoubtedly shift to the center on most issues, Catholics should continue to use their voice to advocate for an immigration system that treats all people with dignity and respect, especially those who risk their lives for new hope and opportunity.