While Congress began another round of government by brinkmanship and self-inflicted wound, I stumbled upon a couple of maps of the United States today that offer a depressing update, not on the nation's highway system, perhaps on the American dream. The Center on Budget and Policy Priorities digs a little deeper into poverty statistics recently released by the Census Bureau with this depcition on the worsening rate of "deep poverty" in the United States, that is, families and individuals who live below one half the poverty line, that's an annual income of $5,570 for an individual and $11,157 for a family of four. The number of people in deep poverty rose to 20.4 million in 2010, up 4 million (25 percent) since 2007.
Such levels rose in 40 states between 2007 and 2010 and declined in, well, none.
Advertisement
Another map depicts another aspect of growing poverty in America: where it's happening. As low-wage service industry folk followed jobs into the suburbs, the number of people struggling to get by in America settled down in Ward Cleaver land. The number of poor in the burbs bow exceeds the numbers in U.S. urban areas. CNN Money: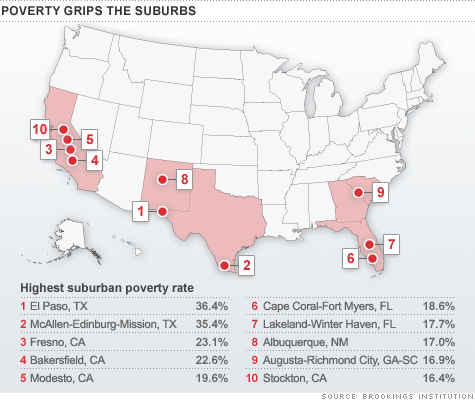 "A record 15.4 million suburban residents lived below the poverty line last year, up 11.5% from the year before, according to a Brookings Institution analysis of Census data released Thursday. That's one-third of the nation's poor.
"And their ranks are swelling fast, as jobs disappear and incomes decline amid the continued weak economy.
"Since 2000, the number of suburban poor has skyrocketed by 53%, battered by the two recessions that wiped out many manufacturing jobs early on, and low-wage construction and retail positions more recently."
That new locus matters because most social services have as a rule been located where the poor reside, up to now in the cities. States and local communities are going to have to services likewise out to the suburbs as a first step toward adequately addressing the need.