This week in the Culture section, Leo O'Donovan, SJ, our go-to guy for all things in the world of fine arts, has a marvelous reviewin our current issue on the spiritual eye of the Russian painter Vasily Kandinsky here.  Kandinsky is the focus of a new exhibit at the Guggenheim Museum in New York City.  Fr. O'Donovan, in what I think is his best review for us yet, does a superb job of relating how the author's working out of spiritual questions influenced his work, and drawing out the ways that place influenced painting.  His insights will add greatly to your appreciation of this long-misunderstood artist.  Along with his piece we have a brand-new slide-show of some of the Guggenheim's Kandinsky images here. 
And don't miss our beautifully written web-only review, by Maurice Timothy Reidy, of Jane Campion's new critically lauded film, "Bright Star" on the romance between John Keats and Fanny Brawne.   We hope Tim will pen more reviews for us in the future.  Here's his opener:
Advertisement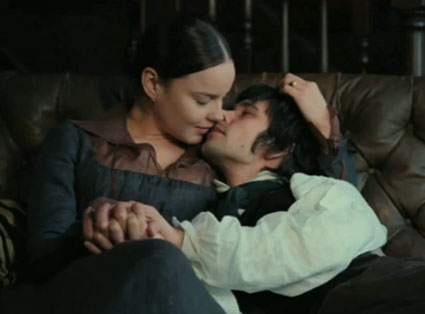 Biopics are a notoriously risky business. Too often the director feels obliged to touch upon every major moment in the life of her subject. But if the subject is well known, how do you recreate these moments in ways that are both familiar and new? In other words, how do you tell the story at hand while preserving the film itself as an original work of art?

The cleverest directors approach their subject from an angle—they seek to "tell the truth slant." In the case of the famously slippery Bob Dylan, the director Todd Haynes cast several actors in the role of the lead in his biopic "I'm Not There," including a black boy and a blond woman. In "Raging Bull," Martin Scorsese avoids the pitfalls of conventional film biography by elevating the life of Jake LaMotta to something close to opera.

Jane Campion chooses a more traditional form of narrative in Bright Star, her study of the life of the poet John Keats. Yet by focusing on just two years in the poet's life and picking an artist whose life story is only vaguely known to the public at large, she has created a truly original work of art that is worthy of her subject.