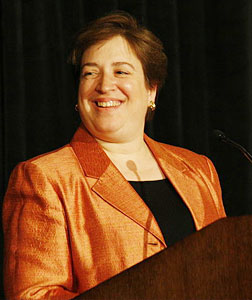 It didn't take long once President Barack Obama named Solicitor General Elena Kagan as his nominee for the Supreme Court, to replace retiring Justice John Paul Stevens, for pundits to speculate about her sexual orientation. What's up here? What signs or clues do bloggers invoke? That she never married? Really, what does it matter? This should be a non-story, yet the chattering classes can't seem to help themselves.
In her breezy column on Wednesday in The New York Times, Maureen Dowd brought up the issue for a second time. Dowd began by drawing specific distinctions between "single" and "married" for both genders. "Men," she writes, "generally more favored by nature as they age, can be single at all ages. But often, for women, once you're 40 or 50, or simply beyond childbearing age, you're no longer single. You're unmarried—meaning it isn't your choice to be alone….White House officials were so eager to squash any speculation that Elena Kagan was gay that they have ended up in a pre-feminist fugue, going with sad unmarried rather than fun single, spinning that she's a spinster." 
Advertisement
The May 22 issue of Christianity Today, an evangelical Christian magazine, features an article entitled "Who Is Elena Kagan?" by Tobin Grant, pointing up conservatives' worry over the candidate's position on gay rights, abortion and the military among other issues. Grant cites Focus on the Family Action's weekly Web cast expressing worry that "Kagan's lack of judicial experience leaves many questions unanswered….The basic question for any Supreme Court nominee ought to be: What is their judicial philosophy?" Makes good sense.
Kagan's critics should take a look at her impressive résumé and follow closely the questioning process during the confirmation hearings. Whether or not she is elevated to the bench, Kagan should be judged on her record, not on her personal life.
Patricia A. Kossmann