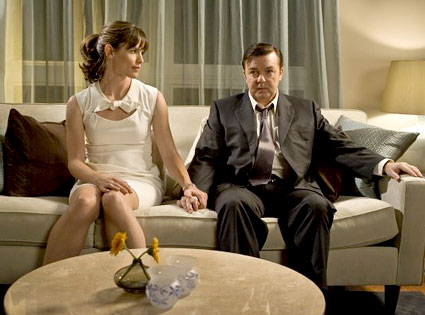 We're happy to introduce a new film reviewer, whose name will most likely be familiar to many of our readers.  Harry Forbes, for many years the former director of the U.S. Catholic Bishops' Conference Office for film and broadcasting, and whose job required him to review literally thousands of movies over the years, has now joined our team of film reviewers.  Harry brings, as you can imagine, a wealth of experience and of knowledge about film and television.  We're delighted to have him on board, and invite you to read his first review for us, on the online Culture section, of Ricky Gervais's "The Invention of Lying."  He begins...
They ought to have dubbed it "The Invention of God."

This surprisingly subversive romantic comedy starts out amusingly enough. The Lowell, Mass., setting suggests small-town Americana, but in this parallel universe, the concepts of lying and subterfuge have not yet been invented, and everyone speaks the bluntly honest truth. Even the signage tells it strictly like it is: A bar is a "Cheap Place to Drink." Roadside lodging is labeled "Cheap Motel for Intercourse with the Nearest Stranger." Casinos are frank about the low odds of winning. And so on.

Ricky Gervais plays Mark Bellison, a schlumpy, unsuccessful writer of screenplays. He works for Lecture Films, purveyors of on-camera recitations of facts and figures (all there is, since there's no such thing as fiction), which is run by the perpetually exasperated Anthony (Jeffrey Tambor). Tina Fey appears briefly as a caustic receptionist, and stars like Philip Seymour Hoffman and Edward Norton make cameo appearances as well.

Mark is hopelessly smitten with the upper-crust Anna McDoogles (played with fable-like innocence by Jennifer Garner), the cousin of his best friend. Though after their first date she admits she enjoys his company, she feels their relationship can never lead to marriage as they would have fat kids with little snub noses. Mark's handsome-but-dim office rival Brad (Rob Lowe) would, she believes, provide a more suitable genetic match, even as her friendship with Mark deepens. She is, in short, "out of his league," as we are reminded repeatedly.

When Mark loses his job, he inadvertently secures his desperately needed rent money when a bank teller misinterprets an innocent remark about the size of his account. She assumes a bank error, and blithely hands over the desired amount. Having thus uttered the world's very first lie, he soon puts his discovery to further use, and not just for monetary gain. Mark, it turns out, has a good heart, and so he offers compassionate (if untruthful) words to lift the spirits of all he encounters, including his suicidal neighbor.
Advertisement
Read the rest in our online Culture section.